The director of Venice Film Festival presided over that rare beast of 2020: a physical, joyous film festival. As part of Screen's Perspectives on 2020 series, he tells us how it revealed what was most important about his job.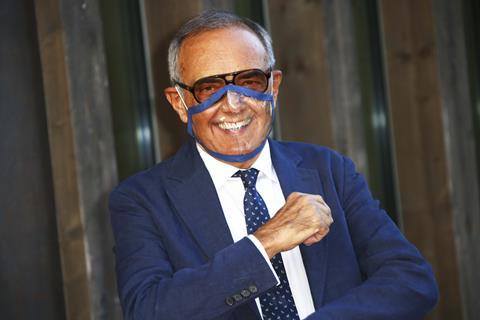 Venice Film Festival director Alberto Barbera oversaw an audacious, physical edition in September, during a welcome lull in the coronavirus pandemic in Europe. The event was heralded as a beacon of hope for the international film industry after months of lockdown and isolation.
Barbera and Roberto Cicutto, president of the festival's Venice Biennale parent body, won praise for its smooth running as well as exemplary hygiene and social-distancing protocols, which have become a benchmark for other physical festivals.
In 2021, Barbera embarks on a third consecutive term, and fourth in total, at the helm of the festival after his contract was renewed for another four years until 2024.
Congratulations on the renewal of your post for a fourth term. Do you have particular plans for this new mandate?
I'm very happy, mainly because it will allow me to continue the process we began in 2012, of renovating the profile of the festival, which has involved a lot risks and innovations, like the VR competition, which has been a huge success.
As I've always said, a four-year mandate is not long enough. You spend the first year figuring out how it works; the second year, you start thinking about specific projects. In the meantime, you're also cultivating the network you need to make the selection happen. By the fourth year, when you're finally in a position to start making things happen, you're potentially on your way out.
Looking back at 2020, what was your most memorable moment?
The [Venice] opening ceremony. Apart from being the most beautiful in the history of the festival, it was also the most emotional. Everything was perfect, from the godmother [actress and festival hostess] Anna Foglietta; to the speeches by Cate Blanchett, Joanna Hogg and Tilda Swinton; to the presence of the seven film festival directors on stage, making a statement of solidarity for other festivals that had not taken place and commitment to filmmakers. After months of lockdown, it was an injection of optimism.
How have you adapted your working style to stay productive and sane during 2020?
We moved to a new apartment in Milan just one month before the lockdown. It's a very nice apartment with a lot of light, and I have my own office. Of course, like everyone, my travel to festivals and other destinations like Los Angeles stopped altogether, but I never stopped working — watching films via links, being on the phone, exchanging emails and holding meetings on Zoom.
When the lockdown was over at the end of May, I moved to Venice as usual with my colleagues and things were pretty normal. We were able to watch movies on the big screen in the Palazzo del Cinema. The first time I saw a film on the big screen after a period of four months — it was such a joy.
What pandemic-induced change would you like to see continue in 2021?
This year has shown festivals work best as physical events but we've also learned how to better use technology, to improve what we do and how we work. But perhaps the most important change for me has been this new spirit of collaboration between the festival directors. We absolutely need this because we're not there to serve our egos or show that our event is better than another. We are there to serve cinema and help the filmmakers.
But you're not going to start sharing films with big rivals like Cannes?
No, there will always be competition between us, this is normal. But, for example, over the last three or four years there has been strong competition between Venice, Toronto and Telluride to get world premieres. This year, we talked a lot and everybody was absolutely ready to give up on that because it was not the moment. It's difficult to foresee what will happen next year, but the important thing is we're talking and working together a lot more collaboratively.
What's the one thing you're pinning your hopes on for 2021?
I just want a return to some sort of normality, even if it's different from before.
And what about an Oscar win for this year's Venice Golden Lion winner Nomadland?
[Laughs] It has a lot of potential, especially in a year when the competition is more open due to the fact that a lot of films have been postponed until next fall.
Audience habits have changed in 2020. Do you think this will have a long-term impact?
There is no doubt it's easier and cheaper to watch films on a platform and sadly we may end up with fewer cinemas, but the experience of watching a film online and in theatres is completely different. I'm sure people will come back to cinemas.
How can the entire industry support more inclusion behind and in front of the camera in 2021?
After three or four years of #MeToo, and more recently the Black Lives Matter protests, perceptions have changed. There are still prejudices in the industry and wider society but there is also a wider consciousness, among both journalists and professionals. You can't ignore it. I think things are changing for the better.
Venice had quite a strong African presence in the 2020 edition, thanks to films such as Night Of The Kings and The Man Who Sold His Skin. Was this down to a conscious effort to select more films out of the region?
I was quite surprised that there were a lot of films coming out of the Middle East and Africa this year. There are a lot of talented young filmmakers, and talented young producers, coming from those countries.
We will definitely be keeping an eye on these regions. It was a sort of discovery this year. We've obviously seen good films coming from there in the past but not as much as this year and not as many young talents. I think there is a sort of new wave coming from there, which needs to be followed.
What excites you about the future of the industry?
Cinema is always changing and adapting to circumstances. The cinema of today is very different from the cinema of the second part of the 20th century and that of tomorrow will be different again. The history of cinema is the history of a series of changes, and that's what excites me about the future.
Our Perspectives on 2020 series sees key figures from across the international industry landscape share their experiences during the pandemic year and their thoughts on the future. See below for more interviews in the series: