British director Peter Strickland talks about his first foray into concert films and his latest fiction feature, The Duke of Burgundy.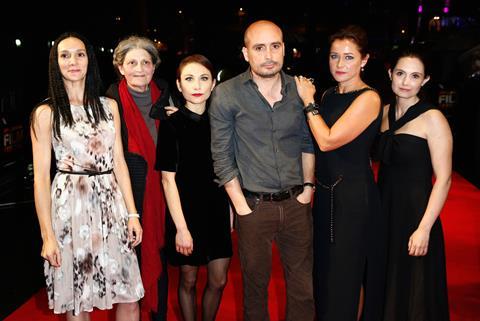 Peter Strickland has had a bumper BFI London Film Festival. The British director had two films in the programme (three if you count his minute-long contribution to experimental piece The Film That Buys the Cinema).
The first, The Duke of Burgundy, marks his follow-up to the award-winning Berberian Sound Studio and centred on a woman who tests the limits of her relationship with a lover.
The second, Björk: Biophilia Live, is Strickland's first foray into concert film-making and was co-directed with Nick Fenton.
Released in UK cinemas today (and on DVD and Blu-ray from Nov 3), Björk: Biophilia Live centres on the Icelandic artist as she performs songs from her eighth album with evocative visuals provided by designers from around the world.
"She's really special. There's no one quite like her," Strickland tells ScreenDaily of working with Björk.
"The weird thing was that she was quite hands off. She just wants to feel comfortable with the people she's working with."
The collaboration was instigated by a talk with documentary producer Jacqui Edenbrow.
"Bjork got to see my work and we just started talking really," recalls Strickland. "It was just a process of trying to get inside her head. It's easier to get inside the head of someone who's very singular and visionary and clear about what they need."
Filmed at Alexandra Palace in London, Strickland says of the process: "Nick [Fenton] and I were in this weird little booth hidden away with 16 monitors where we could talk to cameramen, but there's only so much we could do. We could direct the shots, but the parameters were quite narrow.
"It was a nice change in a sense. In one way it was quite difficult but in another sense it was easy because if you don't get something properly you can fill it up with archive footage. You'll always have the archive as a get-out-of-jail card if you haven't got something you need."
The film, first seen at Tribeca in April, received a Sonic Gala premiere at the BFI London Film Festival last week.
The Duke of Burgundy
In a dizzying piece of scheduling, shortly after the LFF screening came the European premiere of The Duke of Burgundy.
It wasn't the first time Strickland had to juggle his time between the two projects. "Last year, I was working on Duke in the daytime and Bjork in the evening," he recalls.
Shot last September, in just 24 days, the film came about when Strickland met producer Andrew Starke through a mutual friend.
"Andy was talking about remaking a Jess Franco film, Lorna the Exorcist – and for some reason I was interested," says Strickland.
"I was at a really weird point where I was just in no-man's land. I kind of thought I had to start from scratch again.
"He said 'Let's do it completely away from the system, let's do it for £20,000,' which goes back to how my first film was made.
"The rough plan was to do something that might feel sexually forbidden, perhaps repulsive, perhaps ridiculous to some people, but when you accept that world you realize it doesn't matter what they're into."
The film debuted last month at the Toronto International Film Festival. "We had a pretty nice ride, it was a nice bubble to be in," he says of the reaction to the film.
"I've seen a few bitchy comments, but most of the stuff I've read is great. This sounds a bit disingenuous but I put my hand on my heart and say I genuinely don't know how something is going to be received. You put it out there and it's kind of scary. If enough people get it, then that's wonderful. I couldn't ask for more, it can only go downhill from here."
Made by Pioneer Pictures and Rook Films, sales of The Duke of Burgundy are handled by Protagonist Pictures. It has already been picked up by IFC Films for the UK, Front Row for MENA and Wild Side Films for France.