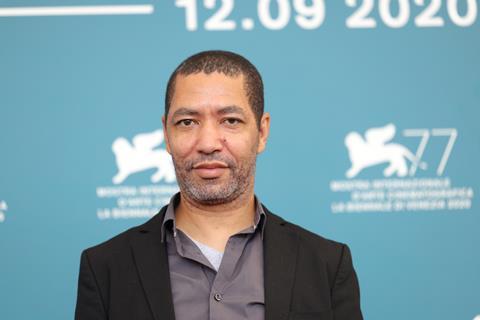 Ivorian director Philippe Lacôte's Night Of The Kings was a lone Sub-Saharan African production in the Venice Film Festival's 63-feature official selection this year, where it premiered in Horizons.
It makes its North American debut in Toronto today (September 10), before heading to the New York Film Festival later this month.
Lacôte suggests that the lack of African representation at A-list film festivals has less to do with selection committees and more to do with the challenges facing Africa's filmmakers as they try to get feature productions off the ground.
"If there aren't many African films here in Venice, it's because it's impossible to raise the money you need to make an international film on the African continent. We have to travel the world to finance our films," he says.
It took Lacôte and his producers Delphine Jaquet at Paris-based Banshee Film, Ernest Konan at Abidjan-based Wassakara Productions and Yanick Létourneau of Canadian company Peripheria five years to bring Night Of The Kings to fruition.
In a positive development, however, the Ivory Coast's Ministry of Culture put €300,000 ($357,000) into the feature via its Fonsic cinema support fund. The production also benefitted from a "south-south" co-production deal with filmmaker-producer Yoro Mbaye at Yennenga Production in Senegal.
"It's rare to have this sort of cooperation between two West African partners. It meant we weren't only relying on European money," says Lacôte.
Night Of The Kings is Lacôte's second feature after 2014 Cannes Un Certain Regard title Run, which explored the Ivory Coast's civil wars of 2002-2007 and 2010-2011 through the fate of a young presidential assassin.
Lacôte's new film tackles the legacy of that period through the tale of an infamous real-life crime lord called Zama King, whose young recruits terrorised the streets of the capital of Abidjan until he was hacked to death by an angry mob in 2015.
"Images were posted on the internet and still circulate to this day. I come from a territory which has been in crisis for 15 years, politically and socially, and is coming out of a period of violence. When I saw these images of Zama, I was asking myself, 'How did we end up here? How did the violence tip over from the war into society?' Zama was a criminal but his character immediately interested me for that," explains the filmmaker. "Afterwards, I was lucky enough to meet one of his best childhood friends who told me his story and showed me photos so I had the real story behind his life."
Lacôte did not want to make a "classic biopic" and it took him time to figure out his way into the story while writing the screenplay with the support of the TorinoFilmLab in 2016.
Zama King's story is retold instead over the course of a tumultuous night in the Ivory Coast's notoriously overcrowded and violent Maca jail by a young thief, cast in the role of reluctant, modern-day Scheherazade. In the backdrop, the prison is on the verge of revolt, with the inmates in the mood for blood-letting amid a power struggle between their long-time chief Blackbeard and rival pretenders to his throne.
"I'm a big fan of Jean Genet's The Maids, in which the servants become the mistresses of the house over the course of an evening. I wanted the prisoners to become to masters of the prison over the course of the night," explains Lacôte. "It was a way of showing that the prison is a world unto itself with its own laws, societies, codes and beliefs."
In spite of the theatrical reference, Lacôte did not want the work to veer into theatre but rather sought to add elements of performance art instead. "We spent two years scouting Abidjan's poor neighbourhoods for dancers, singers, martial arts experts, acrobats and contortionists. We found a group of some 40 people. I wanted this corps to participate in the account, as if in a trance."
Another 25 percent of the cast were former inmates, whose "who jests and language" further contributed to the authentic feel of the prison mob as they listen to the storyteller's account. The film marks the big-screen debut of Bakary Koné in the central role of storyteller Romain.
"It was his first acting experience. I like spectators to see an actor being born on the screen. I worked in the same way with Abdoul Karim Konaté in Run. Even though he had some experience he was also a very young actor. It was as if Bakary was undergoing the same process as his character Romain, who isn't a storyteller either at the beginning of the film but slowly assumes the role."
French actor Steve Tientcheu, who appeared in Ladj Ly's Les Miserables, plays the menacing figure of Blackbeard. Lacôte cast him after he was suggested by an actor friend.
"I didn't even audition him. There are actors I like to spend time with preparing and others with whom I prepare nothing. With Steve, I immediately got the sense he had the presence to nourish and carry this character off."
The production could not shoot in Maca and filmed on location instead in two old buildings in the French colonial city of Grand-Bassem on the Ivorian coast. Lacôte reconstructed the prison from memory having visited the facility regularly as a child from the age of eight when his mother was held there as a political prisoner for her involvement in the pro-democracy movement of the 1980s.
"The prisoners and visitors would all be together in one big room. I observed and listened to everything very closely. I felt like I was in ancient kingdom," he says. "All the imagery on the walls is taken from real prisons. The image of the naked woman, for example, comes from a prison in Sierra Leone."
New Project
As Night Of The Kings sets off on its festival tour (it has also been selected by Ivory Coast as its submission for the international feature Oscar), Lacôte is now developing a project exploring Africa's struggle for independence in the late 1950s to 1970s through the prism of the martial arts genre.
"These years of fighting for independence were years of struggle, years of traps, years of cheating. This struggle and how the Africans fought for independence is something I want to explore through a martial arts film. This will be the next project, potentially with Chinese involvement. We're working on that right now."
Quizzed on how he sees the past and present of Black Africans fitting in with the latter day Black Lives Matter movement, Lacôte voices his support but adds he sees his work as being part of a different discourse.
"I follow the Black Lives Matter movement and support it as everyone should, whether they're black or white. It's a question of dignity, of justice," he says. "My work is enrolled in a different debate. What is important for me is to make films that are true to what Africa is today, presenting a positive, modern vision. Today, it is a continent completely connected to other continents. I want to show it in its modernity, rather than harking back to old images.
"Where we do connect perhaps is in our struggle for dignity. In between making Run and Night Of The Kings, I worked on a series exploring the history of slavery from the 7th to 19th century for Arte [Slave Routes]. It made me realise that the Africans's fight to exist and participate in the world and the fight of the descendants of slaves, it's the same story."