Dir/scr/prod: Corneliu Porumboiu, Romania, 2009, 115 mins.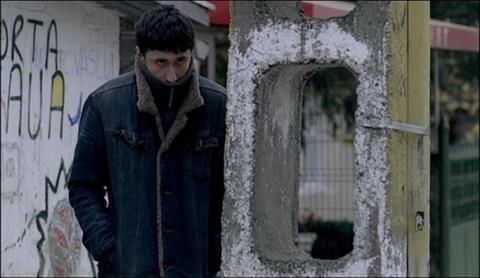 No festival worth its salt will want to miss Corneliu Porumboiu's follow-up to the Cannes Camera D'Or-winning 12:08, East of Bucharest (2006). Not only does his new film, set for Un Certain Regard this year, confirm the promise of his debut, but it goes one step further in its sober attempt to achieve the maximum with the minimum of means. A tough nut to crack but worth every bit of the patience required to do so, this subtle, unassuming and yet smartly sophisticated film may look bewildering at first sight, but with festival exposure and critical support, seems destined for a solid art house career.
Though its simple approach would seem to skewer the pretentious pomposity of art films in general, Police, Adjective's brilliant finale tackles such purely "arty" concepts as the discrepancy between words and their meanings, and the abyss separating even the most accurately phrased definitions from the sense they assume in everyday life. Straightforward and unadorned, it delivers a witty and wicked portrait not only of life in the small city of Vaslui – the same location Porumboiu used in his first film – but of the basic human dilemma of remaining faithful to what one believes in.
Cristi (Bucur), a young police inspector, shadows a teenager who allegedly purchases and sells pot to his fellow high school students. The suspect is followed from home to school, from school to a friend's house, where the pair is joined by a girl who is then followed to her home. Cristi notes everything down, and the more he sees, the less convinced he is about the job he is supposed to do. Arresting a boy of sixteen for smoking pot will result in him being sent to prison for seven years and his entire future being destroyed: Cristi's conscience won't let him do that.
After avoiding his boss for days, he is finally ordered to make a full report and proceed to take immediate action. Cristi mentions his conscience and his boss surprisingly indulges him, bringing in a dictionary and showing Cristi that there is nothing in the definition of the word "conscience" which would prevent his acting as ordered and there is everything in the dictionary definition of the word "police" to justify taking action. This cold, precise and effective scene has the police captain (a tour de force performance by Vlad Ivanov, the abortionist in 4 months, 3 weeks…) demonstrating the absurd logic behind police work, leaving his subordinate, unconvinced but speechless, with no alternative but to do as he is told.
The clever simplicity of the visual language here draws the viewer's imagination into play; there is no distracting music; the camera work never exceeds a horizontal pan; the bare-bones dialogue wastes no words. It all looks remarkably naïve and innocent, but most certainly isn't. Dragos Bucur's winning soulful sincerity perfectly suits the lead part, providing a natural patsy for the unscrupulous composition of Ivanov in the final sequence.
Production company/international sales
42 Km Film
+ 40 31 1006837
Executive producer
Marcela Ursu
Cinematography
Marius Panduru
Production designer
Mihaela Poenaru
Editor
Roxana Szel
Main cast
Dragos Bucur
Vlad Ivanov
Ion Stoica
Irina Saulescu
Cerasela Trandafir
Marian Ghenea
Cosmin Selesi
Serban Georgevici
Geroge Remes