Dunkirk producer Emma Thomas tells Screen why she and filmmaker husband Christopher Nolan make a stellar team, and why they will strive continually to make the most cinematic projects possible.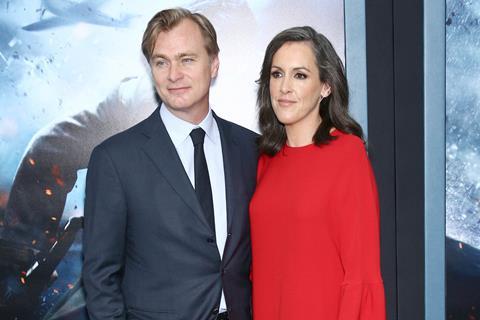 Emma Thomas takes nothing for granted although, as a producer whose movies consistently strike gold at the box office and earn strong reviews, she could be forgiven for doing so. She never, for example, assumed her most recent film — tense, immersive war drama Dunkirk, co-produced with and directed by her husband Christopher Nolan — would be keeping her busy during awards season.
"Obviously we're thrilled by the response," the London-born, Los Angeles-based Thomas tells Screen International during what she describes as "a bit of a breather" from her Dunkirk duties, "but it wasn't a foregone conclusion that the film would reach audiences. We really hoped so, but it wasn't the war movie people might normally expect and, with the structure being so intricate and the fact that there wasn't a huge amount of conventional back story and dialogue, it felt like we were pushing boundaries in a way."
Of course, Dunkirk's unconventional approach was precisely what marked it out from other war movies. Encompassing Operation Dynamo, the 1940 evacuation of British and French forces from northern France, it is less a war movie than a thrilling story of defeat and retreat. An event that can only be considered a 'victory' in the sense that 340,000 soldiers miraculously escaped to safety — with the crucial assistance of civilian sailors — when only a tenth of that number was expected to survive. And, as Thomas points out, Nolan throws his audience into the thick of the action, offering an intense, powerfully subjective experience that plays out over three intersecting timelines: a week on the beach, a day at sea and an hour in the air.
The result engrossed audiences across the demographic board, drawing in families as well as the 60-plus crowd (the film has grossed $526m to date). "That was very gratifying for us," says Thomas. "You assume that with a subject matter like this you're going to get an older crowd, but the truth is we hit everybody. Our eldest daughter is 16 and a lot of her friends went to the cinema multiple times to see it. So it was great to reach a wide audience."
As a feature-film producer, Thomas has worked exclusively with Nolan since their very first, self-budgeted shoestring thriller Following in 1998, and the two formed their own production company, Syncopy Films, in 2001. Since 2002's Al Pacino and Robin Williams two-hander Insomnia, all their films have been at least internationally distributed by Warner Bros. Thomas and Nolan hold, it is fair to say, a rare position in Hollywood: one where a major studio is willing to fund and distribute seemingly anything they want to make, allowing them to mount large-scale productions with minimal artistic compromise.
Bucking the trend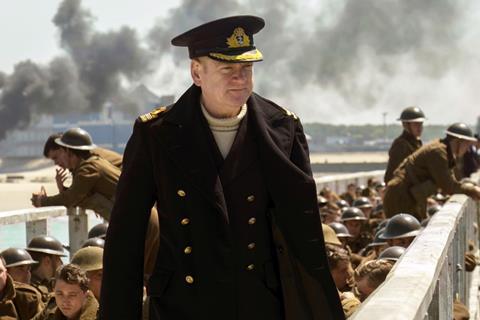 Even when playing in the superhero/action sandbox, as they did with their Dark Knight trilogy, Nolan and Thomas resisted abiding trends — favouring film over digital, Imax over 3D and practical effects over computer-generated imagery. But each and every time they repay Warner Bros' trust with strong ticket sales. The Dark Knight grossed more than $1bn worldwide in 2008, and domestically remains the studio's biggest-ever film (unadjusted for inflation).
Despite this, Thomas never rests on her laurels. Dunkirk was not, she says, "by any stretch a no-brainer" for Warner Bros when she and Nolan first pitched it. "A film like Dunkirk is not cheap to make," she points out. "We were very clear that we wanted the actors to be of the correct age, and we wanted them all to be British; we weren't interested in casting a name actor of a different nationality just to 'zhuzh' the numbers. And it's a story they'd never heard of — and a period movie."
Yet, in the recent past, Thomas and Nolan had convinced Warner Bros to make another risky, big-budget movie based on an original script of Nolan's — another "unusual project", as Thomas puts it, "namely Inception". The 2010 sci-fi mindbender was a Bond-esque heist adventure set across multiple levels of dream reality, and it grossed an astonishing $825m worldwide. "Every film we've made for Warner Bros has worked," she says, putting Syncopy in "an unusually lucky position".
If it is luck, however, then it is of their own making. Despite often shooting their films under highly challenging circumstances — Nolan's rejection of CG environments requiring some rather adventurous location work, which was especially the case on Dunkirk's storm-tossed shoot — they have never once gone over budget or run into extra time.
"Touch wood," laughs Thomas. "No, that's massively important to us, because we like to be good partners to the studio. Normally when we go to them at the beginning of a project — and this happened on both Inception and Dunkirk — we say, 'This is the film and this is the number we need to make it.' And they know we're going to do what we say in terms of the money."
In the case of Dunkirk, that number was, at around $100m, a little over half of the budget of their previous film, space-travel epic Interstellar. "Because we knew we wanted the studio to have some chance of coming into profit at a certain point!" says Thomas. "Although it's easier for us than for many other filmmakers to get the budgets we get, we don't take that lightly. We've been given an enormous amount of creative freedom by the studio and that comes in large part from the fact they know we're not going to do anything crazy, financially speaking. And the other thing is, we want to keep on working."
All at sea
That work is always very hands-on for Thomas. While shooting Dunkirk, she braved the heavy weather that hit the production while shooting on the same sands that played host to the actual evacuation 76 years earlier. And she was out on the crew boats, too, while Nolan filmed on-board Moonstone, a real 1930s pleasure yacht captained in the film by Mark Rylance's Mr Dawson. "We had some insanely rocky days on the water and some incredibly hard conditions on the beaches, too," she says. "Every day was relentless. But it's all fun."
It is tempting to cast Thomas as a kind of on-set buffer for Nolan: protecting him from external concerns as he devotes himself to the logistically thorny day-to-day of realising his unconventional and uniquely challenging vision. But that is not how she sees it. After all, she reminds us, Nolan produces his films, so in pre-production he is far less shielded than other directors might find themselves. "But once we're shooting, my role is definitely very much one of facilitating an atmosphere and environment in which he can focus just on the creative aspects. Though not so much shielding as facilitating."
When Thomas will next find herself battered by the elements on a Nolan set remains unclear, but it will hardly be immediate; the director never rushes from project to project. And while that may not necessarily be another $100m-plus mega-production — "it really is about what the right story is," Thomas insists — one thing is certain: neither she nor Nolan feel the lure of TV or streaming. "Honestly? That I don't see." It is another modern trend she and Nolan are resisting. "We make movies to be played in the theatre," she says. "We both really value the theatrical experience. I can't see us making anything for TV any time soon."
Besides, Thomas is enjoying her between-projects downtime: "It is nice to free your mind a little bit, do a little reading, watch new movies, read the newspaper again." Dunkirk came about partly as the result of Thomas putting Joshua Levine's book Forgotten Voices Of Dunkirk, a compilation of first-hand accounts, in front of her husband as they were finishing Interstellar, and it is a practice she is still looking to employ. "Yes, I'll continue to give him books and he'll continue to not be excited by some," she laughs. "But I'm hoping he'll find inspiration for something that makes him want to make another film really soon."