As father and son in Trey Edward Shults' Waves, Sterling K Brown and Kelvin Harrison Jr find themselves testing each other's limits. But is it a case of life imitating art?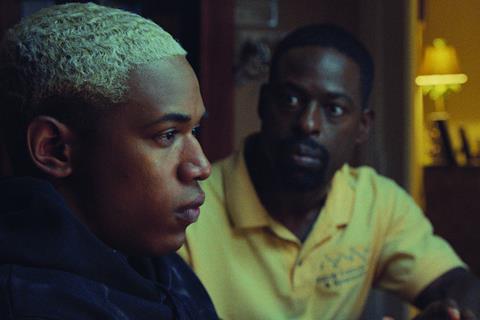 Kelvin Harrison Jr impressed writer/director Trey Edward Shults so much when they worked together on the 2017 horror It Comes At Night that the director said he could choose which role he wanted to play in Waves. "The choice was between an athlete who gets injured and the boyfriend who arrives in the second act," recalls Harrison Jr. "As he offered it, Trey says, 'But I know you don't have the physique to be a sports star.'" The weights room and wrestling mat beckoned as Harrison Jr bulked up.
The recounting of this story ignites Golden Globe and Primetime Emmy winning actor Sterling K Brown's competitive side. "So, you can knock out 30 push-ups solid?" the 43-year-old asks his co-star while flexing his biceps. "I could do more," retorts the 25-year-old. "I can do about 50. After this interview, let's do it."
Strong connection
It is a case of life mirroring art. In the A24-produced Waves — which A24 released in the US on November 15 following festival slots at Telluride and Toronto, and goes out via Focus internationally — Brown plays Ronald, the demanding but loving father of Tyler, who pushes his son to be the best at everything while at the same time continually asserting his own superiority. "We had an arm-wrestling contest," says Brown. "And what I love about Kelvin is that in his mind, he thought he was going to win. It's like when you make a bet with your kid, but it was real, and he was so pissed when he lost. And it was the right response for the scene. It was like, 'Fuck you.'"
"Why was I surprised?" responds Harrison Jr. "Maybe because I was on a testosterone overload." Away from this jesting, it is apparent how much Harrison Jr admires his on-screen parent. When Brown says of his colleague, "I see myself in him," Harrison Jr melts: "I love it when he says that. It makes me so happy."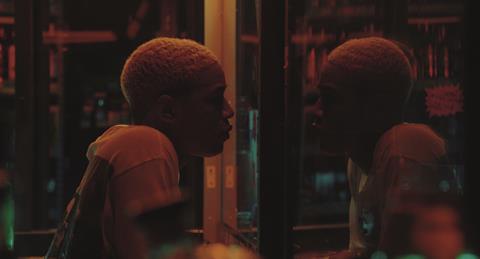 This warm relationship between the two actors is in contrast to the relationship Harrison Jr has with his actual father, jazz musician Kelvin Harrison Sr — the dynamic of which helped provide fuel for the father-son rapport portrayed in Waves. The actor's personal insights saw Shults alter the script. Harrison Jr says: "Trey and I communicated over the phone. We talked about my romantic relationships, my relationship with my dad — he's an interesting cat — my relationship with my sister. Overall, what my experience was like being a young black man in the [American] South."
These tidbits were used to develop Tyler's character. "Tyler's a kid who is constantly taking everything in," Harrison Jr explains. "He's a people-pleaser. He wants to please his dad and his girlfriend, and you can't do that all the time. Every time something gets in the way, it kind of destroys him. I just had to know that once Tyler loses the ability to have power over the situation, it stabs at him constantly."
Tough decisions
The sense of responsibility that Brown felt towards Harrison Jr almost made him turn down the chance to play Ronald. The film — which depicts an affluent African-American family in Florida, focusing first on the life of its teenage son and then its teenage daughter — pivots on a shocking, tragic event that will change the life of Tyler and those around him."I had a great deal of concern for him as an actor taking on this role," says Brown, referencing the dark direction Tyler takes in the film. "Once you put this out into the world, people will have strong reactions to it. I wanted to make sure he was protected and the film was executed in such a way that when we got to the second half of the movie [where] we talk about if he is evil or not — I wanted people to recognise that a good person had lost his way and made a tremendously terrible mistake. It was one of the reasons why I wasn't going to take the movie."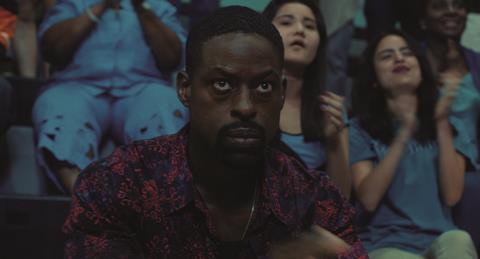 During a phone conversation, Shults persuaded Brown to meet with Harrison Jr. The actors met in Los Angeles, where Brown talked of his concern that the narrative may propagate black stereotypes. "Kelvin said, 'It's kind of scary, but it's a dope role. So, should I not do it because I'm black?,'" recalls Brown. "And I was like, 'Gosh, oh shit, that's a good point.' So, I thought, 'I'm going to do this because it kind of freaks me out.'"
Brown's other issue was that he was in the process of shooting season four of This Is Us for NBC. "A24 and the production office in Florida set it up so that we only shot on the weekends, so during the week I could play [This Is Us character] Randall Pearson," says Brown. "It was exhausting and invigorating, crossing the country every weekend to play someone completely different from what I'm doing on the TV show."
Harrison Jr had his toughest day at work when it came to filming the heavy scene that would change Tyler's life. "A24 and everyone talked about the scene," he says. "We thought about how it elevates, and how to not necessarily justify [what's happening], but show the fact that mistakes can be made and be muddled.
"It came from an intellectual point of view, and once we intellectualised it enough, we just had to perform with instinct and heart. We started at 8am, broke for lunch, still didn't get the scene and came back and shot for three more hours, until I was banging my head against a wall, screaming, 'I hate you, Trey, I don't want to do this movie anymore.' I was freaking out. At a certain point, A24 said they were going to pull the plug. Then we shot one last scene, and that was the one."
As the interview comes to a close, Brown gets up and says: "Right let's do this." Both actors jump to the floor and do push-ups — 50 each, and still in synch. Of course, Brown does one extra.