James Spinney and Peter Middleton have lived and breathed Notes on Blindness - a cross-platform project that details a professor's descent into blindness - since its humble beginnings as a short film series that was developed in 2010.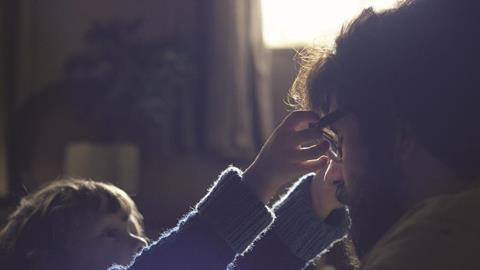 After winning Best Short Film (Notes on Blindness: Rainfall) at Hot Docs in 2013, the film evolved into a 12-minute short with the help of New York Times Op Docs one year later.
It expanded further into a feature length film and coinciding virtual reality (VR) project, with a world premiere at Sundance in January this year.
The film and VR project most recently landed at Sheffield Doc/Fest, featuring a newly edited version with an experimental sound mix and added narration from subjects John Hull and his wife Marilyn.
The British film-makers spoke to Screen about the journey behind the project.
This film has been an extensive journey for both of you. Can you talk about the timeline, from the initial short to its final feature and supporting VR project.
Spinney: We first met John [Hull] and his family five years ago. We knew the main focus would be his audio diaries that had around 16 hours of recordings. There was so much to work with - we believed we could eventually make it into a feature.
Middleton: After its premiere with the New York Times and Sundance [in 2014], we began working on the feature-length version. We were in different labs, and were drawn to finding unique ways to reflect on John's creative diary passages documenting his transition into a world beyond sight. VR wasn't talked about as much then, but when we were on a pitch at Cross Video Days [in Paris] in 2014, we were teamed with Arte. And that was the start of its more unconventional approach, both with the film and the VR project.
How instrumental were you in the making of the VR project?
Middleton: Very. Arte introduced us to Arnaud Colinart (AGAT Films & Cie), who initially pitched the idea of a 360 experience viewable via a mobile app. As technology progressed, it became clear that a VR experience would offer a more user-led, explorative approach that could highlight an acoustic space.
Spinney: We didn't want the two projects to compete with one another; but rather offer different entry points for the same source material. Over the four chapters that are on the VR project, only one crosses over [to the film]. The focus is on blindness and John's sensory perception by using binaural audio and 3d visualisations.
You were working on the VR project at the same time as the film. What was involved in the making of the film?
Spinney/ Middleton: We shot for 40 days in the summer of 2015. Halliford Studios doubled as the Hull's home. The set was built on a platform so we could bring the rain in for the rainfall scene. We literally flooded the studios. We also shot around the University of Birmingham in the actual locations where John taught, and used his original equipment like his old tape machines and cassette tapes. Wales doubled for Australia [where John's parents lived and where the Hull family visited].
You decided to use actors rather than archive material to make the material feel more current. Can you talk about the unusual lip synching approach?
Spinney: When we found these additional audio recordings of letters to John's parents in Australia, it was transformative – the characters were bursting to life. This prompted us to hire casting director Amy Hubbard to help us find actors who could emulate John and Marilyn by a lip synching technique also used in The Abor.
Technically, it wasn't easy: instead of having a sound recordist on set, we had a 'playback engineer'. Each line of dialogue was prompted by a series of audio pips to help timings. Dan Skinner (High-Rise, Swallows and Amazons) and Simone Kirby (Jimmy's Hall) perfectly captured The Hull's rhythms and cadences, they found the depth and emotion behind those recordings. Dan took it one step further, and denied himself the use of his eyes over the 40 days of production. It was a very challenging experience for him.
The funding process involved many different partners - can you run down who the different investors were?
The first short film was put together via a few small arts grants that are in no longer in existence including Ideas Tap. Then Creative England gave us development money which turned into production funding for the longer short. New York Times Op Docs were generous as well. When it came to funding the feature, BFI and Arte were integral in the finance process, and later Creative England, BBC Storyville, along with Impact Partners and Cinereach in the US. For the VR piece, investment included Tribeca New Media Fund, Arte and CNC in France. We were very lucky people saw the potential in the unusual approach.
Can you talk about the new versions of the film that you are working on?
Middleton: Via VOD, viewers will have the opportunity to view three versions of the film. The first is the film that is premiering here that has a more alternative sound design with additional recordings from John and Marilyn. The idea is that it would be more like a 90-minute sound piece. The second version will have a Dolby Atmos sound mix, and will premiere at the Open City Documentary Festival in London on June 23. And the third version is the current film.
We are also working on an app that will provide audio descriptions. Usually audiences are not allowed to use phones in the cinemas for piracy reasons, but we are working with Curzon to take down these barriers with the aim to change the card at the beginning of films to read 'turn your phone off unless you are using audio descriptions.'
How are you planning to showcase the VR project within the film's distribution platform?
Middleton: Arte are working to collaborate with media partners to help bring headsets like the Google Cardboard to wider audiences. Curzon and BFI are also working closely together in a tour around the UK and Ireland starting from June 24 where VR headsets will be stationed in the cinema's foyer before and after the screening.
How do you think John would have responded to this project?
Spinner: John passed away during the filming of the film – it was very sad for all of us. I think it is still raw for Marilyn but her involvement in the film has helped her celebrate his life. I remember him saying to us on the last occasion we saw him that he was energised about the film. He was always very engaged, and would use clips from the shorts in his talks. He was also very active on social media, responding directly to comments on the New York Times website. I hope that he would be happy with the final film.