Screen speaks to the British filmmaker about his documentary following a group of brave individuals risk their lives to save the last of the world's mountain gorillas.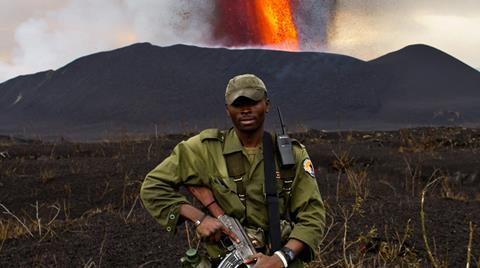 British filmmaker Orlando von Einseidel didn't set out to debunk the myth propagated in King Kong: that gorilla's are dangerous and frightening creatures. But that has been one result of Virunga, a film set against the backdrop of Eastern Congo's national park, which is home to 880 of the world's remaining mountain gorillas.
The park is caught in a tug of war between big business interests, rebel groups who want to control it and the brave rangers who work to protect it.
Speaking about his two years filming the gorillas, von Einseidel said: "They are really just the most gentle creatures. It's a privilege to get to be part of their world."
Even Desmond Tutu has taken to tweeting about the film and the plight of the park. But Virunga, which had its world premiere at the Tribeca Film Festival in April, closely followed by its international premiere at Toronto's Hot Docs, continues to make headlines underlining that the struggle to protect the park is not yet over.
Before Tribeca, park ranger Emmanuel de Merode, featured prominently in the film, survived an assassination attempt.
Despite this, von Einseidel said: "Even the rebel groups – most of them realize the gorillas are an integral part of that region's future. As we see in the film, when there's war everything suffers. Kaboko (a gorilla) is sick and no-one can come and take care of him."
The rangers are important and have a stabilizing force, he said. "In 15 years, 140 rangers have died, mostly from protecting civilians."
By safeguarding Virunga, "there's real potential to change the region for the better."
Here's more from Virunga director Orlando von Einseidel in a chat during Hot Docs about his new film:
What has it been like to launch this film at Tribeca, followed so quickly by Hot Docs?
Tribeca was a whirlwind and a fantastic launch pad for this project. We needed a festival that felt global and had a lot of press and lots of our partners were there, we were blown away by reception. Desmond Tutu is tweeting about the film and the campaign and the park. Now we are at Hot Docs and it's just great.
What led you to the Congo?
I wanted to tell a positive story from the region. I spent a lot of time working in West Africa. I've seen a lot of negative stuff and I wanted to tell a different story. I read about the rangers and was impressed with their dedication and bravery.
How did you find the right time to go film in what is essentially a conflict zone?
There was a period of stability of a few years, the park implemented some initiatives to increase gorilla tourism, among other things, and I saw that story as a metaphor of the wider rebirth of the region as a whole.
The park also has the world's only permanent lava lake, an incredible volcano with a pool of lava. There are elephants, lions, antelope and hippopotamus… there are gynormous mountains with glaciers – the highest mountain range in Africa is in the park.
How did the story come together?
I realized quickly the film I went out to shoot would be a different film than the one I was making. After being there for three weeks a new civil war started and I learned about the concerns the park had with illegal oil exploitation in the park.
What is it like to film the gorillas?
You feel incredibly privileged to enter their world and one of the things about mountain gorillas is you are part of their world. In a safari you stay in a jeep. With the mountain gorillas you walk into the forest, into their space and privacy. They tolerate you sort of, and they are curious. It's almost a bit life changing when you first do it. It is incredibly special.
What did you learn about Gorillas?
One reason why they are so unique is they are very gentle. They have a bad wrap from King Kong but they are gentle and accepting and special.
The caretaker Andre is a very compelling character.
Andre is a man of incredible integrity and is very brave and he has an exceptionally good heart. He really loves those gorillas, he would lay down his life for them and loves them like his family. He knows how important they are for future of his country and role they can play in sustaining peace and development.
How can Virunga Park and the gorillas provide peace for a country in turmoil?
Virunga is an urgent and precedent setting case – only 0.05% of the world surface is protected under world heritage: for humanity for the planet. If Virugna falls in face of business interests, what is sacred anymore?
Other than gorilla tourism, the park is an abundant source of water – utilizing it for electricity provides tens of thousands with electricity and that means jobs [to manage hydropower stations] and infrastructure. And, that could stop others [who have nothing to do] from joining an armed group. There is agriculture and fisheries and of course, the stabilizing effect of the rangers.
Shooting in conflict is one camera skill, and wildlife shooting is quite another. How did you reconcile the two in the same film?
Well, my background prepared me more for conflict. And I learned a lot on this shoot, the patience and waiting [needed to shoot wildlife]. I was there for two years. I really appreciated those more still, slower moments with wildlife and within the film; this contrasts what is going on with humans.
How long did you dedicate to shooting this film?
I spent 11 months on the ground across two years. I spent a lot of time on my own to begin with. Near the end, I brought in people with specialized skills to shoot the bigger aerial and wildlife parts. [As for shooting on my own] as a director I do like the intimacy you have when you filming without a big crew. But, if I had had more money to begin with there would have been more people.
How did you get funding?
It was piecemeal. At first it was self-funded then we did an event called The Good Pitch at BritDoc and that acted as a catalyst. Early funders were the IUCN (International Union for the Conservation of Nature).
What is this film about for you?
This has always been about more than just the film. It sits alongside a campaign to protect the park in conjunction with the park and other partners to protect against illegal oil exploration – [the park] can pay a key role in a sustainable future for Eastern Congo.