SUNDANCE LONDON: Steve Coogan and Rob Brydon discuss the sequel to their foodie road trip comedy.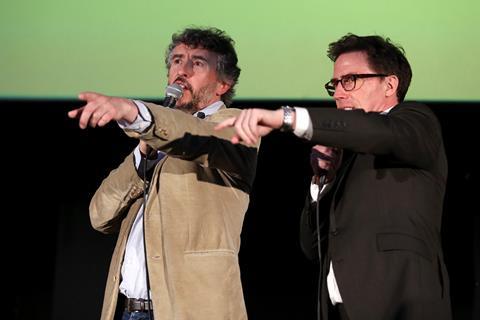 On the opening night of Sundance London, Steve Coogan and Rob Brydon - stars of The Trip to Italy - took to the stage to answer questions about the foodie road trip comedy, which debuted at the Sundance Film Festival in January.
Also in attendance were director Michael Winterbottom, who stepped out of the spotlight to give his two leading men the stage, as well as actresses Rosie Fellner and Marta Barrio, and associate producer Josh Hyams and producer Melissa Parmenter.
The extended, six-part TV series is currently airing on BBC2 in the UK while the theatrical version has been picked up for US distribution by IFC.
Has Tom Hardy seen your impressions of him?
Rob Brydon: I don't know. I saw him the other day. I bumped into him at something. He's remarkable. He looked tiny. He's a chameleon. I don't know, is the answer.
Steve Coogan: Christian Bale. I don't know if he's seen it either.
RB: Anthony Hopkins, I showed the bit on the boat to and he laughed his head off.
Where was your favourite place in the film?
RB: For me it was the last one because it was a beautiful setting on Capri – Il Riccio, which is twinned with the Capri Palace Hotel which is incredibly expensive.
SC: I didn't like it, for that reason. It was £8 for a can of Coke. Disgraceful.
RB: That's the hotel, but the restaurant in terms of sitting there by that cliff and by the sea was lovely.
SC: There were loads of women with facelifts in the pool in the morning. I liked Revello.
RB: Oh yes, I take it back. Villa Cimbrone in Revello.
SC: The food was nice but the location was fantastic. That is where Rob and I got drunk in one scene.
RB: If you get the DVD there are outtakes and we get so pissed. We talk about Gore Vidal.
SC: It's probably not the best bit of the film but it's like modern jazz musicians who enjoy playing their instruments more than people like listening to them.
Any plans to make a third series?
RB: There are no plans at the moment.
How similar is your relationship in real life?
SC: We just take a kernel of truth and grow it into a tree of ugliness. We have dinner in the evening after we have the dinner we film, which takes about six hours because we're constantly moving the cameras and we have to eat the same meal three times. But in the evening we have dinner with each other and if you filmed a real dinner with Rob and myself it would be a bit dull.
RB: It would be more like On Golden Pond, but in a good way because we had some lovely dinners. But there's not the niggling, which is a dynamic that works for us.
SC: We'd sometimes have dinner and have a conversation and if it appears to be entertaining we say "We should tell this to Michael. It might be a fun thing to talk about." But Michael mapped out the dynamic and the arc of the story. We know how to press each others buttons, and that's what we do. But Rob doesn't constantly go around doing impressions because frankly that would be weird. I think it looks a bit weird in the film.
Is there anything we haven't seen that you wish was included?
RB: There are always things that don't make it. There are things that have come out in terms of cultural references. When we're in Pompeii, in the series – the episode that airs a week today, which I think is my favourite, the Amalfi coast – Steve does an incredibly brilliant Frankie Howard impression and that was originally in this cut. But when it played at Sundance, there were people laughing all the way through and then it got to [Frankie Howerd impression] and there was silence.
SC: It's like when you do your Ronnie Corbett impression in series one. People in America don't know what the hell is going on.
Was there a difference in the dynamic between you two between the series?
SC: Yes. I'm probably a bit more laissez faire than I was in the first series but that's probably because I'm a slightly happier person than I was then so I channelled that.
RB: There was a different feel. The first one was very new and I wasn't sure what it was going to be. So when you come to the second one there is a template.
SC: You're aware when watching us perform that we're slightly smug because the first film was good. That's definitely there.
How hard was it to stick to the script and improvise at the same time?
SC: It wasn't really scripted. The scenes were mapped out, approximately. Sometimes Mike would say Rob and Steve talk about this. We'd sit down and come up with a background and end up talking about something else completely.
The only way it was scripted is that if we started to say something that Michael liked or thought was interesting or funny, he'd want to cover it – move the cameras around and film it from different directions – so we'd sort of have to go over the same ground. But we wouldn't do it word for word the same. It's a hybrid. If you have a new idea when filming that extra bit you may throw that in. We need to entertain each other, not the audience out there. You have to pretend the cameras aren't there.
How didn't you put on a lot of weight?
RB: I did. I put on 8lbs in the first one because I wolfed it down and [Steve] cleverly didn't. The second one, I didn't eat as much so I didn't put on any weight. We had to eat every course three times to cover the angles.
SC: I'd very cleverly go into the toilets and stick my fingers down my throat.
RB: That's making an eating disorder work for you.
What's the best and worst thing about playing yourselves?
SC: It's good because if people take the piss out of you, you can say: "Well, I did it first so fuck off."
RB: It's an interesting way of working. Personally, it feels like a very creative thing because so many lines are blurred and you're creating stuff, which is sometimes like me but other times you go somewhere because it's interesting and may take you somewhere else. It's a rewarding way of working.
SC: It's more exciting the more risqué you're prepared to be. That's when it gets really interesting.