Dir: Andrea Arnold. UK-Den. 2006. 113mins.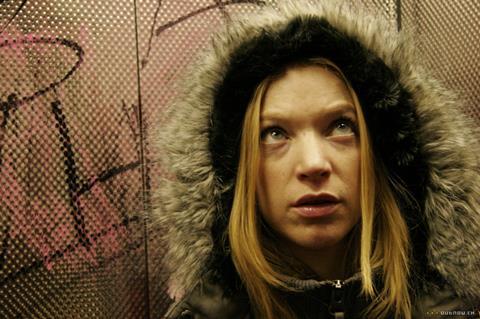 The question of whether Andrea Arnold can expand her Oscar-winning talents from short films to features is answered with a resounding yes by Red Road. Likely to emerge as one of the discoveries of this year'sCannes, the powerful saga of loss, guilt, revenge and redemption readily justifies its inclusion among the main competition titles. Arnold displays an unsettling command of atmosphere, emotion and tension that can withstand comparisons with the work of Michael Haneke or Lars Von Trier.
Red Road is the firstproject to emerge from Von Trier's The Advanced Party scheme to make threelow-budget features using a set of characters created by Lone Scherfig and Anders Thomas Jensen. Arnold impresses in howshe crafts a multi-layered story, adding texture to the way an artist builds uplayers of paint in the process of creating the bigger picture.
Shealso secures vivid portrayals from her cast with the unknown Kate Dickie giving the kind of committed, draining performancethat may present Penelope Cruz with a run for her money when it comes to theJury's final deliberations. Her sharp, angular features dominate a film thatoften eschews unnecessary dialogue to tell the story visually. Dickie makes you accept the emotional conflicts within awoman struggling to resolve the unbearable legacy of a tragic accident.
Inevitably, there is a considerable difference between the giddy enthusiasm of Cannes critics and perceptions of the film in the real world where its narrative discretion, downbeat nature and unsparing evocation of working-class lives might not qualify as useful marketing hooks. UK audiences are notoriously leery of indigenous productions, preferring fluffy and feel-good (Billy Elliot, Love Actually etc) to harrowing and hard-edged. Red Road may be a tough sell for Verve who pre-bought UK rights but critical support and the ability to generate interest in the discovery of new talent should give the film a real fightingchance. The Zentropa imprimatur, Dogmeinfluences and prestige Cannes premiere should help to make it a viable commercialoption throughout Europe.
Arnold has the comparatively rare quality of convincing the audience that they are in safe hands. She takes you on a journey with the promise that once the final destination has been reached all your questions will be answered. It does require a certain amount of faith and patience on the viewer's part and Arnold pushes the point at which we really need to know more than we have been told.Just when the faith falters, she brings everything together in a shattering climax that makes good on her promise.
Just like the central character of Jackie (Kate Dickie) you are made to feel as if an enormous weight has been lifted from your chest and breathing is possible once again. Almost like a quintessential Atom Egoyan character, Jackie has become a passive observer of other peoples' lives. She is a CCTV operator, watching over the world like ahi-tech version of James Stewart's immobilised photographer in Rear Window. Dwarfed by a bank of monitors, she sees fragments of stories and the vast underbelly of Glasgow's mean streets.
We know there has been tragedy in her life. We sense she is numbed by grief and that there is a past that will not let go its hold over her. Then she catches sight of the man who was responsible for her pain. Clyde (Tony Curran) has been given early parole from a 10-year jail sentence and is now attempting to go straight. She becomes fascinated by his activities, stalking him and befriending his flatmates Stevie (Martin Compston) and April (Natalie Press). As her obsession grows, it becomes impossible to determine whether she wants to kill him or bed him or what she might be willing to sacrifice in pursuit of closure.
Red Road takes its name from the street of notorious high rise apartment blocks where Clyde lives and Arnold lets the camera linger over the detritus of modern urban living from streets strewn with fast food cartons to abandoned skips and graffiti-covered walls. There is misery at the heart of the story but the narrative takes some unexpected turns and what feels like a journey of utter despair becomes a road to redemption reminiscent of Von Trier's Breaking The Waves.
Production companies
Sigma Films
Zentropa
International sales
Trust Film Sales
UK distribution
Verve Pictures
Executive producer
Lenny Crooks
Producer
Carrie Comerford
Co-producers
Gillian Berrie
Sisse Graum Olsen
Screenplay
Andrea Arnold based on characters created by Lone Scherfig and Anders Thomas Jensen
Cinematography
Robbie Ryan
Production design
Helen Scott
Editor
Nicolas Chaudeurge
Maincast
Kate Dickie
Tony Curran
Martin Compston
Natalie Press
Paul Higgins