Screen speaks to Oscar-winning actor Richard Dreyfuss and producer Mark Montefiore about Jason Priestley's directorial debut.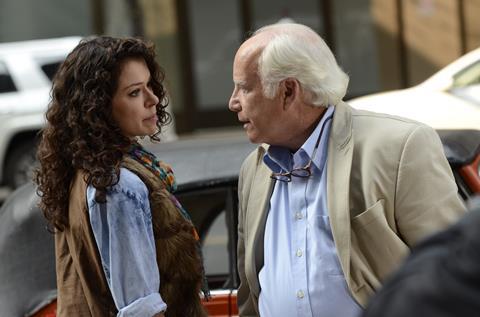 Richard Dreyfuss stars alongside Tatyana Maslany in Jason Priestley's directorial debut Cas & Dylan.
The film follows Dr. Cas Pepper (Dreyfuss), a suicidal man with a terminal illness who ends up on the lam after he reluctantly gives a ride to 22-year-old social misfit Dylan Morgan (Maslany).
Sales agent Breakthrough Entertainment is screening the film to buyers at this year's AFM.
Elbert Wyche caught up with Dreyfuss and producer Mark Montefiore to talk the challenges of making a road movie and hitting the festival circuit.
How did the project come together?
Mark Montefiore: The project was developed in Canada. When I met the writer, Jessie Gabe, she had written a feature. I started reading the script and thought, "Wow, this is amazing."
After a little development, I showed it to Tatyana Maslany who I had known before that, and together we brought it to Jason to direct.
We understood that he was looking for his first feature to direct so Jason came on board and together with him, we formalised it with Tatyana .
Then there was the role of Dr. Cas Pepper. We've forever been big fans of Richard [Dreyfuss]. Richard's name kept coming up and he felt perfect. So we sent the script to Richard.
Richard, when you were sent the script, why did you want to play that character?
Richard Dreyfuss: I like the notion that he was secretly biding his time until he was told he was going to die so that he could join his wife.
I thought that was an extraordinarily romantic idea. That's really why I wanted to do it.
Why was Jason Priestly the right person to direct?
MM: Jason is a very experienced director in the TV side. He comes from a background of experience not only directing, but especially performing. We all know where he comes from.
It's such a character driven film that went cross country due to different landscapes of Canada. But it was pretty much Dr. Cas Pepper and Dylan Morgan in a car for the whole movie. They are very tightly knit; two characters in very close proximity. So if the characters and the performances weren't strong then the movie falls apart.
Before we were lucky enough to have Richard on, where that talent comes naturally, it was all about having a director who can bring out and ensure those performances first and foremost. Him having the background of an actor was a natural fit for this project.
Where did the film shoot and for how long?
MM: We shot for approximately five weeks. We shot the majority of the film in Northern Ontario.
We did about a week's work in Alberta in Calgary; that's where a lot of our road trip happened.
What were some of the challenges of shooting a road trip movie?
RD: Most of the time when you are shooting in a car, the director in a sense, has to take things on faith. He's not really able to see what's going on inside the car.
What we ended up doing was just rolling the film and doing the scene over and over, changing it and having fun with it.
There's always the chance, since we're using an old VW Bug, that it's gonna die on you. Thankfully, that didn't happen.
Really it was the fact that Tatyana was so wonderfully relaxed, happy and amiable - and willing to go in any direction - that made the film really fun to do.
MM: On top of that, there were the regular challenges of production. We were in Northern Ontario, far away from Toronto, where most of our crew was going back and forth to.
It was a very low budget that we were working with and we were achieving a lot. [Laughing] That and the 1971 orange convertible Bug.
What's coming up on the festival front?
MM: We are just starting that process right now. We just had the premiere at the Atlantic Film Festival in Canada. Richard couldn't make it at that point. But we had a standing ovation there which was absolutely amazing, it was quite overwhelming.
We're the opening night film at the Whistler Film Festival on December 4.
We're still waiting to hear from a lot of other film festivals. There should be a lot of exciting announcements coming up shortly.
What do you hope audiences take away when they leave the theatre after seeing this movie?
MM: One of my favourite films is Life Is Beautiful. It's the ups and downs of it; one second you're laughing and the next you're crying. That's the beauty of this script and the performances. It hits you on all levels.
RD: I think Mark said it right. You go to see movies for different reasons; to be scared out of your seat, or to fall in love, or to enjoy the companionship of friends. That is really the mainline of this film.
We really do learn to like these people and enjoy being with them even though they might drive one another crazy at times. They inadvertently bond and become intensely close. In that way it's very moving.
MM: We've been getting a lot of people that watch the film saying there's a warmth and an uplifting feeling. It's a very moving film. That's all you can ask for, is that it affects an audience and that's what it's been doing so far and we hope it continues to do.