"Our society is workaholic, constantly on this treadmill of productivity," says Riz Ahmed. He sees parallels between the changes enforced in many lives due to the pandemic, and those in the life of Ruben, his protagonist in Darius Marder's Sound Of Metal, a heavy-metal drummer beset by sudden, severe hearing loss.
"Being forced to step away from the noise of daily life might allow us to communicate more with ourselves," says the actor. "I hope we come out the other side with more clarity about what we're doing and why."
Ruben's deafness puts his tour with bandmate and girlfriend Lou (Olivia Cooke) on hold, and leads him to a community for the hard of hearing, where he must embrace his identity as a late-deafened person.
Ahmed and Cooke joined the film in 2018 after the departure of Matthias Schoenaerts and Dakota Johnson due to scheduling conflicts. It shot that year — Amazon Studios took US rights following its premiere in Toronto's Platform section in 2019, and a limited theatrical release was conducted in November 2020.
Depicting deafness was the latest twist in Ahmed's diverse career, which has taken him from the black comedy of Four Lions, through neo‑noir news satire Nightcrawler, to the 2016 blockbuster Rogue One: A Star Wars Story.
"Through the deaf community, I learned the meaning of listening and communicating with your whole body, without hiding behind words," he says.
Ruben oscillates between denial and acceptance, with Ahmed using separate techniques for each. In scenes where he considers his deafness a disability, Ahmed wore auditory blockers — hearing aids placed deep within his ear canal and inverted to a white noise setting. Not only was communication with Marder restricted to writing on bits of paper, Ahmed could not even hear his own voice. "It's a glimpse into how disorienting and jarring it would have been," he says.
Ahmed also spent seven months learning American sign language (ASL) for the moments where Ruben is immersed in the deaf community. The role is not "a deaf character", but "a hearing character who must embrace his identity as a late-deafened person", Ahmed says. Shooting chronologically engendered a "meta-process", aligning his own learning with that of Ruben. "You have to do all the preparation, but then it allows you to let go a bit more."
Ahmed has been vocal about the underrepresentation of marginalised groups in film, including those of which he is not himself a member — such as the deaf community.
"I'm here to listen to people's experiences," he says. "That's the best thing you can do as an actor, on or off set — listen and learn." He notes every deaf character in the film that identifies with and embraces deafness ('culturally deaf' in the community's parlance) is played by a deaf actor. Captions are present on every single copy of the release, a choice intended to allow hearing and deaf audiences to enjoy it simultaneously.
Synchronicity with Cooke was easy. "We clicked straight away," he says. It helped that "we're both Brits playing Americans; we were both new to these instruments and this punk-noise scene".
The film opens with the pair living a lo-fi, nomadic rock 'n' roll life in an RV. The small scale of production enhanced their closeness, with no trailers for the actors. "We lived through a version of that," says Ahmed. "You don't go back to your dressing room [after shooting]; you're on set, living it, doing one or two takes per scene and then going on to the next."
Hailing from Oldham in northern England, Cooke, like Ahmed, does not fit the posh-skewing UK acting archetype. "That was in the mix of our connection," he says. "We find ourselves taking on roles this meaty in the US, rather than in the UK where perhaps there's more conservative fare that favours a certain type of casting."
The actor is increasingly glad of his uniqueness. "I'm more and more grateful to be able to offer a non-typical perspective, and to portray atypical stories," he says. "The point of telling stories is to stretch culture and rearrange our mental furniture. If you're coming with things that are a bit left-field, you're more likely to be able to contribute to that."
Triple threat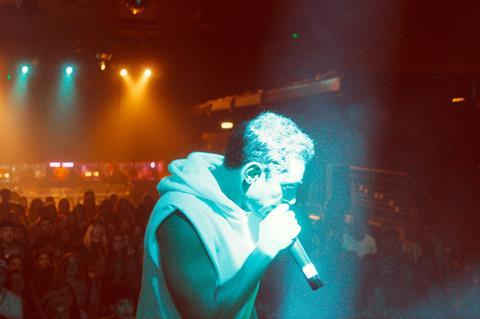 In 2020, Ahmed also starred in UK feature Mogul Mowgli, which he co-wrote with director Bassam Tariq and also produced. Taking inspiration from his own life, Ahmed plays a rapper who is struck down with an auto-immune illness on the eve of his big break, which brings him to re-evaluate his relationship with his heritage.
He received three nominations for the film at this year's British Independent Film Awards — actor, screenplay and debut screenwriter — with a further nod in the shorts category for The Long Goodbye, which he co-wrote with director Aneil Karia. Both films employ Ahmed's skills as a music performer and spoken-word artist — he aims to continue writing this year for both film and music.
When Mogul Mowgli premiered at the Berlinale last February, Ahmed told Screen that "so many people in diaspora have the kind of identity crisis" it depicts. Nearly a year later, he thinks that fragmentation of self has extended to other groups due to the global pandemic.
"People's core identities have been questioned because the things that give them purpose have been shifted," he says."It teaches us that perhaps we're not who we really thought we were. If a lot of the labels we've clung to as being at the heart of our identity are actually quite circumstantial and contingent, then it may be that who you really are is deeper than that."
Ruben begins Sound Of Metal as a drummer who lives in an RV with his girlfriend; it is in the dissolution of these tenets that he finds himself.
Ahmed sees "identity politics" as having value "for voicing the needs and concerns of marginalised communities". However, becoming "entrenched into labels of us and them" is to be guarded against, he says. "The things that we think separate us — like being hearing or deaf — perhaps they're not as big as we thought."