Three could be the magic number for International Film Festival Rotterdam (IFFR) director Bero Beyer, who is optimistic about his third year at the helm of Europe's 2018 festival curtain-raiser. "The magic of Rotterdam is the balance of being huge, diverse and broad, while also being very specific in the thematic elements we address," says Beyer of the event's 47th edition.
The festival, which runs January 24-February 4, is ramping up its activity this year, with growth areas including a programme of masterclasses and talks from invited filmmakers. "We're getting very greedy; there will be at least one masterclass or talk per day," comments Beyer, who points to confirmed high-profile names including Sean Baker, Charlotte Rampling, Paul Schrader, Apichatpong Weerasethakul and Lucrecia Martel.
Anderson will be travelling to Rotterdam with his awards-season contender Phantom Thread, which will receive a special screening accompanied by a live rendition of Jonny Greenwood's score performed by Rotterdam Philharmonic Orchestra on February 2.
Armando Iannucci will bring his UK hit The Death Of Stalin, which will close this year's festival on February 3. The political satire is playing in the festival's A History of Shadows programme — one of five thematic strands this year — which is dedicated to cinema that re-evaluates or reinvents the past. The section will also feature Robert Schwentke's The Captain and a double-bill of Jörn Donner's 1971 documentary Fuck Off! — Images From Finland and 2017 follow-up Fuck Off 2 — Images From Finland. "Our audiences want to see something that relates to the world we live in and widens their frame of reference," says Beyer.
This year's festival will open with Jimmie, Swedish director Jesper Ganslandt's experimental feature about a four-year-old boy who flees his home country with his father. The film is told innovatively from the boy's perspective, using a camera rig designed by DoP Mans Mansson to work at the boy's height. "Showing these films, which are an alternative to cinema's mainstream dominance, is even more important in this era," says Beyer.
"I'm especially proud of our thematic strands of programming this year," he adds. These include Maximum Overdrive, which will feature titles dedicated to the aesthetic excess of maximalism, including Dan Schoenbrun and Vanessa McDonnell's 10-hour visual bombardment The Eyeslicer; and Pan-African Cinema Today, a strand dedicated to films from Africa and its diaspora, which Beyer says continues the themes of last year's Black Rebels programme.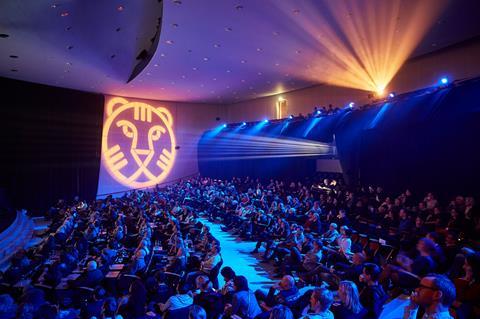 IFFR's Tiger competition will once again award $24,000 (¤20,000) each to the director and producer of the winning film, chosen from a pool of avant-garde arthouse movies. The festival will also give out $36,000 (¤30,000) to one title selected by a jury of five audience members — half the amount goes to the filmmaking team and half goes to the Dutch distributor (if no local buyer becomes attached, the festival will endeavour to distribute the film). "Our mission is to find those talents that are bringing something new to cinema, while also doing something for the benefit of our big public audience," says Beyer of the two strands.
IFFR Live, the programme of screenings that are simulcast around the globe, is reaching new frontiers this year by expanding to Africa. There will be around 40 participating theatres around the world screening a programme of six films — all directed by women and opening with Deborah Haywood's UK drama Pin Cushion — including a venue in Zimbabwe capital Harare.
Beyer is also keen to talk up SVoD platform IFFR Unleashed, which will launch fully during this year's festival. The service will enable online viewers to watch a selection of films from past editions of the festival, as well as tune in to this year's IFFR Live events.
Going Pro
Unlike the main festival, Rotterdam's industry wing IFFR Pro Days (Jan 26-Feb 2) is focused on becoming more compact and streamlined. For IFFR's respected co-production market Cine­Mart, the selection has been downsized from 26 projects in 2017 to 16 projects this year. Industry head Marit van den Elshout explains that the team wanted to give each project "more care and attention".
One month prior to the festival, each of the selected projects is assigned an industry-professional mentor who will help the teams make the most of the event. During CineMart, they take part in a meeting schedule that is tailored by the festival team, which attempts to match projects with appropriate potential partners. These are accompanied by shorter speed-dating meetings with the wider industry pool. At the end of CineMart, the mentors will conduct an on-stage interview with the project teams, offering an opportunity for attendees to get to know the filmmakers.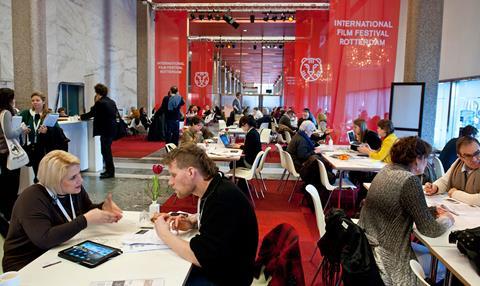 "We don't just want to put the projects we select on a platter and send them into the world and hope something comes out of that," comments van den Elshout. "We want to work more with the projects, to be more hands-on, offer a better structure and have more influence on who they meet." The team hopes that with a reduced number of projects, attendees at the market will have more time to make the most of their trip by attending other parts of the festival including film screenings and masterclasses.
The major addition to IFFR Pro this year is Reality Check, a two-day event (January 28-29) focused on the future of distribution. Van den Elshout says the team hopes to analyse "the place of a festival in the changing world of distribution" through the programme, which will involve keynotes, panels and workgroups. Rather than being "just another conference", the IFFR team hopes the event will provide a "playful approach" and be a positive way of debating methods of industry innovation.
Don't Miss
IFFR's art installations are always an event highlight, and this year Thai filmmaker Apichatpong Weerasethakul is taking it up a notch with his unique experience SLEEPCINEMAHOTEL. Audience members will be able to book sessions for day and night slots at the event, held in the Staalzaal at the World Trade Center Rotterdam, which will feature beds, hammocks, showers and breakfast in a room screening constant impressionistic images selected by the Palme d'Or winner. The images will not loop once during the entire six-day runtime.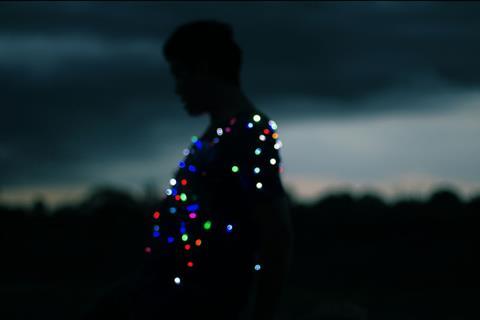 Where to Eat
Seek out an Indonesian rijsttafel, which translates as 'rice table'. A Dutch colonial tradition brought back from West Sumatra, the meal typically consists of 40 small portions of various Indonesia-inspired dishes. Specialist restaurants include Dewi Sri on Westerkade, about 25 minutes' walk from festival hub De Doelen.
Need to know
While most people tend to take a car from Schiphol airport, Rotterdam is only a 50-minute train ride from Amsterdam and the route takes you directly from the airport to the heart of the festival. De Doelen does not accept cash, so make sure you are carrying a euro-friendly credit or debit card.