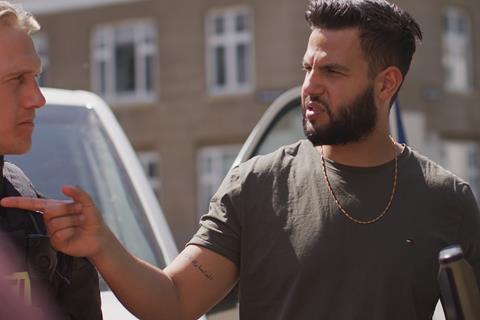 Ulaa Salim was born and raised in Denmark by his Iraqi parents and he often explores the duality of the two cultures he straddles in his work. Salim studied at the prestigious National Film School of Denmark where his graduation film was the Land Of Our Fathers which was nominated for a Robert for best short film at the Danish Oscars in 2018.
He made his IFFR debut with the short film Our Father's Sons in 2015. Salim runs Hyæne Film with his producing partner Daniel Mühlendorph and together they have produced his feature directorial debut, Sons Of Denmark. The film is set in the aftermath of a bombing in Copenhagen, when a nationalist politician is on the rise and a young man is becoming radicalised. New Europe is handling international sales and Nordisk is releasing the film in Denmark this spring.
How did you get into filmmaking?
I started by writing primarily my own personal story, then incorporated that into film and from there it was clear to me, that filmmaking gave me a voice in the world. That led me to film school and fully becoming a filmmaker and expressing myself through film.
What was your inspiration for Sons Of Denmark?
The world we live in, where we have been and where we are going as a society.
How did you get the film made?
I started writing this story before film school and developed the core of it while I was still studying. Then I developed it through [the Danish Film Institute's new talent strand] New Danish Screen which financed the film.
What was the biggest challenge when working on the film?
Creating complex characters and emotions in a simple storyline that would allow you to see the world through different perspectives. And yes, also blowing up a train station on a low budget first feature.
What are the key lessons you have learned from your film projects to date?
That anything is possible in filmmaking. Wait for nothing and keep the right people around you. Always tell the stories that are closest to your heart and mind, because you alone will stand or fall with the film in the end.
What is your next project?
This film had so much fear and hate in it that it really made me want to do something completely different. The next film is a story about love and sorrow. It will be the ultimate love trip.