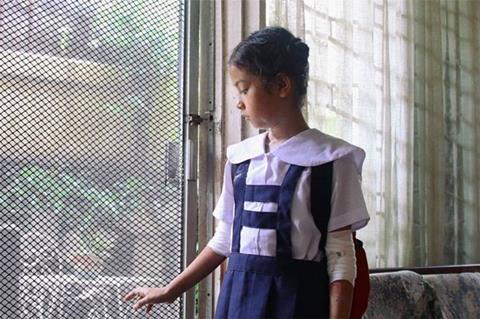 Shireen Seno was born in Tokyo to a Filipino family. She studied architecture and film studies at the University of Toronto. Her photo and video work has been shown in various galleries and she has worked with filmmakers such as Lav Diaz and John Torres.
Her debut film Big Boy (2012) screened at IFFR and won the prize for Best First Film at the Festival de Cine Lima Independiente in 2013. Nervous Translation is her second feature.
Nervous Translation premiered at IFFR on Thurs, Jan 25, and plays again on Mon 29, Thurs 1 Feb, Sat 3 Feb.
How did you get into filmmaking?
I badly wanted to be an architect. I was in love with cities and buildings and spaces. But the more I studied architecture, the more I realized it isn't about the spaces we inhabit but about the spaces that inhabit us—childhood, memories, dreams, desires.
What was your inspiration for Nervous Translation?
Nervous Translation is based on my experiences growing up a reluctant child of the Philippine diaspora. It's a portrait of the quintessential Filipino family nowadays, since the 80s, where we only see and hear fragments of each other, and always in spurts.
Was this project developed through any labs (for example Torino Film Lab)?
It was first developed at Venice's inaugural 2013 edition of Biennale College Cinema, which was incredible. It paired us with mentors in Marietta von Hausswolff von Baumgarten for the script, Scott Macaulay and Amy Dotson for directing, and Mike Ryan for producing. It was also part of Produire Au Sud in Bangkok in 2014.
What was the biggest challenge when working on the film?
There were plenty! A big challenge was finding support after the initial momentum had died down, and after finally securing the bulk of our budget, having to make the film in six months. Lastly, shooting while three to four months pregnant — it was definitely a struggle to stay focused.
What are the key lessons you have learned from your film projects to-date?
Always trust your instincts. A lot of people are going to have their own opinion on what your film should be. They probably mean well so take it all in, and then go with your gut.
What's your next project?
I am starting to write and research a film called The Wild Duck — as of now, a series of vignettes of a stubborn, middle-aged Filipino 'probinsyano' (kind of like a hillbilly) living alone in a quintessential Los Angeles suburb and who stumbles upon a bird's nest in his backyard.