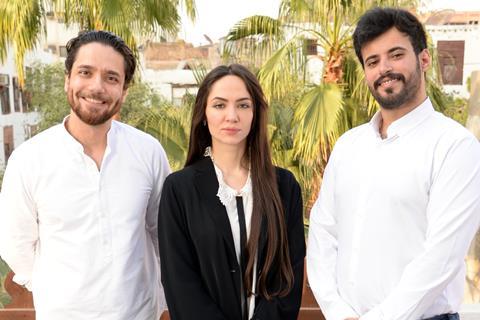 Hamzah Jamjoom's first feature Rupture made its debut at the Red Sea International Film Festival as the only Saudi Arabian film in the competition.
It went on to win the audience award for best Saudi feature across the entire festival.
The ambitious psychological thriller was produced by local outfit MBC production and underwent a complicated, pandemic-interrupted shoot with an international cast and crew.
Rupture is the story of a young Saudi couple who want to start a family and have relocated to London for fertility treatment.
Writer-director Jamjoom sat with Screen to reflect on the project's production challenges and his goal to subvert misconceptions of his country's society and culture.
How did you come to this story?
My mission was to clear misconceptions about my culture, my people, my religion. I was born and raised in Baghdadiyya, literally two minutes away from here [RSIFF's home in Jeddah's old town, Al-Balad]. I relocated to the US and experienced a lot of questions, people asking 'Do you guys have music that we can listen to? Do you guys have movies or plays?' The answer was always no.
When I was growing up here, Saudi society was very private. You had to be invited to Saudis' homes to see the internal fabric of our society and how we deal with each other. We're expected to be private – out of respect, not out of oppression or anything.
I've always been obsessed with using genre in film, to sneak in these messages to allow people to go on an emotional journey without them knowing, to enlighten people who are unaware of how couples interact in Saudi.
The story – about a Saudi couple in London trying to get pregnant –allowed us to show how cultures interact with each other. We snuck in a lot of cultural references – about couples, about relationships, about divorce, about pregnancy, about what it means to be a Saudi couple, and how do you deal with the differences between local cultures in Saudi.
Tell me about your cast and crew.
Our male lead [Fayez Bin Jurayz] is from Riyadh, [in Eastern Saudi] and Sumaya, our female lead, is from Madina [Western Saudi]. Their marriage problems stem from that. [Co-writer] Alberto Lopez is English and was very helpful with the idiomatic language but he was extremely understanding of our culture and society, and he was very respectful of everything we were trying to do. That's the beauty of cinema. You're able to collaborate in an art form that literally will change society and the fabric of our culture, hopefully.
How was the shoot affected by the pandemic?
We started the shoot on November 20 2020, so we finished the first half before Christmas. In total, I think we had 36 days of production. I don't remember, honestly, because there's like an absent year. But we finished 18 days, then took a very long break. That actually helped me a bit – to edit the movie, assemble it in a way that helped me figure out what to do with the remainder of the scenes. I think that was a very lucky accident in a way, Covid bringing everything to a halt.
Why did you decide to set the film in London?
The initial plan was to shoot this in the States – LA or Chicago. I'm based in the States and I have a lot of access to tax credit and whatnot, but shooting there was very difficult. Then we decided to try and shoot in London. Then at the last minute, things shut down completely in London.
So we found a site in Romania that we made look like London. We found a really cool-looking building and we drew a map of where it would be in London, if it were in London, and hired a production consultant from there to help us [make it look authentic]. We got the London buses, the cabs. We flew a lot of our English actors from the UK, and we flew in Billy Zane from the States, and [principal actor] Sumaya Rida, from Saudi. We had coaches for the accents, any kind of assistance to make sure that we got the accents right, the look right.
I've dealt with actors [of the] same calibre [as Billy Zaine] who would be worried about political agendas and whatnot. So I had this fear that an American actor might be worried about literally playing the villain in a Saudi movie, an Arab film. But he came in honestly with complete understanding and said, 'Guys, you're making a Saudi movie that is extremely unique. Don't hold [pull] your punches. Let's go all out.'
Have you had conversations with distributors? Is MBC aiming for a theatrical run, or will it go to Shahid [MBC's streaming service]?
We started the conversations, but we are still finishing the film. What we are screening at Red Sea, is kind of a work in progress. Our plan is to go theatrical. From the first frame to the last, it was written, designed and shot to be experienced on the big screen. Then hopefully it will find a home, wherever Shahid or [elsewhere].