Heard the one about the Jewish entertainer from north London who dressed up as a hillbilly and regaled an American far-right rally with a hate anthem?
Sacha Baron Cohen's antics in Borat Subsequent Moviefilm also saw his fictitious Kazakh reporter Borat Sagdiyev don a fat suit and Donald Trump mask, sling Bulgarian co-star Maria Bakalova over his shoulder and publicly offer his "daughter" to former vice president Mike Pence.
The award-winning British actor and satirist knew the risks involved. The Pence prank resulted in Baron Cohen being escorted from the indoor venue where the politician was addressing a Republican rally.
However, when he infiltrated an outdoor event in Washington state staged by militia movement Three Percenters and slipped into disguise as "Country Steve", the stakes were far higher.
Some in the crowd sang along, while others realised they were being duped and stormed the stage. One man pulled a gun. Baron Cohen's security team got him out by the skin of his teeth, and for the next several days he frequently changed accommodation for his own safety.
"I have a slight psychological problem," Baron Cohen booms down the line on a Zoom call from Australia, "which is when I write something, I can't imagine myself actually doing it.
"So I'm in the [writers'] room going, 'Oh, yeah, that'd be great, let's write it down.' And then it gets to the actual day and I'm putting on a bullet-proof vest because I've been told there's a chance somebody could shoot me. And you have this deep, complicated moment where you think to yourself, 'Am I completely mad or am I an idiot? Why the hell am I doing this?'"
Baron Cohen takes a moment as he recalls what drove him to throw himself into the "terrifying" situation. "I kept on going back to this idea of my real fear of Trump winning again and democracy disintegrating. That [view] was held by everyone in the crew, and everyone was incredibly courageous. At a rally like that, we were told that if anyone thinks you're a Democrat or not supportive, they will have Covid-positive people start spitting at you, so quite apart from the guns…"
Targeting social media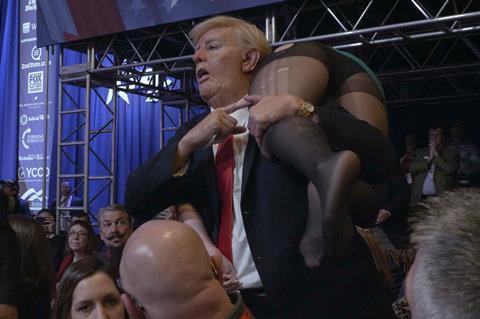 It is December when Screen International speaks to Baron Cohen. A month prior, US voters went to the polls and elected Joe Biden their next president. The vanquished Donald Trump was alleging voter fraud, and in January his exhortations inspired supporters to storm the US Capitol building.
After that final act of infamy, Baron Cohen would lambast YouTube for not suspending Trump's accounts as Twitter and Facebook had finally done. It was not the first time he had issued jeremiads about social media's complicity in amplifying hate speech. The performer had earned fame exposing bigotry and intolerance with his characters' wild pranks, yet a deep desire to champion basic human rights and truth compelled him to deliver a rare speech as himself, calling out social media to the Anti-Defamation League's Never Is Now summit in November 2019.
Baron Cohen has helped civil-rights groups organise under the Stop Hate For Profit coalition, and in so doing, the creator of Borat, Bruno and Ali G has emerged reluctantly as something of a poster child for demo­cratic values.
After the $260m-grossing Borat: Cultural Learnings Of America For Make Benefit Glorious Nation Of Kazakhstan brought the calamitous, moustachioed journalist to cinemas in 2006 and garnered Baron Cohen an Oscar nomination and a Golden Globe, a sequel was not top of mind. In fact, after fashion world spoof Brüno came out a few years later, he reportedly swore off undercover comedy and flexed his more conventional acting muscles in the likes of Les Miserables and Hugo.
"There was talk of [a Borat sequel] over the years, but I never felt there was a reason to make it," says Baron Cohen. "There was an assumption that it would be impossible to make it in the real world again, because the first movie had become so popular.
"And then Donald Trump came along and I became quite angry at everything that he was doing. My outlet was to make a show called Who Is America? [2018, Showtime] with the aim of satirising those around Trump and also the whole notion of fake news."
An appearance on Jimmy Kimmel's late-night talk show changed everything. It was the night before the US mid-term elections in 2018 and Baron Cohen had to scramble when a sketch involving Kanye West fell through. "I called up Chris Rock and said, 'What do I do?' He said, 'Why don't you try Borat going door-to-door campaigning for the Republicans?'" Baron Cohen brought together his writing team and they conjured up a five-minute piece that aired on the show.
The genie was out of the bottle. He shelved an idea for a feature spin-off from Who Is America?, and the writers explored a sequel predicated on the notion Borat was "30% more extreme than Trump".
"I realised this is a great satirical device to let those who support Trump reveal how far they would go," says Baron Cohen. "[That] was my fear with Trump: could he completely destroy American democracy and turn it into an authoritarian regime?"
Things moved fast. An impending pitch meeting with Paramount Pictures triggered a frantic four-hour story session: Borat, exiled to a gulag for bringing Kazakhstan into disrepute, gets a shot at redemption and attempts to offer his daughter as a gift to Pence. (Universal Pictures later took on the project.)
Baron Cohen had been quiet on the satirical front during the Barack Obama years. Now, with a demagogue in the White House and the far right emboldened, outlandish ideas in the writers' room took hold. "That's why something like the 'Wuhan Flu' song discusses the notion of murdering dissenters or imprisoning dissenters, which is obviously the end result of authoritarian regimes," says Baron Cohen. "Would these people who claim to be into democracy actually be so devoted to president Trump that they would abandon the fundamental basis of America in order to keep their allegiance to this man?"
The shift in the zeitgeist and what people were prepared to say on camera in the 14 years since the first Borat film was unmistakable. "There's no question," says Baron Cohen. "What we've seen is the mainstreaming of extremism — the spread of hateful and violent attitudes, so that more and more people share them."
Bakalova is the film's revelation. As Borat's teenage daughter Tutar, who sees a trip to the US as a chance to break free from lifelong privation back home, she is an able accomplice as the visitors expose narrow-mindedness in the country through madcap set-pieces. The actress received one of the film's three Golden Globe nominations, alongside best picture and best actor (Baron Cohen) nods, all in the musical/comedy categories.
Borat's fondness and respect for his daughter grows in the film, which espouses an unexpectedly poignant and feminist perspective. That, says Baron Cohen, was the plan from the start, and top female comedy writers such as Jena Friedman played a key part in developing certain scenes.
"We knew this was going to be coming out just before the election. We knew women would decide who was the president, so we felt this had to be a movie about Donald Trump and his regime's attitude to women, which was sort of encapsulated in that scene with Rudy Giuliani."
In a now-notorious passage that was the result of typically pain­staking preparation, the production got Tutar into a hotel room with Trump's personal lawyer under the pretence of shooting a documentary that would herald the White House incumbent's response to the pandemic.
The scene climaxes with the former mayor of New York City, charmed by his young interviewer's demure affectation, lying on a bed, hands down his trousers while Tutar fusses over his microphone. At that point Baron Cohen barges in to save his co-star's blushes.
Borat Subsequent Moviefilm had started shooting in 2019 and paused while Baron Cohen went off to New Jersey to film The Trial Of The Chicago 7, a pro-democracy companion piece of sorts. The world had changed by the time filming was ready to resume on the Borat sequel. Covid‑19 had the US in a vice and Universal, the studio that had secured rights to the film and with whom Baron Cohen had enjoyed making Brüno, suggested he pause until after the pandemic.
He put his foot down. The Giuliani encounter, 'Wuhan Flu' singalong and other memorable scenes were jaw-dropping, maybe even incendiary. The film had to be released before the election. Universal head Donna Langley graciously stepped aside and the film wound up at Amazon Studios. "This movie was the hardest movie I've ever had to make by a long way," Baron Cohen says. "Deep down, I always feared we'd never complete it. There were just so many obstacles along the way."
Borat was already widely recognisable before the sequel came out and had to deploy disguises in the film. Where does the character go from here? Baron Cohen breathes in. "He gets locked up in the costume store. He doesn't come out again."
Real-life drama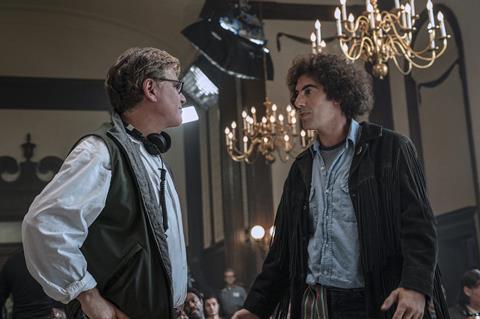 If a permanent pause for Borat means the performer can tackle a wider range of roles, few will complain. In The Trial Of The Chicago 7 he plays Abbie Hoffman, the stand-up comedian and activist who was put on trial for his part in the civil-rights protests outside the 1968 Democratic national convention in Chicago.
Baron Cohen had wanted to play Hoffman for well over a decade, personally lobbying Steven Spielberg 13 years earlier and landing the role when the filmmaker was thinking of directing the feature he had asked Sorkin to write.
"When I was in university [Cambridge], my undergraduate thesis was on Jews in the black civil-rights movement in the '60s. Abbie was one of the Jewish radicals who went down to the south and risked his life to fight for black equality. He later went on to fight against an immoral war in Vietnam."
By 2019, Chicago 7 was ready to go at Paramount with Sorkin as director — Netflix, home to Baron Cohen's 2019 espionage series The Spy, would subsequently acquire the rights during the pandemic — and Baron Cohen knew what he had to do. "I was so connected to that role of Abbie Hoffman that I felt I had to stop production [on Borat Subsequent Movie­film]," he says.
His performance alongside a top-notch cast that includes Eddie Redmayne, Mark Rylance, Yahya Abdul-Mateen II, Frank Langella and Joseph Gordon-Levitt has drawn some of the best reviews of his career. It also won favour with the Golden Globes' membership, with the film picking up five nominations, including for Baron Cohen in the best supporting actor category. He also has a nod from the Screen Actors Guild.
Noting how Hoffman was influenced by US stand-up comic Lenny Bruce, Baron Cohen comments: "His tactics reminded me of a style of theatre that I had learned in my 20s, which was that of the [French term] 'bouffon', which is somebody using satire and absurdity to highlight the structural immorality of a system."
As one of the most celebrated satirists working today, Baron Cohen cites Monty Python, Peter Sellers and Peter Cook as formative influences — "anyone with the name Peter" — and is confident satire will continue to thrive.
"Trump and Trumpism will remain. I think we'll be fighting Trumpism, hate, lies and conspiracies for years, and that requires satire. I think there's still a place for satire in the Biden years. I don't think [the US is] going to be an easy place."
Maybe he will get the long rest he says he needs. Maybe not, as millions now recognise his face. So why in recent times has Baron Cohen ditched the characters and appeared publicly as himself?
"I must say I was reluctant to be famous," he confesses. "I wanted to really have my cake and eat it — have the characters be famous, have my work be well-known without having the associations of being famous for myself.
"I wouldn't say I'm shy. I enjoyed being unrecognisable. I remember when the first Ali G video came out. I was in HMV on Oxford Street [in London] and all the Ali G fans were congregated around the video store and I was standing there as Borat and I remember someone pushing me [and shouting], 'Oy, get out the way!'
"I just loved the anonymity. For many years I didn't give an interview as myself. This last year, I felt I had to come out of the shadows and use my voice to warn about the dangers of social media and spreading conspiracy theories, hate and lies. And I would have to do something that I hated, which was become famous."