Alias Grace star Sarah Gadon tells Screen why the lead role in Netflix's adaptation of Margaret Atwood's novel was a creative dream come true.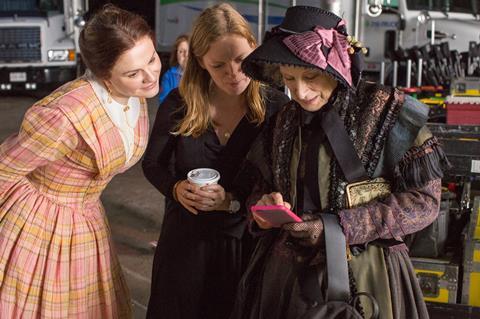 "It was one of those 'hold me back' moments - 'What do I have to do to be able to work with her?'" recalls rising Canadian star Sarah Gadon of the moment she learned her compatriot, Sarah Polley, was adapting Margaret Atwood's novel Alias Grace for Netflix.
"I always looked up to her as an actress and watched her transition into this incredible writer/producer/director creative," says Gadon of Polley. "Everything she has ever done has been this kind of crazy passion project for her." Gadon met with Polley, who wrote and produced the limited series, and Mary Harron, who was on board as director of all six episodes. After several auditions, she landed the lead role of Grace in Atwood's sinuous narrative about a 19th-century Irish immigrant maid in Canada accused of murdering her former employers.
Having Atwood on set was a boon, says Gadon. Polley had first approached the author to buy the rights to the novel when she was 17, and their closeness infused the production.
"There was a real openness with the material and the project and every layer of filmmaking," says Gadon. Atwood, whose novel The Handmaid's Tale inspired the acclaimed Hulu show, was on hand to offer her scholarly insights into the period. "It was a real sense of relief when she watched the show and she really embraced my performance, because it's such a complicated character to play. She is kind of the only critic [that matters] and so I feel very grateful that she approved."
It was a few choice words from legendary writer/producer James Schamus that steered Gadon toward the part. "I studied film theory and criticism so I feel I've always been very director-driven," says the actress, who has previously worked with Denis Villeneuve on Enemy and David Cronenberg on Maps To The Stars and Cosmopolis. She starred in Schamus's directorial debut Indignation, an adaptation of the late Philip Roth's 1950s-set novel of the same name, in 2016.
"After I did Indignation with James Schamus, I was looking around for another project and went to see him. He said, 'All you young actors, you just want to chase directors. You should be chasing roles,'" says Gadon of their conversation. "That resonated with me. That was just before I read Alias Grace and thought it was such an incredible role. I feel like I'm trying to temper that impulse to just work with great directors and actually try to find roles that are incredibly challenging."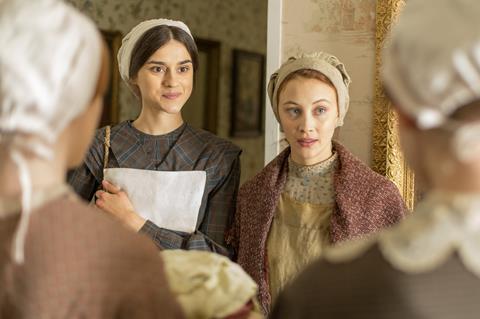 Gadon was beguiled by Grace, whose role in the alleged murders is unclear. "The beauty of the novel is you are constantly finding Grace and rediscovering Grace and understanding Grace, and that's what makes the book such a page-turner," she says. "I've been fascinated by that as somebody who's an actor and performer, because you're in constant negotiation with your identity."
It was hard to let go once she found her. "I was completely consumed by Grace," Gadon admits. "I don't think I was ever able to get out of that until a really long time after production."
Preparation was thorough. Gadon worked with a dialect coach and recalls long spells listening to BBC Radio Ulster to help her nail the Northern Ireland accent. Physically, the "intense" Harron sent her star to the Black Creek Pioneer Village reenactment camp outside her hometown of Toronto. "She said we had to do everything for real. If we're hauling buckets for laundry, you're hauling full buckets."
Harron (whose feature credits include American Psycho and The Moth Diaries) and Gadon also spent long hours together researching the times in which the story was set.
Gadon enjoys shooting TV, and appreciated what Netflix offered. "Netflix gave [Polley] an opportunity to story-tell in a way she'd never done before, and Netflix gave Mary a budget she'd never experienced before. That's really special."
Gadon will soon be seen in season three of HBO's True Detective and has Xavier Dolan's The Death And Life Of John F Donovan in post. She is not allowed to talk about her next feature - and, on the subject of restrictive edicts, Atwood has banned her from revealing the outcome of the show. "I have my marching orders," Gadon says. "I'm way more afraid of her than I am of you."