Projects previously presented at the market include Laszlo Nemes's Oscar-winning Son Of Saul.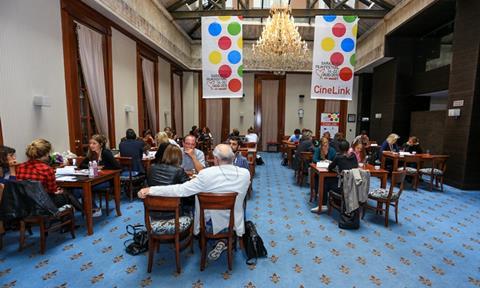 The 14th CineLink Co-Production Market (Aug 18-20), the backbone of Sarajevo Film Festival's industry section, will this year present 15 projects from South-East Europe, and three guest projects from Qatar and Mexico.
CineLink boasts an impressive track record. An average of 60% of the projects that have taken part at the market in the last 13 years went all the way from development to production.
The most recent success is Laszlo Nemes' Son Of Saul which won the Grand Prix at Cannes 2015 and Oscar for Best Foreign Language Films.
Other titles developed at the market include two winners of Venice's Lion of the Future: White Shadow by Noaz Deshe, and Mold by Ali Aydin; two Berlinale Silver Bear winners: Harmony Lessons by Emir Baigazin and If I Want To Whistle, I Whistle by Florin Serban; and Semih Kaplanoglu's 2010 Golden Bear winner Honey.
The jury is comprised of Behrooz Hashemian (Silkroad Production), Čedomir Kolar, (ASAP Films) Georges Goldenstern (Cannes), Annamaria Lodato (ARTE France), Mimi Gjorgoska-Ilievska (Macedonian Film Agency), Doina Bostan (CNC Romania), will give out the Eurimages Coproduction Development Award ($22,000), Arte International Relations CineLink Award ($6,700), Macedonian Film Agency CineLink Award ($11,000), and an EAVE Scholarship.
The projects:
Awakenings (Croatia)
Director/Writer: Jure Pavlović
Producers: Luka Venturin, Bonaj Kanjera
Production Company: Sekvenca
Awakenings is a story of a woman named Jasna who pays a visit to her bedridden mother, sick with cancer. Jasna wants to forcefully hospitalize her mother, but things don't go as planned. The project is the feature debut of Jure Pavlović, who won the EFA European Short of the Year in 2014 with Picnic.
Book of Hours (Georgia)
Director/Writer: Dea Kulumbegshvili
Producers: Rati Oneli, Jim Stark
Production Company: OFA
The main character Alex, a failed writer, returns to his home village where his father is dying. While struggling with old estrangement and rebukes with his dad, and waiting for him to die so he can sell the land, Alex begins an affair with a Jehova's Witness, getting embroiled in a conflict between local Christians and the Jehovah's Witnesses community. The project is the first feature film of Dea Kulumbeshvili, whose 2014 short Invisible Spaces competed at Cannes and Sarajevo. Book of Hours was awarded with the Grand Prix at the Sofia FF's co-production market Sofia Meetings.
Butterflies (Turkey)
Director/Writer: Tolga Karaçelik
Producer: Cem Doruk
Production Company: Karaçelik Films
After receiving a call from their father, siblings Cemal, Kenan and Suzan find themselves back in their strange village. But instead of a family reunion, they end up waiting for butterflies to come in order to be able to bury their father according to his wishes. Karaçelik is best known for his second feature Ivy, which world-premiered at Sundance 2015, and won more than 20 awards world-wide.
Dustcatcher (Bulgaria, Germany, France)
Director/Writer: Pavel Vesnakov
Producers: Sebastian Weyland, Monica Balcheva, Knut
Jäger, Hélène Cases
Production Companies: Moviemento, Heimathafen Film & Media
Nicola, 27 year-old, returns to his hometown after serving a murder sentence, and falls for Iva, a girl working in a refugee camp. But one day Nicola discovers something terrible is happening behind the walls of the camp.Vesnakov is a famous name on the short film circuit, thanks to The Paraffin Prince and Pride, which won the Grand Prix at Clermont-Ferrand. Dustcatcher is his feature debut.
Ela And Hilmi (Turkey)
Director: Ziya Demirel
Writers: Ziya Demirel, Nazli Elif Durlu
Producer: Anna Maria Aslanoglu
Production Company: Istos film
Newlyweds Ela and Hilmi fail at having intercourse on their first night together. Trying to solve the problem separately, they get into a vicious circle of miscommunication. Demirel's 2015 short Tuesday premiered in the Cannes Official Selection, and won awards at Les Arcs, Istanbul, and Grenoble, as well as a Special Jury Mention at Sarajevo. Ela And Hilmi is his first feature film.
God Exists, Her Name Is Petrunia (Macedonia)
Director: Teona S Mitevska
Writers: Elma Tataragić, Teona S Mitevska
Producer: Labina Mitevska
Production Company: Sisters and Brother Mitevski
The story deals with an unemployed woman historian who is forced to literally fight against the partiarchal society and the corrupt political system in Macedonia, over the course of 24 hours.This is Mitevska's fifth feature film. Her 2004 debut How I Killed A Saint world-premiered at Rotterdam, and I Am From Titov Veles won the Special Jury Award at Sarajevo in 2008. The Woman Who Brushed Off Her Tears, starring Victoria Abril, world-premiered in 2012 Berlinale Panorama. Her fourth feature When The Day Has No Name is currently in post-production.
The Heroes Were Dancing (Serbia)
Director/Writer: Nikola Ljuca
Producer: Nataša Damnjanović
Production Company: Dart Film
What seemed an ordinary life of two couples till yesterday, without politics and historical routing, rapidly turns into a physical and psychological battlefield, where women need to steer away from the male playground of nationalistic and sexual confrontations. Ljuca's first feature film Humidity world-premiered this year in Berlinale's Forum, and later won Best Film, Best Director and Best Actor at the Serbian national awards. It screens in competition at Sarajevo.
Illyricvm (Croatia)
Director/Writer: Simon Bogojević Narath
Producers: Ira Cecić, Ankica Jurić Tilić
Production Company: Kinorama
In 36 BC young Illyrian shepherd Volsus takes up service with a unit of Roman legionaries passing through his village in exchange for a goat for his poor family. Leaving his home, Volsus starts a perilous journey into one of the darkest regions of the Roman Empire. Bogojević Narath is known for animated short films Morana, awarded at Annecy, and Leviathan, winner of Best Animated Film and Special Mention of the Young Jury at Clermont-Ferrand.
Looking For Venera (Kosovo)
Director/Writer: Norika Sefa
Producer: Belina Jano
Production Company: Animated Society
A timid young girl must revolt against her patriarchal family in order to understand her best friend, who has a boyfriend for the first time. Meanwhile, the protests in defense of Kosovo's independence have grown all over the country. Sefa's short films brought her awards at Dokufest Prizren, MakeDox, and Aarhus Independent Pixels. This is her first feature film.
Mare (Croatia, Switzerland)
Director/Writer: Andrea Štaka
Producers: Thomas Imbach, Andrea Štaka
Production Company: Okofilm Productions
Thirty-seven-year-old Mare lives with her husband and four children near the airport in Dubrovnik. One day a man moves in next door. He and Mare get acquainted, enjoy each other's company, and fall in love. Štaka's first film Das Fraulein won the Goldern Leopard in Locarno and Heart of Sarajevo for Best Film in 2006, and in 2014 her film Cure-Life of Another was in competition at both festivals.
Memories From The Future (Greece)
Director/Writer: Konstantinos Antonopoulos
Producer: Fani Skartouli
Production Company: Kipoi (The Gardens)
Athens in an absurd, dystopian future. Sol discovers his wife has an affair with a memory. Can he reclaim her? A dystopian comedy about love in the past tense. Antonopoulos made short films, TV ads, music videos, and narrative documentaries as editor, screenwriter and director, in the US and Greece. This is his first feature film.
MILF (Austria)
Directors/Writers: Dinko Draganović, Siniša Vidović
Producer: Markus Fischer
Production Company: Fischerfilm
After an amateur porn clip of his mother is exposed, 17-year-old Damir goes on a journey of rage and revenge, only to discover the truth about his family. Croatian-born Vidović's first feature-length documentary Korida is in this year's Sarajevo competition. Bosnian-born Draganović has directed short films and music videos. This is the first fiction feature film for both of them.
My Name Is Damian (Slovenia)
Director: Maja Weiss
Writers: Suzana Tratnik, Maja Weiss
Producer: Danijel Hočevar
Production Company: Vertigo
Seventeen-year-old Damian is a rebellious transgender boy who spends his days fighting with his parents and partying heavily with friends. Then he meets Nela, a girl who not only helps him discover his talents but also encourages him to make his own choices. Weiss' Adrian won a special mention from the FIPRESCI Jury in Sarajevo in 1998. With Guardian Of The Border she was nominated for European Discovery of the Year in 2002, and in 2005 her short film Child in Time was in the Berlinale competition.
Otto The Barbarian (Romania)
Director/Writer: Ruxandra Maria Ghitescu
Producer: Iuliana Tarnovetchi
Production Company: Alienfilm
Otto, a bright teenage punk, is dealing with the death of his girlfriend. He continues to live, inhabiting the void she has left, but in order to survive he needs to face his loss and his guilt. Ghitescu's short films screened in competition at Sofia, Cottbus, Cork, and Cluj. This is her first feature film.
The Religion Of Night Walks
Director/Writer: Nikola Ležaić
Producers: Jelena Mitrović, Nikola Ležaić
Production Companies: Baš Čelik, PR Qče
Jovan is a Yugoslav engineer working on the construction of the first wind farm in Iran in 1983. His wife Sanja and son Luka are visiting him after a long separation. Ležaić's feature debut Tilva Rosh won the Heart of Sarajevo for Best Feature Film and Best Actor in 2010, as well as awards at Motovun, Estoril, and Cluj.
Bull Shark (Qatar)
Director/Writer: Mohamed Al Ibrahim
Producers: Bassam Al Ibrahim, Khalid Al Jaber
Production Company: Innovation Films
A prominent investment banker investigates the very institution that hired him when he learns their business practices are fraudulent. The story is inspired by real events. Al Ibrahim's Bidoon won best narrative short at Abu Dhabi and Gulf Film Festivals. This is his first feature film.
Skin Deep (Mexico)
Director: Paulina del Paso
Writers: Elisa Miller, Paulina del Paso
Producers: Elisa Miller, Samra Ibrahim, Leandro C.rdova
Production Company: Molinera Cine
19 year-old Ana moves to Mexico City, where her innocence is threatened by her sexual awakening, a nightmarish experience of guilt and pleasure with a light at the end of the tunnel. Del Paso is a director and editor, who edited documentaries such as About Sarah by Elisa Miller, and the multi award winning The Tiniest Place by Tatiana Huezo. This is her first feature film as director.
Tito's Lost Mariachi (Mexico)
Director/Writer: Francisco Ohem
Producer: Marta Nunez Puerto
Production Company: Dedo Gordo
In 1952, Yugoslavia fell in love with a Mexican film called A Day Of Life, inspiring a generation to arm themselves with guitars and sombreros to create Yu-Mex music. This road movie follows a Croatian and a Mexican mariachi travelling through Mexico and the former Yugoslavia in search of this music genre. Ohem is a director, editor and producer who worked on films such as Michael Rowe's The Well and Raya Martin's and Mark Pearson's La Ultima Pelicula. This is his first feature film as director.