Screen runs down the key industry happenings at this year's festival.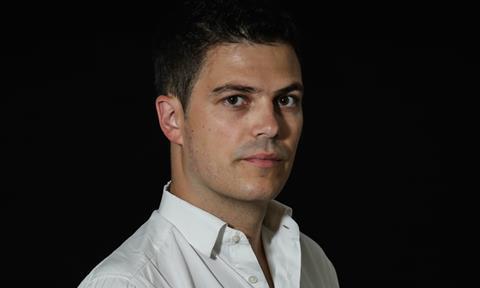 This year's CineLink, the industry wing of the Sarajevo Film Festival (Aug 11-18), is adapting to fit the changes enacted across the wider event.
As detailed in Screen's preview of this year's fest, the event has condensed into a shorter format, with an emphasis placed on integrating Sarajevo's disparate parts into one synergised week.
Jovan Marjanović [pictured], Sarajevo's head of industry, says the new format should provide a more streamlined but also beneficial experience for attending industry delegates.
"The idea is to have a higher intensity of networking around the CineLink events," he says. "There will be opportunities for meetings between participants in the various strands, but organised in a curated manner."
As always, CineLink's co-production market and work-in-progress showcase are two of the more enticing propositions on offer.
You can see the full co-production selection here, and the full work-in-progress selection here.
In recent years, those two strands have seen several high-profile films graduate from CineLink. This year, for example, Rezo Gigineishvili's Hostages plays in Sarajevo's competition, following its Berlinale premiere; the film participated in Sarajevo's co-pro market in 2015 and returned to CineLink for the work-in-progress showcase in 2016.
"The works-in-progress is becoming our flagship selection", comments Marjanović. This year's line-up includes intriguing prospects such as Alamork Davidian's Israel-France-Germany co-pro Fig Tree, which shot in Ethiopia in summer 2016 and recently won an award in Jerusalem Film Festival's industry programme.
Creating that journey for projects through the various initiatives at CineLink, guiding them from inception to completion, is a key goal for Marjanović and his team. "We want to help projects presented in development in Sarajevo to advance to reach their goals. Our team works very closely with the projects after we pick them to find their needs and match them with the right people here at the festival."
The small screen
Introduced last year, CineLink Drama is back, and Marjanović says the initiative plans to build on a successful first edition.
"A lot has happened in the last year," he says. "HBO Adria has entered the market and they are looking to start original productions in the region."
At Sarajevo 2016, HBO Adria launched a screenwriting competition for drama series, receiving more than 500 scripts from the region. In April this year, the company selected two of the projects, which it will now further develop with the aim of eventually putting them into production.
They were Croatian series Uspjeh from writer Marjan Alčevski, a multi-layered character drama about a group of people linked to violent crime, and Serbian series Otok from writer Ivan Knežević, a contemporary investigative thriller exploring the challenges faced by a region standing at the crossroads of modern Europe.
Ahead of this year's festival, HBO Adria announced that it has hired Ana Balentovic as a development executive, with a remit of identifying and developing local talent and projects from Slovenia, Croatia, Serbia, Bosnia & Herzegovina, Macedonia and Montenegro. She will be in attendance at CineLink, along with a contingent of several HBO Europe execs including Steve Matthews, VP and executive producer, drama development.
With the HBO project ongoing, in 2017 Sarajevo will be offering a €10,000 development award, supported by Film Centre Serbia, to one of six participating drama series projects. An international jury consisting of Meinolf Zurhorst, Tatjana Andersson and Giacomo Durzi will select the winner. Read more about the projects here.
Also on the TV side, this year the festival will host a new workshop organised by the MIDPOINT TV international script development programme.
Announced during last year's Sarajevo, MIDPOINT TV has selected seven projects which it has been developing over the course of the last year. The initial workshop took place in Slovakia in November, where the pilot scripts were developed, before a second workshop at the Finale Plzen Film Festival in the Czech Republic, where the teams created pitch documents. In Sarajevo, the teams will be offered the opportunity to meet and pitch to potential sales agents.
MIDPOINT will run Aug 12-16 and will also include lectures and masterclasses from figures including UK writer Ben Harris (The Musketeers). On the final day, a €4,000 award sponsored by HBO Europe will be presented to the project deemed to have the strongest pitch.
Marjanović says the increased presence of television at CineLink is reflective of wider industry shifts in the region.
"There's a move towards TV series and there's a lot of potential for growth there, in this region and the rest of the continent. Festivals will become important for series, we are witnessing this at Sarajevo now and I can only see it growing," he comments.
The online sphere
Marjanović also notes that major online players such as Netflix and Amazon are increasingly growing in influence in the region.
In recent years, several projects from Central Europe have secured streaming deals, including Ivona Juka's You Carry Me, which went to Netflix, Ziga Virc's Houston We Have A Problem!, which also went to Netflix, and Goran Paskaljevic's Land Of The Gods, which was picked up by Amazon.
The impact of SVoD players has been debated at festivals throughout this year - with many wary of deals that bypass both festival runs and theatrical releases – but Marjanović has a more positive outlook.
"We've recently been able to open dialogue with those platforms, that's an encouraging sign," he notes, referencing a new Netflix representative based in Amsterdam and also a Netflix representative in LA.
"Slowly, things are falling into place. We will learn to live with each other and prosper," he suggests, "Netflix are beginning to show flexibility in terms of which festivals films can play and theatrical distribution in certain territories. It's coming together."
The same topic was debated by the head of Sarajevo Film Festival, Mirsad Purivatra, at the recent Jerusalem Film Festival - and dialogue will no doubt be ongoing in Sarajevo.
CineLink Talks
This year the CineLink Forum programme of panel discussions, lectures and masterclasses has been rebranded to the less formal moniker of CineLink Talks. Covering a wide range of industry debates, this year's talks include a focus on VR, hosted by Sarajevo partner Networks, as well as talks on co-producing with Germany and the Nordic TV market.
You can see the full CineLink Talks programme here.
Awards
Sarajevo will this year hand out more than €170,000 in cash and services through its various awards, and Marjanović says these prizes are key for the regional industry. "We're fighting the challenges of a lack of public funding in Bosnia. We have a very small film industry here but [as a festival] we play a role in the wider region. The support from our partners [who back the awards] is essential."