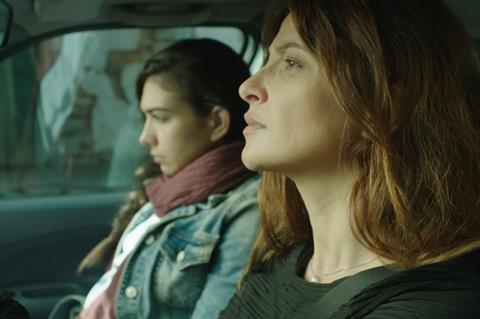 Albanian filmmaker Florenc Papas is coming to Sarajevo with his feature debut Open Door, which world-premieres in the festival's main competition.
A road movie co-produced by Albania's Bunker Film, Kosovo's Cricle Production, Italy's Lupin Film and Macedonia's Award Film & Video, and sold internationally by Dusseldorf-based Petra Spanou, it follows Rudina (Luli Bitri) who sets off on a long journey with her unmarried pregnant sister, Elma (Jonida Vokshi), to meet their strict, traditional father in the village where they were born. As they travel across the mountains, Elma comes up with a plan to enlist an ex-classmate to play the part of her husband.
Although this is his first feature, Papas is well-established in the industry. "Despite limited resources for filmmakers in Albania, I took every opportunity to work on film shoots, television shows and eventually even became the head programmer at Tirana International Film Festival," says Papas. "I was also extremely fortunate to participate in many workshops and programs for writers and directors developing their projects outside of Albania."
You developed Open Door through Goethe Institute's First Films First (FFF) training programme, how was that?
I found myself quite lucky to be selected for this ten-month programme, it is an extraordinary training ground for filmmakers working on their first film.
We developed the project not only on the script level, but also worked on casting, the visual aspect and production development. At the last module at Sofia Meetings, I met the Italian producer Riccardo Neri who got on board and it was one of the main reasons we managed to finish the film at all.
Maybe the fact that this is a co-production of four countries creates a sense that it was a big production but it's really not like that. As the basic funding from the Albanian Film Centre is quite low, it's necessary to apply for funding elsewhere. We were very fortunate to win Eurimages support too. From Kosovo we received enormous help thanks to our co-producer Besnik Krapi. The situation was even simpler with his company since we share the same language and can also utilise Albanian-speaking actors and crew from Kosovo, including the film's cinematographer Sevdije Kastrati.
Open Door participated in various programmes: MIDPOINT Intensive, Prishtina Film Festival's Priforum, Trieste Film Festival's Eastweek, Kiev Molodist's Boat Meeting, Sofia Meetings and Thessaloniki's Agora Works in Progress.
How did you come up with this story?
I got the idea five years ago. I was driving down the road in a remote corner of Albania early one morning and I saw two women standing by the side of the road, waiting for a ride. One of them was pregnant. This brief glimpse into the lives of others stayed with me and it led to Open Door.
I was mostly raised by my mother and elder sister, and I like to think that this has had a direct impact on me, on how I see things and how I understand the position of women in the society. For me, these two women represent some of the sacrifices, pain, constant confusion and hard-won joy that many women in Albania experience.
When you were writing the script, were you aware of the probable budget limitations, and did you have to make any compromises?
Yes, I was aware of limitations from the very beginning. I actually think it's important for first-time filmmaker to have to work this way. This is how most Albanian films are made.
I wanted to create a film which is based on the most essential character and story elements. I believe these limitations can help, even liberate a filmmaker. When I see a director create a compelling film with next to nothing, I'm very impressed.
There were many obstacles and challenges throughout the process, too numerous to mention, but we managed to keep the costs low and the few compromises I made were only technical.
How would you describe the current situation in Albanian cinema?
It's very lonely being a filmmaker in Albania. There is no real community and there are very few cinephiles, and cinemas only show Hollywood blockbusters. But recently I've become very optimistic. Things are moving forward. In the last five years, Albanian films have appeared in some of the most important film festivals around the world. Even with the challenges of our very low budgets here in Albania, these festival successes shows there's hope for our work to reach a wider audience.
How did you pick the actors, especially the two main actresses, and how did you work with them?
Even as I was writing the very first draft of Open Door, I always had Luli Bitri in mind. She had no idea that I was writing the film specifically for her. Luli is a well-known actress in Albania, everyone wants to work with her and several of the films she's appeared in have played in international film festivals. I gave her a draft to read after we had done several drafts. She read the script and accepted to play the part after telling me how moved she had been by the work as a whole.
For the role of Luli's pregnant sister, Elma, I found Jonida Vokshi later on in the pre-production process. Jonida is a very popular television star in Albania and Kosovo. In the beginning, I was a little concerned about casting her in the film. But in rehearsals and on the shoot, I was amazed by her originality and simplicity. I believe Luli and Jonida's opposing sensibilities and working methods ended up bringing out the best in each other. Their performances are something to behold.