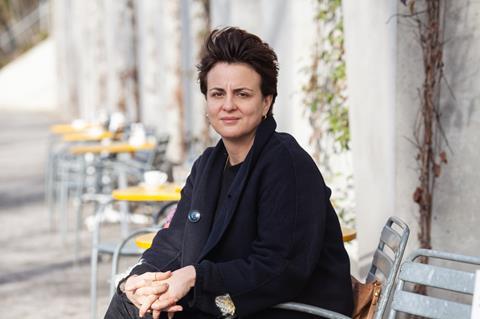 After winning the Heart of Sarajevo awards for best film and best actress for Marija Škaričić with Das Fraulein in 2006 and competing with Cure - Life of Another in 2012, Swiss-Croatian filmmaker Andrea Štaka is back in the festival's competition with her third feature Mare.
The titular character, played by Škaričić, lives right by the Dubrovnik airport with her husband and three teenage children. But she has never flown herself. She loves her family and cares for them, but sometimes almost feels like a stranger in her own home. When a young Polish man moves into the house next door, she puts her life to the test.
What inspired you to make this film and how did it all come together?
My films often start with things or places that have been part of my life. For Mare, it was Konavle at the southern tip of Croatia. Rough, remote and beautiful. So different from Dubrovnik which is less than 20 minutes away. My family comes from Konavle. I love the place. It makes me feel connected and free. I usually spend the summers there at my cousin's house. We have a lot in common when it comes to motherhood and our role as women, even though we are very different.
I told her I'd had a fantasy about her having an affair with a man. My cousin is a devoted mother and she is free-spirited, but Konavle is very conservative and religious. I thought she'd kill me, but she loved the idea. Her reaction encouraged me to work on the idea that you can care, really deeply, about your children and husband, and still have the urge to have sex with another man.
What was the biggest challenge when you were making the film?
I wanted the film to be truthful, physical, real. I started working with the DOP Erol Zubčević at an early stage, even rehearsing. It was pretty heavy at times. It takes a lot of trust on everybody's part when you explore such intimate issues: partnership, family, marriage, motherhood, female and male identity, sexuality.
You shot Mare on Super 16-mm, like all your films. Why is it important for you to shoot in this format?
It's grainy, rough, and beautiful. When you shoot on celluloid, the actors and crew can hear the camera rolling and are much more concentrated on set. Erol Zubčević and I spent a lot of time in Konavle sitting by the sea and contemplating the light. Konavle sometimes looks like a Van Gogh painting and celluloid is more sensual than digital. It was just right for Mare.
What do you know now that would have helped you to know earlier in your career?
To trust my instincts.
Do you have any first-day rituals on set?
Early in my career I was at the hairdresser, reading a copy of French Vogue. There was an email exchange between Sofia Coppola and her father Francis Ford Coppola. She asked him the same question. He said that on the first day, you have to shoot the first take within the first hour to set the tone of the shoot, and he advised her to sit back and paint during breaks and to leave room for doubts, it's normal. I have taken his answer seriously.
How have the last few months been for you, and how do you feel about screening your film in online festivals?
Mare premiered at the Berlinale and the film had just been released in Switzerland when the lockdown happened. It was a shock. I was so happy to have some film stock left over. I used it to shoot a short film My Mom, My Son and Me. that will be shown at the Locarno Film Festival. That rescued me. It was fun and intimate filming my family.
It's been frustrating not seeing, sensing or speaking to my audience at openings and festivals. I really need the reaction of a live audience. It's great, of course, that people can watch Mare online. Like everything else, Covid-19 is going to change the film industry, but I have no idea how. What I do know is that it has made me even more acutely aware of how important and fruitful personal contact is.