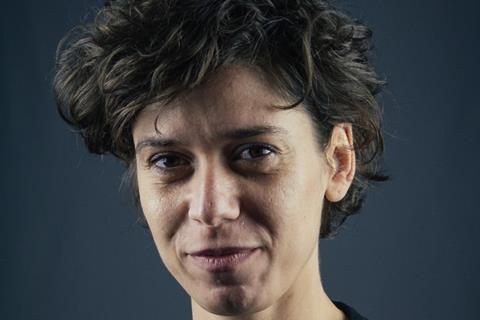 Otto the Barbarian, the first feature film by Romanian writer-director Ruxandra Ghițescu, is making its world premiere in the Sarajevo Film Festival's feature competition.
The titular character, played by Marc Titieni, is a 17-year-old punk who becomes involved in the social services investigation of his girlfriend's death. He is caught up in a vicious circle created by his parents, his mute grandpa and his girlfriend's mother. His girlfriend is still part of his life through video recordings that he edits constantly, trying to make sense of the events. Through this process, Otto must take his portion of the responsibility for what happened.
What inspired you to make this film?
The story began with an article about a Bucharest punk band's lead singer. Octavian Albu, who was 16-years old at that point, who expressed some powerful convictions in the article. He was somewhat intellectual for his age, while giving off a certain innocence. I was profoundly interested in this character.
The script was built on this nugget of reality onto which we added a layer of fiction inspired by personal experiences from adolescence. No one wanted to grow up, become an adult, we wanted to be accepted, understood, live with all our senses and purpose. In this emotional vortex, pain, loneliness and depression were the main features of our lives, but we would hide them behind various masks, which we would explore and change without a sense of morals.
How did it come together?
Writing the script took a long time, maybe not longer than usual, but, being a first-time experience for me, it seemed long. I had the help of great script consultants, Franz Rodenkirchen, Françoise von Roy, and my friends Monica Stan and Adina Dulcu who are also writers and directors. A lot of the feedback along the way came from Octavian Albu, on the punk elements in the story and in some measure on the slang used in the film. He served as the musical director of the film and composed a part of the score, along with Cardinal Band. He agreed to let me use his nickname for my main character, Otto the Barbarian, and acted as musical trainer for Marc Titieni during the shoot.
I believe that testing the film from its script stage brings a lot of information on how the story will touch or not the public.
What was the biggest challenge when you were making the film?
This is a very hard question. I did not have the perspective when I started as this was debut feature. There were a lot of challenges along the way. I think the biggest challenge was to let people go, to decide to change collaborators.
How did you get into the industry?
I started by working small jobs on sets in Bucharest during my holidays, while studying at Art and Design School in Karlsruhe in Germany. I started as a video assist operator, did some editing assistance and became a script supervisor, a job that I had for several years and helped me a lot to understand filmmaking.
Do you have any first-day rituals on set?
I tend to thank everybody for being on set with me and express my gratitude and also apologise in advance for anything that, because of the intense work pace, might not reflect it. I believe it is good to start every shooting day with a smile.
How have the last few months been for you and how do you feel about premiering your film online?
These last few months brought a lot of questions; big questions about the fragility of human nature, about interconnectivity and social norms but also, for me, questions concerning this medium of cinema. What does a film mean? Why do we aim for the big screens and how the lack of this togetherness in experiencing the same film at the same time changes the way I feel about the film that I made? I try to stay curious, to see and understand what is happening in the way a film is received.