Screen sat down with festival director Mirsad Purivatra to discuss this year's edition.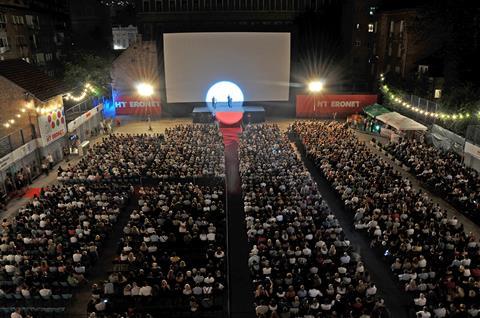 "Today, Sarajevo is the biggest and most influential festival in southeast Europe," says festival director Mirsad 'Miro' Purivatra.
Judging by the quality of guests at this year's event, few would argue. Now in its 22nd year, Sarajevo Film Festival has become a regular destination for A-list stars, and an influential proving ground for emerging talent from the region.
Opening the festival will be Hollywood icon Robert De Niro, who is jetting into Bosnia to present a newly-restored version of Martin Scorsese's Taxi Driver, marking its 40th anniversary.
De Niro may have missed out on the Oscar for his role as as a troubled New York cabbie but will pick up the honorary Heart of Sarajevo when the film is screened to an audience of 3,000 at the city's impressive Open Air venue.
The two-time Academy Award-winner will also be interviewed on stage at the festival by Protagonist Pictures CEO Mike Goodridge, who also acts as programmer for the Kinoscope strand.
Purivatra explains that he first met De Niro 11 years ago when he was invited to serve on the jury of the Tribeca Film Festival in New York, and the pair struck up a strong rapport. The entire team are delighted to have secured such an A-list star for the event.
"For our city, Robert De Niro really is the top star," says the festival director. "We all grew up with his films. We are very honoured."
Another guest of honour at this year's festival will be Oscar-nominated director Stephen Frears. The British film-maker's latest feature, Florence Foster Jenkins, will also screen at the festival's Open Air theatre.
A third key guest will be Mexican film-maker Amat Escalante, who will be the subject of a tribute programme. The director will take part in an interview about his career as well as multiple audience Q&As following screenings of his films including Cannes 2013 award-winner Heli.
Escalante's next film, The Untamed (La Region Salvaje), will play in competition at this year's Venice Film Festival.
Purivatra explains that despite Escalante's relative youth – he is 37, young for a director of four features – the festival team prefer to eschew the tradition of programming tributes to film-makers in the twilight of their careers, and to instead focus on directors who are seeing their talents peak.
"He's one of the most talented film-makers in the world, this will be his third time at the festival. We like to show directors when they are full of energy."
Continuing the Mexican theme, Sarajevo will also host a special screening of segments from avant-garde Russian director Sergei Eisenstein's episodic exploration of Mexican culture Que VIva Mexico.
The From Mexico: Music For Eisenstein event, held on August 17 in collaboration with the San Cristobal International Film Festival, will feature live music from specialist outfit Ensable de Cine Mudo, who will be flown in from South America.
Programme
This year's film programme features more than 200 films from 60 countries, but Purivatra is keen to emphasise that the programming team's priority is to focus on quality, not quantity.
"Our criteria is to present good quality films – that's why our competition programme has only eight titles, and we don't insist on world premieres."
Made up exclusively from the wider region, the 2016 competition features a variety of countries, including titles from Montenegro, Turkey, Bulgaria and Austria.
Purivatra highlights The Black Pin, from Montenegro director Ivan Marinovic, as a project that emphasises their strategy.
The film - which centres on a priest who finds himself at odds with the members of his parish when he opposes a property sale - won work-in-progress awards at festivals including Sarajevo and Jerusalem in 2014, as well as Karlovy Vary in 2015, and Purivatra is now hopeful that being selected in this year's competition will help Marinovic reach a wider audience of film professionals.
"So many international guests come here to meet the new generation of film-makers from the region," says the festival director.
A further world premiere in this year's competition is Lukas Valenta Rinner's A Decent Woman, about a housemaid working in an exclusive gated community on the outskirts of Buenos Aires in Argentina who embarks on a journey of sexual liberation at a nudist swingers club. The film is a co-production between Austria, South Korea and Argentina.
Titles in competition that are regional premieres include Mehmet Can Mertoglu's debut Album, which premiered at Cannes this year, Radu Jude's Scarred Hearts, which recently premiered in Locarno, and Ralitza Petrova's debut Godless, which also played in Locarno.
This year's competition jury will be presided over by Palestinian film-maker Elia Suleiman. Joining him will be Turkish producer Zeynep Atakan, who worked with Nuri Bilge Ceylan on Once Upon A Time In Anatolia and Three Monkeys; Serbian actor Nikola Dubricko, whose credits include World War Z and In The Land Of Blood And Honey; Thomas Hailer, curator at the Berlin Film Festival, and Greek actress Angeliki Papoulia, whose credits include Yorgos Lanthimos's The Lobster and Dogtooth.
In the international programme, a litany of hits from festivals across the world have been selected.
The line-up for this year's non-competitive Kinoscope strand particularly stands out, featuring three Palme d'Or nominated films from the 2016 Cannes Film Festival: Kleber Mendonca Filho's Aquarius, Alain Guiraudie's Staying Vetical, and Maren Ade's crowd favourite Toni Erdmann, which clocked the highest ever score on Screen's Cannes Jury Grid.
Also in Kinoscope is Cannes Directors' Fortnight title Neruda, from Chilean film-maker Pablo Larrain, and Kirsten Johnson's documentary Cameraperson, which won the top prize at this year's Sheffield Doc/Fest.
Industry
Sarajevo has always put an emphasis on supporting emerging talent from local territories, says Purivatra. "Our goal is to discover, support and promote our talents," he comments, pointing to the new CineLink Drama strand which will highlight seven television projects from the region that are in development.
The wider area around Bosnia has hosted high-end TV drama on multiple occasions. Notably, Showtime's Jeremy Irons-starring The Borgias shot in Hungary, while nearby territories such as Croatia have been used by US programmes including HBO's Game Of Thrones.
However, Purivatra believes that the time is right for the region to begin promoting its indigenous industry: "We want to be a platform to develop the film industry in the region."
Purivatra also believes the festival's influences reach wider than the film industry: "The role of Sarajevo Film Festival, our mission, is to be open minded, to use film as a powerful tool to open a dialogue, to try to change the atmosphere created here by politics."
He points to the event's inaugural True Stories Market, which will foster up to six projects documenting the Bosnian War of the 1990s, as a manifestation of Sarajevo's potential for harbouring important stories about the region's politics and history.
"Cinema is a very powerful tool for telling stories," he notes, "We have so many talented auteurs here and so many untold and interesting tales from our recent past."