Director Saul Dibb jumped into First World War tale Journey's End towards the end of its development journey, intent on making the ticking-clock drama as tense and vividly real as possible. Charles Gant reports.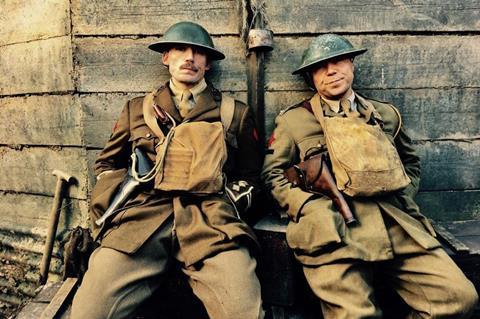 When Saul Dibb signed on to direct his previous film, 2012 literary adaptation Suite Francaise, it took four years before cameras started rolling. In contrast, it took just a matter of months on new feature Journey's End.
The project originated when historian, author and educator Anthony Seldon suggested to Guy de Beaujeu, producer of First World War film Private Peaceful, that he might next tackle RC Sherriff's 1928 play Journey's End, which is also set during the conflict. De Beaujeu's producer-writer partner Simon Reade initially had little enthusiasm for adapting the stage play, but changed his mind when his attention was drawn to the little-known novel of the same name that Sherriff subsequently penned with Vernon Bartlett.
While the original play is set exclusively in officers' quarters below a trench on the frontline in northern France, and unfolds over the course of three days in March 1918, the novel version opens up the action to the trenches and over the top. "It was a goldmine," says Reade.
By the time Dibb signed on to direct the film in autumn 2016, finance was more or less committed, lead actor Sam Claflin was already attached, a firm window in his schedule had been identified for November and December, and Paul Bettany was circling for a key supporting role. Dibb had a brief window in which to bring his ideas to bear on Reade's screenplay, and chose not to read Sherriff's original play, or to watch the classic 1930 James Whale film adaptation. He did, however, read the novel and agreed with Reade's assessment of its riches, encouraging him to move even further away from the stage play and also amplify the ticking-clock element as the men wait for the German attack they know is coming.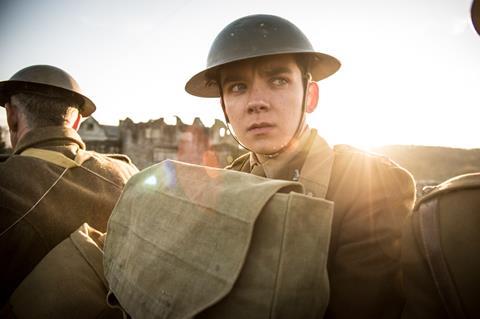 "I said, 'Simon, we need to shave down the dialogue to the bare minimum,'" recalls Dibb. "I felt there was a chance to inject a kind of cinematic tension right from the start by putting the bomb under the bed." Reade, he adds, responded splendidly to the pressure: "Simon's very brilliant and very quick. We probably had what would be a normal year's development in six weeks. We knew the dates we were working towards and they didn't change, so it was short but very concentrated."
Recruitment drive
The creative team's excitement grew as the cast came together, with Claflin and Bettany joined by Asa Butterfield, Tom Sturridge, Stephen Graham and Toby Jones. For Bettany, whose recent roles include misfiring genre pictures Legion and Priest, and a trio of Johnny Depp flops, The Tourist, Transcendence and Mortdecai, his performance as 'Uncle' Osborne — close friend and confidant to Claflin's young company commander Stanhope — is a long-anticipated return to form.
"There are things Paul has done in the past where he's brilliant," Dibb concurs. "I wanted to get back to that place. This feels like the performance we've been waiting for from Paul. I'm sure it has something to do with the fact his father was a teacher — it feels like something he was channelling in there. It's soulful, thoughtful, intelligent, kind and tender."
While Claflin takes star billing, the character that provides a vital point of entry for the audience is 19-year-old Raleigh — a boy who looked up to the older Stanhope when they were together at school, and who has now pulled strings to be placed within his ill-fated company for his first taste of war. Dibb pushed for Butterfield, believing him to be physically right for the part.
"He has those extraordinary wide, blue eyes, where he just takes everything in," says the director. "But also, audiences would essentially be watching someone they know as a boy stepping into the world of men, just as Raleigh is. This is a child who is taking an adult role. It's perfectly on the cusp. I like it when there are mirrors between the actors' actual experience of life they can bring to the film; that can give you some imperceptible advantage."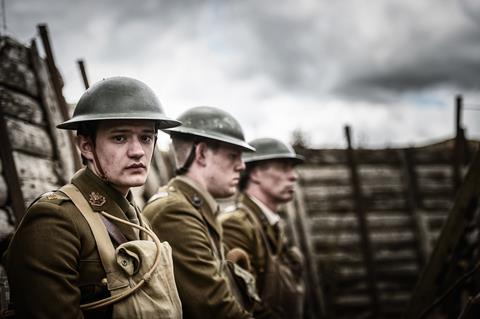 Butterfield has worked on major films with Martin Scorsese (Hugo) and Tim Burton (Miss Peregrine's Home For Peculiar Children), as well as sci-fi productions Ender's Game and The Space Between Us — but nothing quite like Journey's End. "He'd not been asked to do something where we're saying, 'We're going to shoot this all in one take. I want you to crawl through this freezing-cold mud, then run 100 yards towards real dynamite, which is exploding on camera, and then you're going to jump down and grab all these people [in the German trench],'" says Dibb.
"I could show you photos at the end — the actors were just exhausted and kind of exhilarated by the experience. I think you can somehow capture that on screen. That helped and it added to his performance."
Breathtaking shoot
While the shooting dates in November and December were tough on the actors and crew, Dibb calls it "a brilliant weather window" that brought verisimilitude to the film. "We were able to match pretty closely the conditions that they would have had in March — cold, wet," he says. "We could harness all of the natural elements. The light, the fact that you see their breath."
For exteriors, the production extended an existing set of trenches in Ipswich, Suffolk owned by a First World War aficionado. The officers' dugout was a studio build, but it was important to Dibb that his actors felt they were in a real location. "We built it to scale, exactly, and we shut the doors," he says. "We said we're not going to float any walls. We don't want to get ourselves into fake positions where the camera couldn't be. We made two decisions: one was to light with candles, and the other was that the camera, for me, assumed the position of Sherriff. Instead of thinking of this as an adaptation of his play or the novel, we were trying to present what Sherriff had experienced. His writing was hovering so closely over a reality that he'd experienced, and that's what I wanted to imbue the film with."
Journey's End premiered at Toronto International Film Festival in September, and begins its international rollout in the UK through Lionsgate on February 2 — thus qualifying for this year's Bafta Film Awards. While First World War films typically present the conflict as an appalling, avoidable tragedy, and so tend to reach more selective audiences than do tales about the triumphant and morally imperative Second World War, Dibb has reason to hope the commercial outcome this time will not be too niche. "It plays incredibly well to women," he says. "I think they respond to seeing this view of masculinity that isn't just not macho, it's anti-macho. There's tenderness, humour, all of these things among this group of men as they try and deal with this enormous fear.
"We want to be transported by films," he concludes. "Film has this great ability to put us in the shoes of other people for 100 minutes and see the world from their perspective. We tried to do that honestly and uncompromisingly in Journey's End."