The voting for the Bafta Film Awards is now closed, and the February 19 ceremony imminent. Screen International's UK awards team discusses who will — and should — win the major prizes.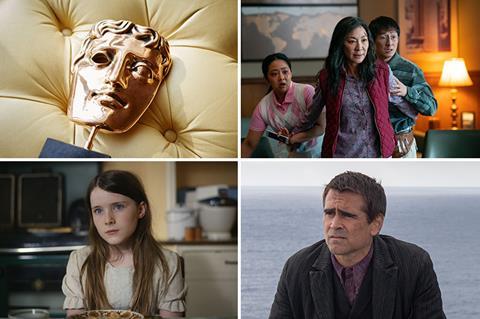 It is rare that as the Bafta Film Awards ceremony approaches, there remains so much uncertainty as to who will walk away victorious. This was a year when All Quiet On The Western Front threw a surprise by eclipsing the likes of The Banshees Of Inisherin and Everything Everywhere All At Once and scoring the most Bafta nominations — in 14 categories — demonstrating admiration for the film in every voting chapter.
But does that make it the favourite to win in major categories such as best film and director? The relative lack of support for its cast, with only Albrecht Schuch nominated in supporting actor, may be a handicap. But Bafta voters are certainly able to award the top prize to a film not in the English language — as they proved as recently as 2019 with Roma.
Screen International assembled its UK awards team to discuss how they think the prizes will likely go, and should go, at the London ceremony on Sunday, February 19.
Best actress, actor, supporting actress and supporting actor
Charles Gant (awards issues editor): I think best actress is between Cate Blanchett and Michelle Yeoh —particularly at Oscar, but also at Bafta. I'd be shocked if it's not either of those two.
Matt Mueller (editor): I think that's right. I would give Michelle Yeoh the edge at the Oscars, and Cate at Bafta.
Gant: Although she's Australian, Cate feels like a local actor to me — she feels very embedded in the UK film industry. So I think she has a slight home advantage even though Emma Thompson is literally the home candidate.
Louise Tutt (deputy editor): Bringing it back to the actual performance, I think Cate's incredible — she's by far the winner in that category. Even if she hadn't done a single interview or lunch or anything, that performance is by far the best one for me.
Fionnuala Halligan (executive editor, reviews and new talent): While deeply admiring Cate's performance, my vote is with Michelle. The performance, the physicality, the fact she makes it look easy is something she's done her entire life in such a way that audiences don't realise, it's pretty much unachievable for anybody else but Michelle Yeoh. She is one of a kind. Everything Everywhere All At Once is perfection for her. I'm so happy the Daniels gave this to her and I got to see it.
Mueller: I think best actor is also a two-way race. It's Austin Butler or Colin Farrell — at both Oscar and Bafta. For a long time, I thought Colin was the shoo-in, it was his award. But Austin Butler has really come through in recent weeks.
Tutt: It's interesting you don't think Brendan Fraser is in with a shout. Maybe he's more for the Oscars. Elvis was out a while ago, but if you go back and watch it again or just have a taster, I wonder if Austin Butler would edge it because it's an incredible performance.
Gant: Bafta rarely gives the leading actor prize to an ingénue in their first lead performance. Rami Malek hadn't done many high-profile leading roles before winning for Bohemian Rhapsody — but otherwise you'd have to go all the way back to Jamie Bell winning in 2001 for Billy Elliot.
Halligan: Colin Farrell for the win. Screen's critic Jonathan Romney said, reviewing After Yang, that he's become the Marcello Mastroianni of our time, and he's right. Who knew? The fact a so-called comic performance gets a nomination is proof of how good he is — voters almost never go funny. Michelle Yeoh has the same problem. The votes always tend to go with fat suits or extreme weight loss.
Tutt: One thing is that Aftersun, after its brilliant showing in the longlists, it's actually only ended up nominated in main categories with Paul Mescal and outstanding British, and I think Paul could spring a surprise here. If you're an Aftersun fan, you haven't got a lot of choices to put it on your ballot, and this could be where they do so.
Gant: On supporting actress, I think that for the Oscar, people are feeling that this is Angela Bassett's chance. But I'm not sure that Black Panther: Wakanda Forever resonated overall with the full Bafta voting cohort.
Tutt: My vote goes to Carey Mulligan for She Said because I think the film was sorely overlooked in the other categories.
Mueller: I feel it's between Kerry Condon and Angela, with Angela the likely Oscar winner, and Kerry will have more of an advantage at Bafta. But I also think Jamie Lee Curtis could give Angela a run for her money in the States, she's a very popular actress of long standing. Personally, I love Hong Chau — she's really caught my attention this year in The Whale and also The Menu.
Halligan: I find it hard to vote for a performance in a film I didn't warm to, so I would be heading in the direction of Kerry Condon or Jamie Lee Curtis. With Dolly De Leon in Triangle Of Sadness, the film was split, and I'd like to vote for a performance that goes the whole way through.
Mueller: Supporting actor, surely Ke Huy Quan is a lock for the Oscar, there's just no way anyone else is winning that award. Bafta, I would say one of the Banshees actors, Brendan Gleeson or Barry Keoghan, are his competition.
Gant: When I saw Banshees, I remember thinking I know Brendan Gleeson is the push in supporting actor, but oh my god, Barry is just phenomenal. And anecdotally, I feel that people are genuinely loving his performance. If people vote with their hearts, particularly if their votes are going to other films in other categories, you could easily see a groundswell of support for Barry. But it's a challenge for him that Brendan is nominated because that vote is going to split.
Halligan: Barry Keoghan. There's my two-word answer, but I think the vote will split, and it will depend on where people are putting their other votes. If they vote for Michelle they won't vote for Ke Huy Quan and vice versa. And there are a lot of names in the mix for Banshees.
Film not in the English language and outstanding British film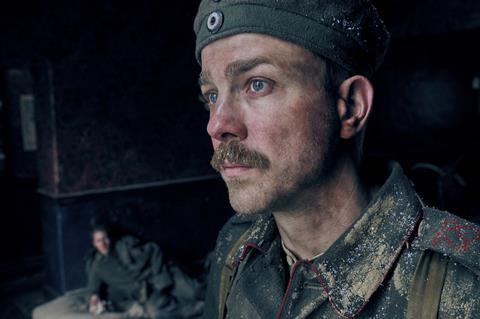 Gant: Given the love Bafta has shown to All Quiet On The Western Front with 14 nominations — including best film, which was determined by the votes of all voters — it would be an upset if it doesn't win this category. It's a big achievement across all disciplines — acting, direction, screenplay and craft — and you've got voters from all of those groups giving support to the film.
Tutt: It's a strong category. It's my favourite category. I wish these films were the nominees in best film. I mean, they could easily be. It's funny to think The Quiet Girl could have more of a chance at the Oscars. But I love Corsage and I am voting for Corsage.
Mueller: The film I was hoping for that didn't make it was Close, although it did get an Oscar nomination.
Tutt: This is a category that needs to be expanded to 10, like outstanding British film. It's so strong.
Halligan: No surprises here but I'll be voting for The Quiet Girl. What a beautiful, beautiful debut, a film for the ages. And the — large — part of me that is in love with independent cinema and all the surprises and joy that sector can bring has been overjoyed by the film's trajectory. A Generation title at Berlin with a producer's rep! No sales agent and no US deal… then record-breaking figures at home, worldwide appreciation. I love it and everything it stands for.
Mueller: Returning to Louise's point about Paul Mescal sneaking a win in best actor, this is exactly the reason why I think Aftersun has a good chance to win outstanding British film. That's where people can pour their love into it, and it has a genuine chance of winning, even though it's up against a very strong competitor in Banshees. And outstanding debut is juried so people can't vote for Aftersun there.
Gant: People who vote for Banshees as best film might then look to do something different in British film, and Aftersun has clearly resonated. But you also might get people who vote for other films in best film voting for Banshees in British, so it's hard to predict how it will play out.
Tutt: There is a scenario in which Aftersun walks away with nothing from the Baftas, with people voting for Banshees for outstanding British — although Charlotte Wells will get the outstanding debut.
Gant: It's a jury! But, yeah, assuming they had mostly sane people on the jury, Aftersun wins for debut.
Mueller: There's a lot of great films in outstanding British, but also a couple I look at and go: how did that make it in? Mentioning no names…
Tutt: I don't think this is the strongest year for outstanding British film.
Mueller: But there are a couple there that took the place of other films, like for instance, Blue Jean should be nominated.
Gant: And that's down to the jury that picks five of the nominations — because Blue Jean was on that longlist. They had five picks from 10, with five already nominated, and they didn't pick it. Juries are just maverick.
Best director and best film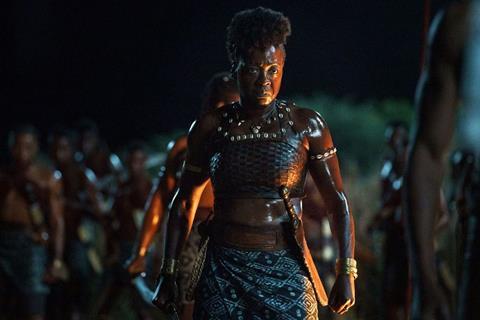 Mueller: The film category is interesting in how it compares to the director category. There is one best film nominee that didn't get a director nomination, and that's Elvis. And then there are two directors on that list who made films not nominated for best film: The Woman King and Decision To Leave.
Tutt: I'm glad that Gina Prince-Bythewood has a nomination in best director and that shows the power of the Bafta interventions. I think she should be there. All the voters will watch it.
Mueller: I agree, where it brings balance, this is where the interventions are important, and to present to the wider world: filmmakers aren't just white men anymore. They're all different kinds of communities and countries and that's an important message that is worth making.
Gant: There are two films in foreign languages nominated for director, so it feels that different notes are being rung there.
Mueller: Director, I feel like Banshees has got a strong chance. I was interested to see the London Critics' Circle go for Todd Field and TÁR as director and best film, but I still think it's between Martin McDonagh and the Daniels. And then going back to best film, I feel Banshees has the momentum behind it, the home-field advantage. With the other best film nominees, All Quiet will be recognised in film not in the English language; Elvis has better chances in best actor; TÁR, Cate Blanchett will probably win. I personally didn't drink the Everything Everywhere All At Once Kool-Aid so that's not what I am voting for in either director or film.
Gant: There could be a chunk of Bafta voters that scratch their heads at Everything Everywhere. And it will be interesting to see if people split their vote across film and director and if they like both Banshees and Everything Everywhere, whether they do that. Screenplay could be a factor here, where both Martin McDonagh and the Daniels have got a strong chance in the original screenplay category — and people who vote Martin there might go a different direction elsewhere.
Tutt: What about Todd Field, though? What an incredible film, I think he's head and shoulders above everyone. TÁR is a phenomenal film, it just has so many layers. If it's based on merit alone, it should win best picture, director and actress. Everything Everywhere was a great fun ride, it's a fantastic cinematic experience, but it's not a best film for me.
Halligan: It's hard to tell who will win. It's really open. It comes down to The Banshees Of Inisherin and TÁR for me, and I'd be happy with either — but I do think director should go with film as both McDonagh and Field wrote their films, so they are completely one-person creations. If you were to drill down, I don't think Banshees took a misstep. I'm excited for Bafta and Ampas this year — it's one of those great years. And, look, having written for Screen for so long and being Irish — what a year for us. It's amazing.
Mueller: With Banshees, there are some big-name UK producers and companies who have an attachment to it, and the UK industry often does like to back its own in these kinds of races. And then All Quiet — are we ruling it out completely as a best film upset winner? I think it absolutely does have a chance. It's one of those visceral viewing experiences that has stayed with me throughout this entire awards season.
Tutt: You can't rule out Elvis either. It's so open.
Gant: Remember that Martin McDonagh's Three Billboards Outside Ebbing, Missouri won best film at the Baftas and then went on to lose at the Oscars to The Shape Of Water — so we might see history repeat. And echoing what Louise said about it being an open contest — the year of Nomadland, it really did feel like: what else is going to win? But this year, there's hardly any categories where you're thinking it's all over.
Mueller: These are the kind of races we like, where it's open, and it doesn't feel like we've already watched the awards before they've actually happened.