A better 3D experience and cheaper running costs bode well for laser projection's success, but are its benefits enough to encourage mainstream theatres to make the investment? John Hazelton reports.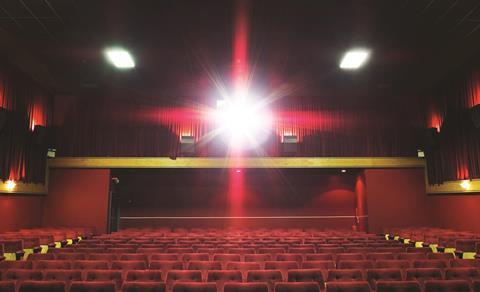 Over the remaining months of 2014, cinema audiences around the globe will get their first taste of laser projection as early adopter exhibitors in Europe, the US and Asia finally put the new technology to use in what may initially be just a few dozen big-screen auditoriums.
How audiences respond will help determine whether laser technology, with its promise of greatly improved image quality and a much better 3D experience, turns out to be the future of exhibition or just a flash in the projection booth.
Brightness is laser technology's most obvious selling point. The handful of laser projector models currently on the market produce up to 60,000 lumens of light output, which is twice as much as even the most powerful xenon lamp-based digital projectors. That output, say technology companies, means that a 3D feature can be screened at 14 foot-lamberts (a measure of the light reflected back from the screen to the audience) rather than the three to four foot-lamberts achievable with standard digital 3D.
'Show 3D at the same light levels as 2D and that's going to keep the audiences coming back to buy that 3D ticket instead of the 2D ticket for the same show'

Don Shaw, Christie
Laser projection also produces better contrast, gamut (the range of colours that can be represented) and uniformity than standard digital projection.
On the downside, laser projectors are currently much more expensive than their standard counterparts, costing in the region of $300,000 to $500,000 each, compared with $50,000 to $90,000 for a xenon-based projector.
The initial cost is offset partially by lower operating costs, since laser light sources can last up to 30,000 hours - compared with perhaps 1,000 hours for a xenon lamp - and consume less power than standard sources.
Regulation might have been another negative for laser projector companies but suppliers have been able to secure exemptions from US health and safety regulations governing laser light shows and are expecting, they say, to reach similar agreements in other regions.
Technology companies - which over the past two years have demonstrated laser projectors in trade-show screenings of visually ambitious features such as Hugo and Samsara as well as a short commercial run of G.I. Joe: Retaliation – are taking a variety of approaches to the laser rollout.

The tech developers
Not surprisingly, giant-format cinema company IMAX is a big proponent and has put $40m - its biggest ever spend - into laser research and development.
IMAX's 6P dual-head projector system - co-developed with imaging company Barco using patents licensed from Eastman Kodak - is the result of what the company's chief technology officer Brian Bonnick describes as "a very detailed ground-up approach. We have deviated in the design of the product so we can take advantage of the other things beyond brightness that lasers bring to the equation."
Those things, says Bonnick, include reduced "pixel drift", fewer visual anomalies and "very, very high contrast".
Aiming initially to convert its biggest, 80 foot-plus screens, IMAX has signed more than 60 laser deals with exhibitors around the world - covering such iconic locations as the TCL Chinese Theatre in Los Angeles (formerly Grauman's) and the Empire Leicester Square in London – and expects to complete its first couple of system installations towards the end of the year.
Christie has entered the market with a fibre-coupled laser projection system using 6P colour laser modules. The system is already running in one location in China and Christie expects to complete installations in at least two US locations - including the iconic Seattle Cinerama owned by Microsoft co-founder Paul Allen - by the end of the year.
The Christie laser system, says the company's senior director of entertainment solutions Don Shaw, is "a scalable solution. If you need 10,000 lumens right now, you'd buy two laser modules. If you need 60,000, you'd buy 12. Because our lasers are modular you can build the system up as you need."
He continues: "Lasers - at least right now - are the lion's share of the cost in a laser projection system so it makes sense that you can choose how many lasers you want, as opposed to buying one system that's got 60,000 lumens whether you need them or not."
In addition to working with IMAX, Barco is also offering its introductory laser projector - a direct-coupled 6P model - to other companies with large-screen auditoriums and will, by the end of the year, have installed more than 20 systems for exhibitors including Kinepolis in Europe, Cinemark in the US and Jinyi in China.
Barco, says vice-president of digital cinema Todd Hoddick, is initially focusing its sales push on the top end of the cinema market: "Today, because lasers are so expensive, it makes more sense to start at the top end – that's where the greatest benefit exists for exhibitors." Hoddick adds, though, that "we will eventually bring laser all the way down and through the cinema market".

The 3D boost
The technology providers argue that even when it is only employed on a cinema circuit's biggest screens, laser projection will still benefit exhibitors - particularly in the area of 3D take-up, which has recently been falling in the US.
'Laser technology will improve, it will become cheaper and less power-consuming'

Eddy Duquenne, Kinepolis
Showing 2D films at 14 foot-lamberts and 3D films at three to four foot-lamberts "has contributed to the demise in 3D business that we've seen in the last couple of years", says Shaw. "That's really what we're pitching - show 3D at the same light levels as 2D and that's going to keep the audiences coming back to buy that 3D ticket instead of the 2D ticket for the same show."
And in time, say the tech companies, a decline in the cost of laser light sources should mean the total cost of ownership of a laser projector – the initial purchase price plus running costs over time - will fall below that of a xenon-based projector.
"The cost of lasers has to come down," says Hoddick. "The speed is what we don't know. It's a function of scale, so the more lasers that Barco, Christie and others purchase the faster that price will come down. I think we'll see laser take off in 2015 in a meaningful way. But I don't think it's really economically compelling for the mainstream until maybe 2016 or 2017."

Exhibitor enticement
Mainstream cinema owners - many of whom have only just finished paying the cost of switching from film to digital projection and some of whom reputedly turn down the brightness on their digital projectors to save money - will certainly take some persuading.
But upmarket exhibitors who see the latest technology as a marketable commodity might be easier to convince.
Eddy Duquenne, CEO of Belgium-headquartered European exhibitor Kinepolis, says he was "blown away" by laser-projection demonstrations that preceded his company's recent deal with Barco to install the new systems at four flagship cinemas in Belgium, Spain and France.
Getting into laser projection now, says Duquenne, is "an investment in customer experience. It's the promise to our customers to give them the ultimate cinema experience."
Having experimented successfully with premium ticket pricing for its early digital screenings, Kinepolis might consider a small extra charge for its first laser screenings, says Duquenne.
And in the longer term, he suggests, laser projection could develop in the same way digital projection has since Kinepolis and other early adopters first bought into that technology some 15 years ago.
"Laser technology will improve, it will become cheaper and less power-consuming," Duquenne predicts.
Eventually, the Kinepolis CEO suggests, the total cost of owning a laser projector might fall below that of a digital system, making laser equipment with a range of power outputs viable for the majority of screens.
"If the manufacturers succeed in getting to that point," says Duquenne, "I think laser is definitely the future."
Bright stars: Laser tech-speak
High-brightness laser projectors come in two types. A fibre-coupled projector consists of a standalone projection head linked by cable to an external rack of laser light source modules. Proponents argue that fibre-coupled projectors are better because they are more flexible – laser modules can be added or removed to adjust the output for different-sized screens - and keep the heat and noise of the lasers away from the projection head.
A direct-coupled projector has its laser light source integrated with the projection head in a single unit and uses an external chiller to maximise the lifetime of the laser components. Direct-coupled projectors, say their vendors, have a lower total cost of ownership and offer the best performance in terms of despeckling (the avoidance of twinkling effects on the screen) and image uniformity.
Technology companies also tout laser projectors for their ability to offer a 6P - or 6-primary - solution for colour separation-based 3D, which works by generating separate images for each eye and delivering them through filtered glasses.
A 6P system creates each image with its own set of three primary colours - red, green and blue - for a total of six primary colours, eliminating the need for filtering or polarising mechanisms that reduce light levels. A 6P system offers more brightness, higher contrast, better colour reproduction and compatibility with low-gain white screens.