With the dust barely settled on digital switchover, exhibitors have begun investing in new audio technology to further differentiate their offer from home cinema. Adrian Pennington reports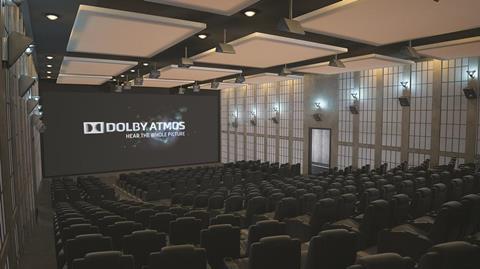 While digital projection enabled many theatres to leap to 4K or 3D, sound systems have not been refreshed for a quarter of a century since the introduction of surround sound. That is now changing with a new generation of audio platforms variously described as immersive, 3D or object-based, which promise a richer, more naturalistic aural experience.
"Immersive sound is the next big opportunity in creating a theatre experience that is of the highest quality that you cannot find in your home", declared DreamWorks Animation CEO Jeffrey Katzenberg at CinemaCon last year.
"Audio is the next big area in terms of trying to keep the cinema exhibitor ahead of the curve," says Vue CEO Tim Richards.
The technology field has narrowed since 2012 to a straight choice between Dolby Atmos and Barco Auro 11.1, which together will have amassed 1,050 installs worldwide by the end of 2014, around 250 of them in Europe, with 1,500 estimated within a year. That is the fastest rate of adoption of any cinema sound system to date, according to IHS Technology.
Boasting 650 installs (or commitment to install) worldwide, Dolby is the front runner. Its European Atmos sites include select Odeon and UCI screens in Spain (Cinesa), Germany and the UK; Vue, Olympic and Showcase in the UK and US; Gaumont Pathé in France; and Cinema Star, Formula Kino and Mori Cinema in Russia.
'The battle is between different platforms and is more akin to competition between Apple and Android operating systems'

Wilfied Van Baelen, Auro
Barco has its technology in or pending at 500 sites including Berlin Cinestar in Germany, Omniplex in Ireland and India's EGA, but none in the UK.
Some theatres, notably Cinecitta in Germany and Premiere in the Czech Republic (both Atmos) are surcharging for enhanced audio at the box office, but most are marketing the upgrades as part of their premium large format (PLF) packages. IMAX aside, IHS Technology counts more than 50 own-brand PLF worldwide, such as Cinemark XD, Showcase XPlus and Vue Xtreme.
"Exhibition is coalescing around premium screens to drive revenue," says IHS director, head of film and cinema, David Hancock. "In mature markets where cinema is fairly static or slightly declining, anything that re-energises cinema, as digital and 3D have done, is imperative. Consumers have a short attention span so you've got to keep improving the experience."
Vue is fitting immersive audio into "a significant number of Xtreme screens across nine markets", says Richards. "We're very happy with sound at our existing screens but you can always take it to another level, especially for customers willing to spend a little more for an incredible experience."
Vue has installed Atmos at its Glasgow, Gateshead and Cramlington flagships but also has its own proprietary audio system on test and is about to demonstrate Auro 11.1. "One of the benefits of a larger circuit is the ability to test a lot of different systems. We'll make a decision [on wider rollout] just after the summer," Richards adds.
Overseeing a programme of upgrades of its ISense PLF with Atmos, Odeon and UCI commercial director Andy Edge says: "We want to keep at the forefront of available technologies and see innovation in sound as part of that."

The content pipeline
Odeon and Vue maintain that decisions are taken on sound quality and consumer feedback but the economics of install and a pipeline of content mixed in immersive audio are major contributing factors. Rival vendors are competing to woo studios and signing up post facilities with software tools to enable the sound mix (there are 35 Auro-equipped facilities worldwide compared with Atmos¹s 55).
Dolby leads here too, with more than 100 titles including Gravity, the first Atmos-mixed film to win Oscars for sound mixing and sound editing. Barco has 40 Auro-mixed titles, including I, Frankenstein, and a trump card in Katzenberg, who committed a run of 15 DreamWorks Animation releases - beginning with Rise Of The Guardians - in the format, with many also in Atmos.
Because each system requires a separate mix and separate deliverable, most tentpole movies (The Amazing Spider-Man 2, How To Train Your Dragon 2, The Expendables 3 and Transformers: Age Of Extinction among them) actually receive a dual mix.
While allowing studios to cover all bases, this further complicates the post-production process by adding to the burgeoning and costly number of files for Digital Cinema Package (DCP) distribution. Critically, for exhibitors, each format requires a specific audio design and loudspeaker layout leading to calls for a standard means of playing back immersive audio content regardless of the installed system.

Choosing a standard
With costs ranging from $50,000-$200,000 (£30,000-£120,000) per screen depending on system and size, the Union Internationale des Cinémas (UNIC) and North American Theatre Owners (NATO) issued exhibitor requirements for immersive sound technologies demanding delivery of all audio tracks on all films or agreement of a one-size-fits-all playback solution, which industry standards body SMPTE is currently exploring.
All sides are keen to avoid a repeat of the costly and cumbersome introduction of digital sound, when the industry was forced to accept three competing digital sound formats: Sony Dynamic Digital Sound (SDDS), Dolby Digital and DTS.
"The battle is between different platforms and is more akin to competition between Apple and Android operating systems," says Wilfried Van Baelen, CEO of Auro Technologies and inventor of Auro 11.1. "More speakers are not necessarily best for an immersive experience or for the economics of the auditoria."
'An open standard will keep the freedom of choice for theatres'

Brian Claypool, Barco
A standard is "likely but not a given", says Hancock, who believes studios will not want to carry the burden of multiple audio files for much longer.
"Exhibitors want to play content and not worry about what content is available," says Brian Claypool, Barco's business development director. "An open standard will keep the freedom of choice for theatres to choose the system that makes best economic sense for them."
The winner could potentially dominate big-screen audio for a generation, making millions from studios, exhibitors and licensing to consumer electronics manufacturers.
The home, mobile and in-car markets are the ultimate goal of Barco, Dolby and even DTS, which does not have an immersive audio technology but does have a protocol called Multi Dimensional Audio, which it hopes will form the basis of a common workflow and common deliverable, ensuring it stays part of the equation for home entertainment.
By the numbers
150 titles mixed in immersive audio formats to date
1,050 immersive audio installs worldwide by 2015
$50,000 to $200,000 cost to outfit immersive audio per screen

Sense in sound: Setting an audio standard
Channel-based sound systems (5.1, 7.1), of which Auro 11.1 is a continuation, mix sounds into a predetermined number of channels for playback in a theatre over the corresponding channels (which could be one speaker or a speaker array).
In contrast, Dolby Atmos treats unique sounds as objects to be steered around the room based on vector metadata that accompanies the audio file. The playback system renders each object in real time related to the installed speaker layout.
Auro 11.1 works from a theatre¹s existing surround-sound infrastructure with additional loudspeaker layers for height and overhead, whereas Atmos requires up to 64 loudspeakers and is the main reason Auro is considered the more economical solution.
"The immersive effect we achieve in audio as a result of our configuration is just as good, if not better, than an object-based approach," says Barco business development director Brian Claypool.
With 128 additional audio objects capable of being flown anywhere around the speaker set-up, sound mixers eulogise about Atmos.
"Where sounds felt degraded or effects cheated in 5.1, now we can create moments that have a beauty and richness," describes Glenn Freemantle, sound designer and supervising sound editor on Gravity.
Supervising sound editor Erik Aadahl helped prepare Transformers: Age Of Extinction for an Atmos mix: "One thing we are playing with is the idea of psychoacoustics [sound perception] in which we can use the ceiling array to spin a room in a 360-degree arc that is just impossible with one plane of speakers in 7.1."
There are other immersive audio choices. Germany's Ionoso was the first to develop object-based audio but has had limited success outside of China, South Korea and Romania. The consensus is that it will take SMPTE 12-18 months to devise an open-format, playback standard. One sticking point would appear to be Dolby's insistence on retaining the keys to its object-based master file format.
"We could incorporate Auro into the Atmos workflow and derive 11.1 from the object-based master - and it is possible to include Atmos in the Auro workflow - but [Dolby] is closed," says Claypool.
Guy Hawley, senior director, cinema sales and services, EMEA at Dolby, says: "We are keen to ensure the industry standardises on technologies that are proven to work in the real world. We¹ve put a lot of effort into supporting the development of object-based audio standards."
It is likely that within two years there will be a distribution standard called PLF Audio or Immersive Audio incorporated into the DCP, which exhibitors will be able to render automatically into their Atmos or Auro-certified theatre on reception.

Speakers' Corner: Vive audio
In another audio innovation, industry stalwart Christie - known for its digital projectors - is moving into audio with the launch of Vive Audio, a series of speaker solutions compatible with Dolby Atmos, 7.1 and 5.1 surround sound and Barco Auro, as well as other cinema audio formats.
The Vive Audio portfolio - which includes line-array speakers, subwoofers, ceiling speakers and amplifiers - has been designed to get the most of the DCI format for digital cinema sound. Innovations in Vive Audio are the use of ribbon technology and the abandonment of the traditional horn design used in most cinema speakers, allowing for up to four times larger optimal listening areas.
The offerings can be customised for small auditoriums - or even post-production cinemas - up to large-format cinemas using immersive sound.
"With Vive Audio we have the unique opportunity to re-architect and re-engineer audio for motion-picture playback," says Patrick Artiaga, Christie's director of business development. At CineEurope, the company will demonstrate Vive Audio, which has already started installing at select cinemas in the US, Mexico and China.

Wendy Mitchell