With offices in London and Sydney, See-Saw Films straddles the globe with its film and television productions — and has a major awards contender with The Power Of The Dog. Screen talks to co-founders Iain Canning and Emile Sherman.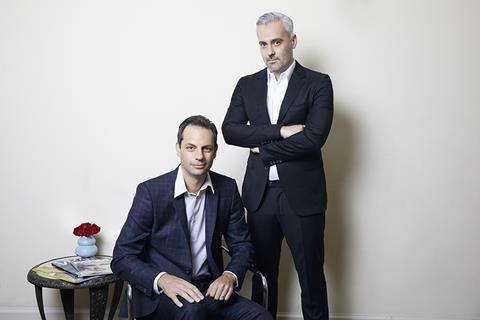 "Box-office success is a very reductive notion," posits Emile Sherman, the Sydney based co-founder of See-Saw Films. It is a bold statement from the joint managing director of a production company that made its name with The King's Speech — a feature that took $414m at the global box office during its release in 2010, just two years after Sherman founded See-Saw with UK producer Iain Canning.
Sherman and Canning are keen pragmatists. With film titles including Lion, Widows and Ammonite under their belts, they have guzzled up opportunities to work with all the streaming players.
The See-Saw slate is peppered with feature and series joint ventures with Amazon Studios (Foe), AMC+ (Firebite), Apple TV+ (Slow Horses, The Essex Serpent) and with Netflix on this awards season's most muscular contender — Jane Campion's 12-time Oscar-nominee and Bafta-best film and director winner The Power Of The Dog.
The revisionist western, which stars Benedict Cumberbatch, Kodi Smit-McPhee, Kirsten Dunst and Jesse Plemons, is Netflix's buzziest awards contender to date, and could offer See-Saw a second best picture Oscar win following The King's Speech. The feature received a limited theatrical release in November 2021, prior to its December release on Netflix, which reports it has been viewed by 45 million households.
"The Netflix model has given us the opportunity to have a looser definition of success," says Sherman. "You can get subsumed by the narrative of the box office very easily and lose sight of the fact a film is just bloody brilliant. The box office has its whims — the time it's released, maybe you're in a world of Covid, maybe it comes up against another movie and it gets caught in the wake.
"Forty-five million households, that's stupendous," Sherman continues, "plus the awards nominations, the critical response, the social media reactions, the effect on Netflix of retaining subscribers and bringing in new subscribers — all these things go into a more heterodox melting pot."
See-Saw had worked with Campion on her two-season TV series Top Of The Lake in 2013 and 2017 and regular catch-ups with the director continued, aided by her Sydney base being just 100 metres away from the company's Sydney office.
During one of these chinwags in mid-2018, Campion mentioned a 1967 novel by Thomas Savage she had fallen in love with, for which Canadian producer Roger Frappier had the rights. Campion had brought up the project with UK-based producer Tanya Seghatchian, who had also worked on The King's Speech while at the UK Film Council. All the parties grouped together to get the project off the ground.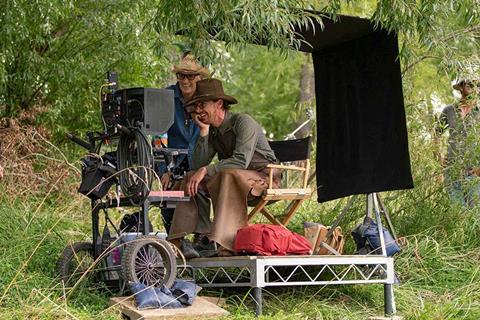 Cross City Films, the in-house sales arm of See-Saw, took The Power Of The Dog to Cannes in 2019 to look for financing. "In Cannes, we had a lot of interest, but there was just a level with Netflix who could see the potential of the film if Jane could be properly resourced," says Canning.
"Day-to-day, Netflix had a very light hand, in a lovely way, in terms of their production presence on the project," adds Sherman. "They have a great team of experienced people who we were in touch with all the time, and were aware of what was happening. But they trusted us to create the space for Jane to make her best work."
See-Saw produced the project alongside Seghatchian — the lead creative producer — plus Frappier and Campion. Sherman and Canning helped develop the script with Seghatchian and Frappier, assisted in casting and collated additional financing. "It's an independent film, but with Netflix as our major financiers," Sherman is keen to note. Positioning the project as an Australia-New Zealand co-production helped to secure additional money from tax credits. Further funding came from a completion bond, investment from the New Zealand Film Commission and bank financing.
Covid-19 struck midway through the shoot, which used Central Otago on New Zealand's South Island as a stand-in for Montana in the US. When Australia closed its borders to the outside world, Sherman was on hand to assist Campion, in-person, in the edit suite.
But the responsibility See-Saw appears to be most proud of was to create a sense of security on set. "The film is all about not feeling safe, but our job was to make sure Jane really does," says Canning.
"That's how Jane works," confirms Sherman. "She needs to feel like there's the world on screen she's creating, but the world off screen needs to be protected and immersive for the actors and for the crew, and fun. It's a place where you can play."
Dog days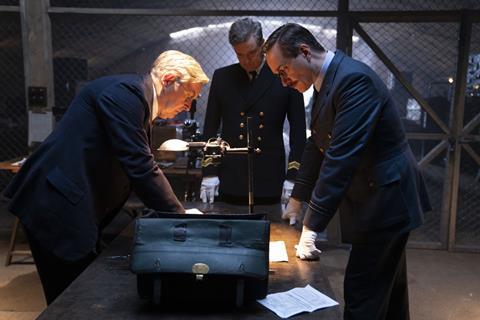 It now seems curiously portentous of the Campion project that both Cannes and a memorable experience with a dog are what kickstarted Sherman and Canning's partnership. The French festival played host to the pair's first meeting. Sherman was producing 2006 film Candy, starring Heath Ledger, which Canning later sold for the now-defunct Renaissance Films.
"Iain came out for the Candy shoot," remembers Sherman. "I had a puppy that vomited on his leg. Iain wasn't a dog person in those days. He looked at me, and he was okay with it. That was the test."
"It was then that I knew we needed to work together," chuckles Canning. The company has grown to around 35 people, working across wildly different time zones, with offices in London and Sydney. Canning and Sherman keep connected with almost daily calls, in which Canning will be starting his day with a coffee, while Sherman is breaking into an evening scotch. "It's never an Emile project or an Iain project," insists Canning. "It's always a See-Saw project, and we both work across it."
While the pair has warmly embraced the streaming model, theatrical has not been abandoned. Operation Mincemeat hits cinemas in territories including the UK and Ireland in April via Warner Bros, although this will be closely followed by a May release in North America and Latin America on Netflix. See-Saw is also working with Florian Zeller on the upcoming film adaptation of his play The Son, currently in post-production. It was born out of what Canning describes as "a surprising lockdown love affair between Florian and us", which unspooled over Zoom. Like Zeller's The Father, Sony Pictures Classics has acquired The Son for the US, while STX Entertainment stepped in for the UK, with each outfit also taking a slew of further territories.
"The streaming model is very different to the cinematic model," says Sherman. "You structure the back-end in different ways. There's more certainty but less upside. You trade off on things in every deal, like whether you should have IP [intellectual property] or shouldn't have IP."
"It's why diversity of financing is so important," adds Canning.
See-Saw has ramped up its television output, with 2021 a turning point owing to the release of BBC/AMC series The North Water and the hiring of veteran UK TV producer Helen Gregory as the company's first creative director. "It was a decisive moment for us," reflects Sherman. "Helen is native to television and really understands the long-form returning format. It's in her bones."
"Film is such a key spine to See-Saw, but probably in the last few years we flipped from doing three-quarters of film and a quarter television to the other way around," says Canning.
"As technology has changed, and the distribution platforms have changed, you get to tell great stories in different formats, and that's exciting," enthuses Sherman. "The best way to tell interesting stories now includes returning series and limited series, as well as feature films.
"You need to be across all three. You'd be crazy not to be."