As the EFM wraps its special five-day online edition on Friday, most participants are reporting a satisfactorily busy week, buoyed by the Berlinale's well-received slimmed down 2020 selection.
"Every day EFM's online platform was used by up to 12,000 visitors and we are very happy about the industry's positive resonance so far," commented EFM head Dennis Ruh.
Buzzy Competition titles for reviews and sales included Bad Luck Banging Or Loony Porn, Fabian – Going To The Dogs, Memory Box, I'm Your Man, Introduction and Wheel Of Fortune And Fantasy.
Céline Sciamma's drama Petite Maman secured the first major US deal for a festival title on Wednesday (March 3) with Neon announcing its acquisition of North American rights from Paris-based sales agent mk2 Films just as the first rave reviews started to roll in.
Sellers report distributors have been "surprisingly" active, even if many still have titles from last year's EFM waiting to be released due to the pandemic.
"The market has been a breath of fresh air," said Alice Lesort, head of sales at Les Films du Losange, which is handling German director Dominik Graf's Fabian. "Going into the market, I was a bit pessimistic but I've felt a real desire among distributors to push on.
"There isn't the same spontaneity of the physical festival, the pace is slower and buyers are very cautious but I've received lots of quality offers for Fabian, which have left me feeling optimistic."
Maren Kroymann, CEO of Berlin-based M-Appeal, reported an "intense" week, with Japanese filmmaker Ryūsuke Hamaguchi's Wheel Of Fortune And Fantasy even sparking a bidding war in some key territories, including five offers on the table for North American rights.
She suggested buyers were emerging from "a winter's sleep", as Covid-19 vaccination campaigns get into full swing and countries start plotting dates for cinemas to reopen, but noted they are yet to fully awaken.
"They have more than a year of films on the shelf that they still need to release. They have a full line-up. The general attitude is, 'We don't need films but we will acquire one or two if we fall in love,'" she said.
Thorsten Ritter, Beta Cinema's executive vice president, acquisitions, sales and marketing, said he had experienced an "intense, busy and surprisingly successful" EFM, for a slate topped by "accessible" Competition titles I'm Your Man and Next Door.
"The opportunity to screen the films online has enabled more people to see them and the online screenings for our Competition titles were really well attended," Ritter said.
Salma Abdalla at Vienna-based documentary sales specialist Autlook, which launched creative Dean Martin bio-doc King Of Cool, suggested recent announcements around cinema reopenings in various territories had helped lift the mood.
"There is a lot of room for indie movies to be released this year before blockbusters will be unlocked," she added, as a reason why buyers with backlogs of titles were still picking up indie and festival fare.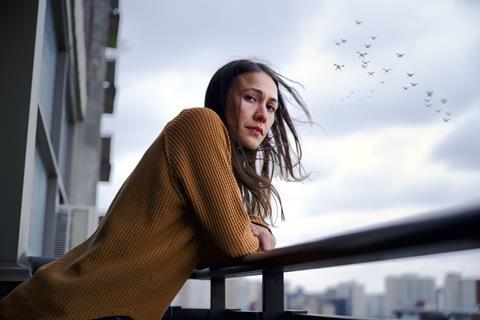 The view from the US
Over in the US, where professionals are between five to nine hours behind Berlin time, sellers were reporting an active if not spectacular market, although offers had rolled in for a number of the marquee titles and deals were expected to start falling into place in the coming days.
In spite of continued uncertainty over the immediate trajectory of the pandemic, sellers reported demand for completed fillms and packages with stars or high concepts.
Popular titles in play were AGC Studios' Neill Blomkamp supernatural horror Demonic, which filmed during the pandemic last summer in British Columbia and is understood to be the target of international distributors and a handful of US theatrical buyers.
FilmNation's Milla Jovovich fantasy epic In The Lost Lands, and Meryl Streep Broadway love letter Places, Please were also drawing interest, as was Endeavor Content's Ryan Gosling drama The Actor.
XYZ Films reported its Berlin Panorama selection Night Raiders had sparked a strong response as buyers seek completed films. They are also willing to spend on anticipated commercial prospects.
"There's more and more demand for content," said XYZ Films president of international sales and distribution Tatyana Joffe, who showed first footage on the Josh Duhamel, Abbie Cornish and Nick Nolte action thriller Blackout, which shot in Mexico late last year and is expected to deliver by the fourth quarter.
"As soon as we have footage and show buyers a film is in production these projects bring in a lot of business."
Meanwhile, Lionsgate International's upcoming virtual presentation and Q&A of its all-star Eli Roth videogame adaptation Borderlands on Monday is a virtual sell-out. The seller is also talking to buyers at this market on wartime story White Bird, which Marc Forster is directing, family drama Unbreakable Boy, and YA drama Are You There God? It's Me, Margaret.
Overspill
The Borderlands presentation is not the only EFM-related event taking place beyond its official dates of March 1-5. As the market officially wraps its activities on Friday, many sales agents expected their related meetings to spill over into next week.
"During the market itself, distributors are screening films, so many of the meetings we have are done before or after the market," commented M-Appeal's Kroymann.
Running some seven to eight hours ahead of Berlin, Asian sellers and buyers were also active.
Yunjeong Kim, director of international business at South Korea's Finecut, which is handling Competition title Introduction, predicts their virtual EFM activities will merge into meetings for the upcoming Hong Kong Filmart, running March 15-18.
"Everyone in the office has an average of 10 meetings a day. It's pretty much the same as when we were at the physical market. We started meetings the week before EFM, and we're getting late requests that will keep us going into next week. I think this will connect right into Hong Kong Filmart," she said.
South Korean professionals also reported good business beyond the festival selection.
South Korea's Megabox Plus M posted one of the biggest sales announcements of the week for The Point Men, director Yim Soon-rye's anticipated Korean hostage crisis drama.
"It seems like there's more work than at physical markets where people have to spend time physically going back and forth. So there's actually less time in between meetings and more work," commented Megabox Plus M's international business manager Dana Kim.
In a regional development, both Dana Kim and Yunjeong Kim reported an uptick in Chinese interest for South Korean films, amid a thawing of relations between the countries which froze in 2016 due to a disagreement over South Korea's installation of a US anti-missile system.
"Chinese companies are requesting even more meetings. Of course, there were the ones who took meetings regardless of the situation, but now we have others contacting us and these are some of the ones with whom we'll be doing meetings into next week. That is new – this atmosphere of the Chinese coming back," said Yunjeong Kim.
Outside the main market
Beyond its central market, the EFM also laid on virtual editions for nearly all its normal side events including the Berlinale Series Market and Conference, Africa Hub, Doc Salon, and the Co-Production Market.
Marking its 18th edition, the Co-Production Market welcomed 35 feature film projects from 25 countries and will have generated some 1,300 meetings between its participants and potential partners by end of play on Friday.
Like the sales agents, producers and filmmakers in attendance reported they had been happily surprised by the level of activity and interest.
"It's been really full-on, very packed days since day one on Monday," commented London-based filmmaker and producer Anthony Chen, who was presenting his upcoming project We Are All Strangers. "In fact, we have been booked for over 50 meetings this week. Some had to be dropped as all the slots were filled up. So we have set up privately meetings for next week even after the market ends."
Chen expressed surprise at the level of positivity in the air. "Even on the sales side. I was expecting a more cautious, or even a more naysayer mood, but it seems people are very eager to take on projects, especially at an early stage. This week has got me feeling enthused and confident about the film I'm making."
Fred Burle at Berlin-based One Two Films, who presented Annemarie Jacir's The Oblivion Theory, which clinched the top €20,000 Eurimages Co-Production Development Award, was equally enthused, although he was more cautious about the outlook for festival-type films.
"I think that this year might still prove especially difficult for films that usually find their home mainly in the festival circuit, but people are eager to get on board projects with the crossover potential for alternative releases," he noted.
One Two Films founding head Sol Bondy, who alongside The Oblivion Theory also presented Sarah Arnold's Wild Encounters at the meeting, was full of praise for the online environment created by the EFM for the event.
"The platform worked great. All projects had their own break-out rooms and people would pop in and out like clockwork. The most fun thing for me was moving from one room to another since I was in two different projects, and literally bumping into industry friends in the virtual waiting room, for a quick, stop and chat, just like in the MGB lobby. It felt very much like the Berlinale," he said.
Jeremy Kay, Geoffrey Macnab and Jean Noh contributed to this report.