Brazilian film-maker Heitor Dhalia's latest project is a modern-day gangster film set during a famous gold rush.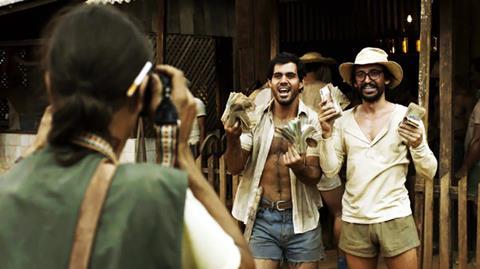 After his 2012 Hollywood thriller Gone, Brazilian film-maker Heitor Dhalia is back on home soil with Bald Mountain (Serra Pelada), a drama centring on the 1980s gold rush at the Serra Pelada mine in Brazil.
Made famous by the black-and-white images taken by photographer Sebastiao Salgado in 1986, the gold rush saw up to 120,000 people chasing their dreams of wealth. Now, 27 years later, Dhalia is using it as the backdrop for a "modern gangster film" set in a lawless land.
The director, whose credits include the 2009 Cannes Un Certain Regard selected Adrift and Drained which played at Sundance in 2007, was drawn to the urgency of a gold rush that saw miners driven to kill each other.
"As with Martin Scorsese films, I want the audiences to feel inside that harmful and cruel world. It is not a look from the outside. The idea is to give the audience a view of 360 degrees," he says.
The film follows two friends who leave Rio de Janeiro in search of gold. One, an ex-boxer, is corrupted by greed and power, becoming a gangster and destroying his friendship with the other, whose only ambition is to make enough money to return to his pregnant wife.
For his protagonists, Dhalia chose two actors — Julio Andrade and Juliano Cazarré — who are known for their work in film and on television in Brazil. Andrade's credits include Suzana Amaral's Hotel Atlantico (2009) and Beto Brant's Stray Dog (2007), while Cazarré has worked on Matheus Nachtergaele's The Dead Girl's Feast (2008) and Fernando Meirelles' 360 (2011).
Wagner Moura, who appeared in the Elite Squad films, also takes a supporting role.
"Regardless of the visibility that all of them have, they were the right actors to translate this universe, which is so masculine and dangerous," says Dhalia, who is hoping Bald Mountain will cross borders thanks to the international renown of the Serra Pelada mine.
"We revisited the event that represented the highest concentration of manual labour since the pyramids of Egypt," says Dhalia. "Although the miners used to work in inhuman conditions, they didn't feel like slaves of anyone. All of them saw themselves as rich in potential, as do those who play in Las Vegas or invest in the stock market. One miner came to buy a car for every day of the week," says Dhalia.
The biggest challenge was to direct an action film, a genre not frequently made in Brazil. "It requires a more sophisticated narrative structure and a more complex shooting, with shootouts and chases," he says.
Building a village
Bald Mountain was made for $4.6m (real10.5m). "We had to rebuild the entire village of miners, which was a miracle. Producers accustomed to larger budgets will not believe what we could do with our money," says producer Tatiana Quintella, Dhalia's partner at his Brazilian production company Paranoid Filmes, which financed the film, together with government incentives.
Shooting took place in Sao Paulo and Para, the state where Serra Pelada is located, although it was not possible to shoot at the original mine, partly because it is now owned by a foreign company, and partly because it looks nothing like it did in the 1980s.
Bald Mountain marks a welcome return home for Dhalia after Gone, which starred Amanda Seyfried. "It was a good learning experience, but I didn't appreciate the creative limitation," says Dhalia. "At first, I just wanted to make a film there. Now it's a different story. It will probably be another battle to film in Hollywood, but I must choose a better battle."
For now, the director will continue working in Brazil. His next project is Bando De Dois, a western about outlaws in the north-east of the country.
Bald Mountain will world premiere as the closing film of the Rio Film Festival, before being released in Brazil on October 18.
Bald Mountain
Director Heitor Dhalia
Screenplay Heitor Dhalia, Vera Egito
Cast Juliano Cazarré, Julio Andrade, Wagner Moura, Sophie Charlotte, Matheus Nachtergaele
Production company Paranoid Filmes
Producers Tatiana Quintella, Heitor Dhalia
Executive producers Tatiana Quintella, Andrezza de Faria
Budget $4.6m (real10.5m)
International sales Celluloid Dreams
Shooting dates October-November 2012
Contact Tatiana Quintella, tatianaquintella@paranoidbr.com