David Farr's feature directorial debut, The Ones Below, is a study of contemporary London, the loneliness of motherhood and the anxiety of the modern world. Wendy Mitchell visits the set.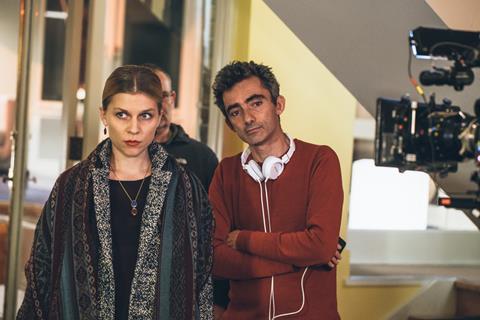 Theatre veteran David Farr's first feature came to him in a dream. He was in the midst of directing a Pinter play, and he remembers, "I was thinking about the anxieties of parenthood. I went to bed with a feeling of anxiety and maybe Pinter's ghost was in the room… I woke up with an idea in its skeletal structure."
Farr, the father of two daughters, says he came up with a film that is essentially "about the loneliness of motherhood and the strange loneliness in big cities". That early idea evolved into The Ones Below's story of Kate (Clémence Poésy) and Justin (Stephen Campbell Moore), a disconnected couple expecting their first baby who live on the top floor of a north London house; Jon (David Morrissey) and Teresa (Laura Birn) move in below, and are also expecting a baby. Following a tragic accident, the couples' lives become intertwined with disastrous consequences.
'It's a psychological suspense: it deals in terror not horror'

David Farr, film-maker
Farr has been working in theatre for 20 years; he also wrote the screenplay for Joe Wright's Hanna and after that BBC Films told him: "You should think about your first movie."
He first made the short Coolbox with the backing of BBC Films and the BFI Film Fund, and both were so impressed they came on board this first feature. Protagonist handles sales and Icon has already snapped up UK rights.
Farr does not speak like a typical first-time film-maker, nor does he sound like a novice. He confesses to knowing more about film than theatre despite his background. "I'm a fan of European arthouse suspense films like those by Chabrol, Polanski, Haneke. I sit in that European tradition."
He sees The Ones Below as "dark in some ways" but more as "deeply anxious… It explores certain paranoias".
It's not a blood-and-guts type of thriller. "It's a psychological suspense; it deals in terror not horror. Horror is something external like a zombie. Terror is something from within," he says.
It is also showing a side of modern London not often seen on screen. "Other than Nic Roeg, England hasn't been making genre films set in normal life. In France you have hundreds of them," he says. "I wanted to do something about the new London; it's not about class."

The next stage
Producer Nikki Parrott, who has most recently been concentrating on documentaries and documentary hybrids at Tigerlily Films, praises Farr's collaborative nature, his vision for the film and excellent script. "A lot of people wanted to come in and read for it; the script is a real page-turner," she says.
Campbell Moore recalls: "When you read it, it's a hard, tough subject matter. It's anxious… It's a revenge tragedy in a way and deals with very contemporary characters."
The actor also praises Farr's vision. "What's great is working with someone who has written this story from his own mind. He's achieved the film he wanted to achieve, he's fighting for it."
In working with the cast, Farr had to shake off some of what he learned in two decades of theatre. "I made a conscious decision not to recreate my theatrical approach," he explains. "Over-rehearsing for a film can be a mistake. With a play you rehearse for weeks and weeks and weeks. Actors can lose the freshness."
There were locations across London but most of the shoot was in a house in Canonbury, north London. "We wanted a London that was non-descript," Parrott says. "We see Downton Abbey and the films about council estates but these are the people in the middle."
Parrott has a lot of praise for this first-timer: "He's a director that has a voice; that's really important to me. It's really good to work with someone who has a vision."
Farr might not give up on theatre but he has now "got the taste for film". He has written John Le Carré TV mini-series Night Manager with the BBC and AMC to star Hugh Laurie and Tom Hiddleston.
Also, he has adapted Charles Dickens' A Tale Of Two Cities for Origin and BBC Films, and has also written hot script HHhH, an adaptation of the novel by Laurent Binet about the attempted assassination of Nazi official Reinhard Heydrich.
The Ones Below
Director/screenwriter David Farr
Producer Nikki Parrott for Cuba Pictures in association with Tigerlily Films
Executive producers Dixie Linder, Nick Marston and Ben Hall of Cuba Pictures; Christine Langan and Joe Oppenheimer of BBC Films
Cast Clémence Poésy, David Morrissey, Stephen Campbell Moore, Laura Birn
Shoot September and October 2014 for 36 days; mostly around London
Budget $3.7m (£2.3m)
Backers BBC Films, BFI Film Fund
Sales Protagonist Pictures
UK distribution Icon Film Distribution
Delivery April 2015