She Said screenwriter Rebecca Lenkiewicz wanted to honour the journalists and survivors at the centre of the Weinstein scandal with an authentic approach to their stories, she tells Screen.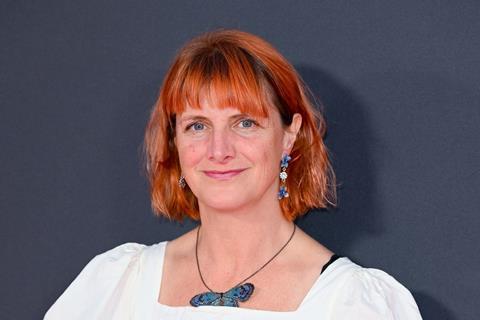 British playwright and screenwriter Rebecca Lenkiewicz knew her screenplay for She Said would never give a voice to Harvey Weinstein. She knew it would follow the journalists and the survivors, never showing scenes of abuse or giving Weinstein the spotlight.
"It was a decision we were all very on top of from the start," she says. "He was never going to be in the draft, except to see the back of his head and hear his voice in the tape. Which is terrifying just to hear."
Lenkiewicz's past work — at least on the surface — stands in contrast to She Said, which is contemporary and based on true events that were still unfolding as she wrote the screenplay. Her film credits include co-writing period films Ida (with Pawel Pawlikowski) and Colette (with Wash Westmoreland and Richard Glatzer) as well as love-triangle drama Disobedience (with Sebastian Lelio). She Said's originators, Plan B producers Dede Gardner and Jeremy Kleiner, "wanted it to be more than a procedural story", says the writer. "It's about relationships and female relationships, and I do that well."
She Said is inspired by the book of the same name that recounts how Jodi Kantor and Megan Twohey — journalists at The New York Times played in the film by Zoe Kazan and Carey Mulligan — convinced several survivors of Weinstein's abuse to come forward and shatter the decades of silence around sexual assault in Hollywood. In addition to Plan B, backers include Annapurna Pictures and Universal Pictures.
When Plan B approached her, Lenkiewicz recalls, "My first gut feeling was absolutely that this was a story for me in terms of honouring the subject and the survivors, and in putting a clarion call out about violence towards women. At the heart of it was a story that I knew I needed to tell because it was so incredibly female, and abuse and violence has not been far from my life, sadly, like so many lives. I don't think it's talked about enough."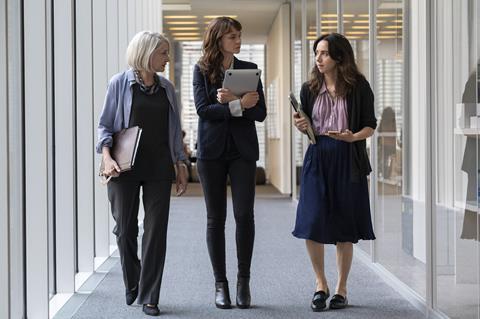 Chapter and verse
Lenkiewicz met Gardner and Kleiner soon after they acquired the screen rights to the article (which The New York Times published in October 2017) — and was soon introduced to Twohey and Kantor.
Lenkiewicz started on the screenplay while the pair were writing the book — "It was interesting just to see how I would go in without them, and then the book came in chapter by chapter, which was exciting, and I crafted it from there."
The script is informed by the book but is not a straight adaptation — for instance, the book includes "quite a lot of material about Bob Weinstein", which Lenkiewicz knew would not be in the film. "I wanted to concentrate very much on the survivors and the journey the journalists were on," she recalls.
In addition to giving minimal screen time to Weinstein, the team also was adamant not to show scenes of abuse. "We all knew we had seen enough violence against women on screen," explains the writer.
Kantor and Twohey had interviewed the survivors in depth, but Lenkiewicz nevertheless wanted to meet key sources such as Weinstein's former PA Zelda Perkins (played by Samantha Morton) and former Miramax employee Laura Madden (played by Jennifer Ehle) when writing the screenplay — "I didn't want to write them without having a conversation."
She met Madden at her home in Wales. "I didn't ask her what happened; the journalistic side had already been done. So we talked more about the consequences and what life is like now. I just wanted a natural organic conversation in her house, around her kids. I wanted to feel her rhythm and who she was and how she was, so that I wasn't guessing."
Showing journalism on screen is not always compelling — there are only so many ways to depict a reporter on a phone or a laptop. Lenkiewicz let Kantor and Twohey guide her on what was realistic. "There was a lot of condensation — the work the journalists did over months came down to a short sequence in the film. I did want to honour the spirit of journalism, and I was really impressed with all their codes of conduct and their ethics."
Kantor and Twohey were used to being on the other side of the page but "were incredibly open to film as a medium and that it's different to the book", Lenkiewicz remembers. "Both of them are far more comfortable doing the investigation than being in front of the spotlight, but they appreciate people want to see them as part of the story."
Lenkiewicz made three trips to New York to meet the journalists and go through drafts of the script. "If I'd taken a wrong steer with their dialogue, they'd be collaborative to help me get it right." For instance, when Twohey is talking to Rachel Crooks, who in 2016 accused Donald Trump of sexual misconduct, "I had written something like, 'If you tell your story, it might help Trump not be elected president.' And she said, 'I would never say that; I'd have to be neutral, to say something more like, "I feel the public are entitled to information which will lead them to a decision about which president to elect."'"
She also found it imp­ortant to show the journalists as busy working mothers, "driving through important situations and juggling children — it should be shown, because it happens a lot," says Lenkiewicz, who is a parent herself.
Once German filmmaker Maria Schrader (I'm Your Man) came on board to direct in early 2021, they had a series of collaborative Zoom meetings. "She just had a few questions and suggested a few changes, for instance I had played with some of the chronology [that we later changed]." The screenwriter did not have conversations with Mulligan and Kazan, but the actresses instead spoke directly to Twohey and Kantor.
Lenkiewicz says that across her career to date, She Said in many ways is the story she felt the most duty to get right. "I feel a huge responsibility. Not just to the survivors depicted and the real journalists, but the survivors outside of the film and not just in the Weinstein case."
She has been encouraged by audience reactions to the film — it premiered at New York Film Festival in October before screening at the BFI London Film Festival, and Universal launched it theatrically starting in November. "A few survivors have come to me and said it's been healing for them to watch it, which just makes everything worthwhile. I felt a female sense that I wanted to create a solidarity and conversations."
Lenkiewicz's upcoming work includes writing for both film and theatre, including a project with London's National Theatre, which she sees as something of a homecoming — she was an usher there decades ago and her acclaimed 2008 play Her Naked Skin, about the suffragette movement, was staged at the venue.
She is also excited to move into directing with her adaptation of Deborah Levy's bestseller Hot Milk, about a complicated mother-daughter relationship, with Film4 backing, and Jessie Buckley, Fiona Shaw and Vicky Krieps attached to star. "I love writing, but I would love to see something through from start to finish," says Lenkiewicz. "I won't stop writing but it's exciting to have a different kind of collaboration — I love working with actors. I love their energy."