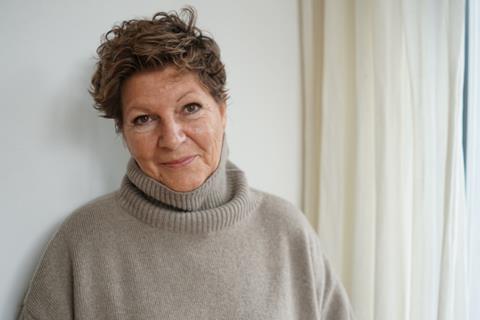 Simone Bär's Bafta nomination for All Quiet On The Western Front is nothing if not bittersweet, coming just three days after the German casting director passed away on January 16. The film is one of the last in a career that spanned several decades, brought filmmakers and actors together in what would develop into fruitful creative partnerships, and gave several actors the roles that launched their careers both at home and abroad.
One of Bär's skills proved essential for Edward Berger's adaptation of Erich Maria Remarque's anti-war novel. "Simone's strength was building ensembles," says All Quiet… producer Malte Grunert. "Edin Hasanovic, who plays Tjaden in the film, is considered a very contemporary actor and not one you'd expect in a period film, yet Simone saw that he would fit the ensemble. She had an eye for who would work with whom on screen. She did the same on our production of Land Of Mine, which has an almost complete cast of newcomers, and on the series Babylon Berlin.
"She had a great knowledge of the acting scene but she was also very clear that if someone didn't work on screen, it didn't matter how big they were on stage. She wasn't impressed by anyone. I remember visiting the office and Simone and Alexandra [Montag, casting associate/director] would be there chain-smoking. It felt like walking into a meeting of east European communists writing a manifesto in the '70s."
For the lead role of teenage soldier Paul Bäumer in All Quiet…, Felix Kammerer had stage but no screen experience. "When we auditioned Felix, I was a bit insecure about his physique," says Berger. "He has the build of a dancer rather than a soldier. Simone said that was exactly what made him interesting. Simone could pick out a talent from a mile away. And she made courageous decisions that made me look courageous too."
Expert in the field
Born in Königs Wusterhausen, East Germany in 1965, Bär began her career as an assistant director and set up the Casting Studio soon after the fall of the Berlin Wall in 1990; Montag joined the company some years later. Since then, she worked on big projects and small, with established names and newcomers, in Germany and abroad. Her films include German casting for Stephen Daldry's The Reader, Steven Spielberg's War Horse, Quentin Tarantino's Inglourious Basterds and Francois Ozon's Frantz.
One of her most recent credits was collaborating on the casting of TÁR. "When I landed in Berlin, the first person I met was Simone," says TÁR director Todd Field. "She and Alexandra were a formidable pair but they put me at instant ease with their shared sense of wit and compassion. Simone truly loved actors and they loved her."
One of the actors whose career was significantly advanced by Bär is All Quiet… executive producer and cast member Daniel Brühl. "She pushed [for] me to be in Good Bye Lenin!," he says. "Director Wolfgang Becker was looking for an East German kid and I'm not, and he was looking for a big name and I'd only done a couple of films then, but Simone had seen them. Simone cast my directing debut Next Door and she was bold enough to suggest just three actors for a role rather than playing safe and offering up 50 actors. She had the courage of her convictions and most of the time she was right."
Christian Petzold, whom Bär introduced to actor — and future longtime collaborator — Nina Hoss, saw this approach as a sign of her compassion. "We often talked about the humiliation of Jane Fonda's character in Klute [in which she is one of a parade of actors in an audition] and we promised never to invite a lot of actors for one role," he says. Instead, they would bring in the actors to have a chat, and use music to see if they gelled in front of the camera.
"Simone would read the script at the start of the film but I'd have to tell her the story again, a little like a father telling their child at story at bedtime. She needed two weeks to think and then came with suggestions. I was always surprised: at that point, the script was mine but at the same time, not mine anymore. That was great. I miss her so, so much."
For the actors she worked with, Bär's confidence was bracing. "Simone trusted her own view 100% and was ready to fight for her decisions," says Sandra Hüller, whom Bär cast in her breakthrough film Requiem. "She loved actors. It was easy to open up in her presence and, most importantly, to make mistakes. I adored her for the freedom she gave me and the encouraging gaze that helped me so many times."
Bär was known for her skill at preparing actors, which Brühl attributes to her emotional intelligence. "It made her say and do the right things during the audition process, so the actors forgot why they were there," he says. "Everyone in the queue to see Tarantino was shit-scared but she distracted you. I loved that she had none of that schmoozy, over-the-top friendliness that's so common in this business. She was a tough, East German cookie and if she said something kind, she meant it. Her coolness, wisdom and her psychological skills made the difference."
Her skill was recognised by her peers in the casting world. "Simone had a fantastic critical eye when discussing and suggesting talent," says UK casting director Jina Jay, who worked with Bär and Montag several times – on films such as Stephen Daldry's The Reader, Anton Corbijn's A Most Wanted Man and George Clooney's The Monuments Men. "She was also kind and generous and had a beautiful voice. Hard to imagine the world of casting without her. A mighty contribution and legacy so she will always be here."
Lucinda Syson, a close friend and colleague on the Wachowskis' and Tom Tykwer's Cloud Atlas, concurs: "Simone was a true artist putting together incredible casts which elevated films giving them texture and dimension. She was intuitive and could sense the emotional capacity in an actor. Good casting is very subtle and it's all down to our immersion into the film's world through the characters, so casting directors have to be careful in casting every part, and Simone was. She was very hands-on with actors, they weren't just instruments there to deliver a role. She taught me so much. She created an environment which encouraged creativity and supported the art of acting. She also had an excellent sense of humour. One of the most wonderful and inspiring people and I am so lucky to have known her."