Dir. Oliver Hermanus. South Africa, 2009. 92 min.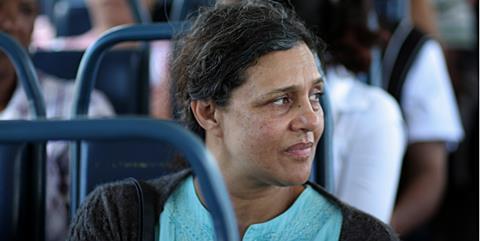 Half political metaphor, half humanist tragedy and wholly wearing its heart on its sleeve, Shirley Adams is a soulfully sincere first film by London Film School graduate Oliver Hermanus. It should travel to festivals – Toronto included – which prefer to dwell on its admirable intentions rather than the way they are put on the screen.
This is an undoubtedly moving story about a mother who dedicates her entire life to her teenage son who has been paralyzed from the neck down after being shot for no apparent reason in Cape Town. Hermanus reflects on apartheid, urban violence and race relations in South Africa, but his script's structure, while it tries to avoid voyeurism, relies entirely on audience sympathy for the main character, shot in a constant close-up which undermines interest in anything else.
There is no denying Denise Newman's intense performance as Shirley Adams, a proud woman who refuses, despite her desperate circumstances, to appeal to charity or compassion. While the script doesn't offer her much more than a single note to work with, she still manages to convey a tremendous strength of character and a powerful sense of the grief that she refuses to share with anyone.
The handheld camera captures Shirley as she tries to resuscitate her son Donovan (Arrison) who has evidently taken an overdose, and never strays more than a few meters as she brings him home and tends to his needs, fighting to get him the medicine he needs and trying to hide from him and others the abject penury in which they live. Her husband has left, unable to bear his son's condition, and sends money occasionally in an envelope. When that runs out, she is not above shoplifting to survive.
At a certain point a white physiotherapist, Tamsin (Child) seems to have a brief positive influence on the teenager, and Shirley is told after 10 months that the person who shot him has been identified. The identity of the killer brings no solace either, since he turns out to be Donovan's childhood friend. Nothing can prevent the film's predictable tragic ending, but it is followed by an extensive coda seemingly added to deliver the obvious messages that race is still an issue in South Africa, that the only way the country can proceed is by mutual forgiveness, not only between races but inside each race as well, and that life has to go on.
The final shot, with Shirley facing the ocean, has become by now a sadly tired cliché.
Though technical credits are generally satisfactory, and the camera is handled expertly, relying exclusively on close-ups deprives Hermanus of an essential dramatic tool and lends the picture an unnecessarily irritating uniformity. If the decision was made to save on background production values, it was successful, for it's impossible to establish the location of the plot without reference to the script. For a picture in which the location has a cardinal importance, that's a hurdle indeed to overcome.
To sign up for Screen's weekly Reviews Newsletter with new releases, international openings and full festival reviews delivered free to your mailbox every Friday, please click HERE

Production companies
Dv8 Films
Centropolis Entertainment
London Film School
International Sales
Dv8 Films
+27 11 880 0191
Producers
Jeremy Nathan
Michelle Wheatley
Screenplay
Oliver Hermanus
Stavros Pamballis
Cinematography
Jamie Ramsey
Production Design
Nic Mostert
Editor
Garreth Fradgley
Music
Phillip Miller
Cast
Denise Newman
Keenan Arrison
Emily Child
Theresa Sedras