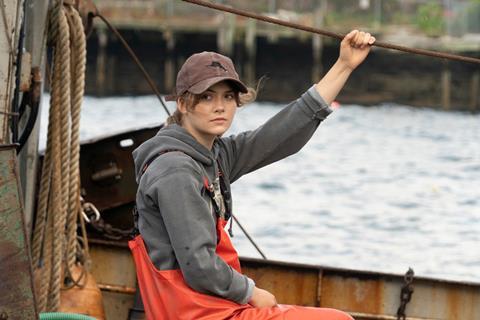 Orange Is The New Black writer Sian Heder's last film, Tallulah, played in Sundance 2016 and she returns to Park City in spirit for this year's mostly virtual event with Day One selection CODA.
British actor Emilia Jones (Locke & Key, Brimstone) stars as Ruby, the hearing child of deaf adults (Marlee Matlin from Children Of A Lesser God, and Troy Kotsur) in a struggling Massachusetts fishing community torn between interpreting for her parents and pursuing a career as a singer.
CODA is a remake of the 2014 French César nominee La Famille Belier and is produced by the original film's producer Philippe Rousselet of Vendome Group, and industry legend Patrick Wachsberger of Picture Perfect Entertainment.
Vendome co-financed with Pathé, which handles international sales. ICM Partners and CAA represent US rights. The film premieres in US Dramatic Competition on January 28 at 5pm PT.
Patrick Wachsberger took the remake rights to La Famille Belier with him when he left Lionsgate and brought you on to adapt. Where did it go from there?
I was moved by the French film and there was the possibility to make a whole other movie that was really my own. I grew up in Cambridge, Massachusetts, and we spent every summer going up to the North Shore, to Gloucester, and I knew about all of the hardship that was going on in the fishing community there. I just thought it was an interesting place to look at that kind of working class family trying to make a living and, and so I chose to set it in Gloucester.
Many people will know Marlee Matlin for her Oscar-winning debut in the 1986 drama Children of A Lesser God. How did she like playing Ruby's mother, Jackie?
It was a powerful experience for Marlee, because she's the most famous deaf actor out there and I think often she's the only deaf actor in whatever she's working on. I don't want to speak for her, but I think it was powerful for her to be working with other deaf actors [Kotsur and Daniel Durant, who play Ruby's father Frank and brother Leo] and really get to improvise and have a fight scene in ASL [American Sign Language] and express herself and be able to play and engage in a different way than she'd been able to.
Tell us how you found Emilia
I didn't know of her and I saw so many girls for that part, well over 100. It was a very difficult role because I knew I wanted someone that felt the right age, who was going to learn to sign fluently, who had a very powerful singing voice, and was willing to go out on fishing boats. She's quite amazing… she was absolutely tireless.
How did you find Troy Kotsur and Daniel Durant?
I saw Troy originally in a Deaf West [Theatre] in a kind of Edward Albee role playing a very buttoned up professor. He's really emotionally available and deep, but he's hilariously funny. And no one could make it through a scene with him without laughing. Daniel I met through auditioning people and he and Troy had played father and son before… He managed to tap into something about that character… Ruby's parents are very reliant on her, but her brother is completely self-sufficient, and doesn't want anything to do with her and is frustrated with his parents that they do rely on her.
When did you shoot CODA?
We shot at the end of the summer of 2019 and we were in post [in early 2020] when I was getting on a plane to go to Montreal to do our final sound mix the day before the borders closed. So I'm glad I didn't get on that plane…. We did end up doing the colour correction remotely and then we moved the sound to LA and ended up finishing the sound mix in LA at the end of last summer.
You shot in Gloucester. You said you got to know the locals and learned to work on a dragger boat.

Fishermen are generally closed-off people so it took me a long time to make inroads…We had to learn groundfishing [catching fish close to the sea bed] and they're pulling up these big nets full of fish. It's a hard thing to cheat in the harbour, so we took our whole crew out to sea. There were many days where we were taking 100 people out in seven different boats miles and miles out to sea to actually go fishing. The actors went out for many rehearsal days with local fishermen so when we actually shot, they were really running the boat.
Did you know how to sign?
I'd been studying probably for around nine months by the time we shot. Forty percent of the script was in ASL so I hired an ASL master, which is someone who is basically in charge of all of the sign language in the movie. I hired Alexandria Wailes and she collaborated with me to do the interpretation… There's no written form of ASL, so Alexandria was keeping the whole film in her head and then working directly with the actors to teach them the signs. Then she handed off to my second ASL Master, Anne Tomasetti, who was on set with me through the whole film.
And you had interpreters on set, too?
We had interpreters on set. I really value that direct relationship with the actor and it was very difficult for me at first to adjust to having someone else in the middle of that conversation, because you're give a directing note, and then you're watching this person take your directing note and do their version… my actors were looking at the interpreter, not at me.
So after the first day, I went to Troy and Daniel and Marlee and said I really would like to just speak to you directly and my signing is not great but can we just stumble through this, and they were like, yes please. So we came up with a system where I would give them a note directly and if there was confusion or clarification was needed, we'd have the interpreter jump in and help facilitate that… I also learned to sign really fast just out of necessity, because I was craving that immediate connection.
How will deaf audiences see this?
We're doing open captions for all of our screenings and Sundance is live-captioning all their Q&A's. They've made a huge effort to make the whole festival accessible.
Too bad this won't screen at the Eccles Theater this year.

It's a teeny bit devastating to know that I don't get to watch it with an audience.