Dir/scr: Cary Joji Fukunaga. 2009. Mexico. 96 mins.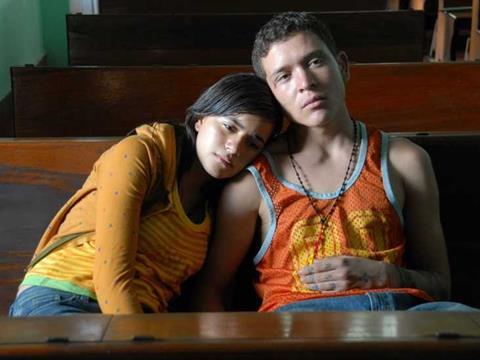 US director Cary Fukunaga makes a strong impression with his debut feature, a visually rich Spanish-language thriller which borrows the conventions of the western and applies them to a world of gang brotherhoods and travelling immigrants in Mexico. Although very little of the story is unpredictable, Fukanaga exhibits a cinematic flair and canvas that many of the other films in US dramatic competition in Sundance could only dream of.
Sin Nombre is reminiscent of other slices of social realism about Latin immigrants to the US such as Maria Full Of Grace and Padre Nuestro but set almost entirely in Mexico. Set for release through Focus Features in North America on March 20, Sin Nombre will benefit from the distribution efforts of its backer Focus Features and is bound to be a solid performer in Mexico and the rest of Latin America with a good shot at arthouse theatrical success outside the Americas. Its gangland setting should also guarantee a strong cult following among young men fascinated by a crime order that has rarely been seen on screen.
Life is cheap in Sin Nombre. The film starts with 12 year-old boy Smiley (Ferrer) getting a brutal beating as one of the initiations into the Mara Salvatrucha gang. Teenager Casper, aka Willy (Flores), shows him the ropes and helps him with his second initiation - shooting a rival gang member in the head. The gang is led by the heavily tattooed Lil Mago (Mejia), who demands total loyalty and honesty from his clan. Indeed when he discovers that Casper has been keeping the identity of his girlfriend from him, he subjects both Casper and Smiley to further beatings and has the girl killed.
Meanwhile Honduran teenager Sayra (Gaitan) is travelling the long road north to cross the border into the US with her father and uncle. But when riding on a train roof in Mexico, she is accosted by Lil Mago and his crew: just as Lil Mago is about to rape her, Casper, still smarting from the death of his girlfriend, kills him with a machete. Smiley returns to the brotherhood and explains what has happened, prompting a countrywide search to hunt down and kill Casper, who has remained on the train. As Casper and Sayra develop a friendship, the net tightens around them as the gang's far-reaching tentacles move in around them.
For the most part, Sin Nombre is a chase movie with Casper as the lone outlaw running for his life from the bad guys. But it is also a powerful social document, illustrating the realities and sufferings of illegal immigrants into the US, many of whom die along the way. The casual slaughter in the gang brotherhoods also shows a society in which poverty breeds violence and lawlessness.
With the assistance of some top below-the-line talent (DP Adriano Goldman, composer Marcelo Zarvos, editor Craig McKay), Fukunaga effectively takes the audience on a train ride with the immigrants, evoking the omnipresent heat, dirt and fear, a fear not just of those in pursuit but an uncertain future in the US.
Production companies
Primary Productions
Canana
Worldwide distribution
Focus Features
Focus Features International
Producer
Amy Kaufman
Cinematographer
Adriano Goldman
Production designer
Claudio 'Pache' Contreras
Editors
Luis Carballar
Craig McKay
Music
Marcelo Zarvos
Main cast
Paulina Gaitan
Edgar Flores
Kristyan Ferrer
Tenoch Huerta Mejia
Diana Garcia
Luis Fernando Pena
Hector Jimenez