Who are the exciting new film-makers emerging from Spain? Elisabet Cabeza profiles seven to keep an eye on.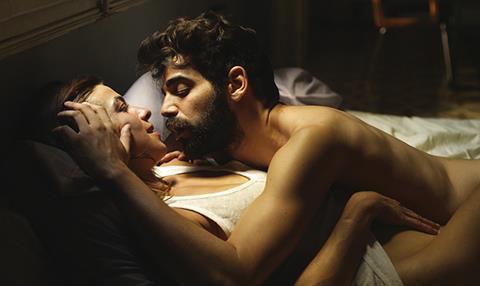 Esteban Crespo
Experienced in TV documentaries, short films and commercials, this Madrid-born film-maker had a significant career breakthrough with his successful short That Wasn't Me (Aquel No Era Yo), which won the Goya for best short film in 2013 and the Oscar for best live-action short film in 2014. Crespo is now working on his first feature, To Love (Amar), about an adolescent couple in love, based on his own script. Shooting starts in April in Valencia and Avalon is producing. Crespo is then set to direct another thriller, Black Beach, produced by LaZona. He is repped by CAA in the US and by Anxo Talent in Spain.
Contact Agent: anxo@zigguratfilms.com
Leticia Dolera
Chainsaw in hand and wearing a blood-spattered bridal dress — this is how Leticia Dolera appeared in Rec 3, the third instalment in the successful zombie franchise produced by Filmax. It's one of her many films as an actress before moving behind the camera as director for debut feature Requirements To Be A Normal Person, which premiered at the Malaga Film Festival last year. The film is a romantic comedy about a thirtysomething (Dolera) who wishes she was 'normal' and so questions what 'normal' is exactly. The film garnered good reviews and a Goya nomination for best new director.
Contact Agent: Marta Gomez: marta@a6cinema.com
Carlos Marques-Marcet
Carlos Marques-Marcet's first feature film, Long Distance (10.000km), took him a long way, marking him out as one of the most promising young directors in Spain. Produced by Lastor Media, the film explores the challenges faced by a couple in a long-distance relationship; the woman (Natalia Tena) lives in Los Angeles, while her lover (David Verdaguer) is in Barcelona. The film received strong reviews and prizes at SXSW and the 2015 Goyas. Broad Green Pictures released the film in the US last year. A successful short film-maker before his feature debut, Marques-Marcet also works regularly as an editor. His next feature, Don't Fuck Around With Love, will reunite Long Distance leads Tena and Verdaguer, and is set to shoot in London later this year. It is again being produced by Lastor Media. Marques-Marcet is represented by the Calabuch agency in Spain and UTA in the US.
Contact Production company: info@lastormedia.com
Clara Roquet
Writer-director Clara Roquet wrote the screenplay for Long Distance (10.000km) with Carlos Marques-Marcet and made her debut as a director with short The Goodbye (El Adiós). It premiered at the Columbia University Film Festival last year (Roquet is teaching and working on her PhD at the university) before screening at the Toronto, Telluride, Clermont-Ferrand and Valladolid festivals. Lastor Media produced The Goodbye and is also producing Roquet's next short film, The Good Girls (Les Bones Nenes), which she hopes to shoot this year. Roquet is focusing on screenwriting and has three feature scripts in development with US and Spanish directors.
Contact Clara Roquet: clara.roquet@gmail.com
Marina Seresesky
Born in Argentina, Marina Seresesky has established her film career in Spain, where she has lived for the past 17 years, first as an actress and later as a short film-maker. The Wedding (La Boda) did the rounds of Spanish and international film festivals and was nominated for best short at the Goyas in 2013. She has now finished her debut feature, The Open Door, produced by Meridional Producciones, which premiered at the Guadalajara Film Festival in Mexico and features a cast including Carmen Machi (Spanish Affair), Terele Pavez (My Big Night) and Asier Etxeandia (The Bride). Seresesky plans to shoot her next feature, Recuerda La Muerte, in Mexico. Meridional Producciones is producing again with Mexico's Negras Network. Seresesky is represented in Spain by the Calabuch agency.
Contact Production company:
produccion@meridionalproducciones.com
David Victori
With Ridley Scott and Michael Fassbender 'godfathering' his career ever since his short The Guilt (La Culpa) won YouTube's Your Film Festival in 2010 (Scott and Fassbender were on the jury), Victori is one to watch. The prize scored him $555,000 (¤500,000) and a deal with Scott Free to produce Zero, a sci-fi web series about the difficult relationship between a father and son in a world where gravity is switched on and off. Victori is working on his first theatrical feature, Cross The Line, which he wrote with Clara Viola. He hopes to shoot the thriller in the US, where he is represented by CAA.
Contact David Victori: festivalszero@gmail.com
Alice Waddington
Alice Waddington is a young talent who made her name in short films, photography, fashion shoots and costume design (the latter for Carlos Vermut's Magical Girl). An enthusiastic blogger and commercials director, she's working on her first feature, Paradise Hills, a horror film with plenty of strong female roles. Nacho Vigalondo (Open Windows) is writing the screenplay and Nostromo Pictures (Palm Trees In The Snow) will produce. In the meantime, her first short, Disco Inferno, starring Spanish actress Aitana Sanchez-Gijon (The Machinist), is doing the rounds of international film festivals.
Contact Alice Waddington::alicewadd@gmail.com