Dir: David Mackenzie. US. 2009. 91 mins.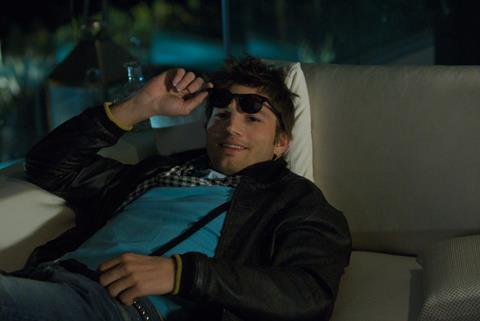 Celebrated Scottish film-maker David Mackenzie makes a seamless transition to US movies with the delicious Spread, a darkly comic insight into the beautiful hustlers (male and female) of Los Angeles which is a starring vehicle for Ashton Kutcher in the role he was born to play.

Smart, witty and acerbic, this visually playful cocktail of sex and opportunism should easily sell in the US (interest was high at Sundance following its Saturday world premiere) and has numerous marketing hooks for potential distributors around the world - not least of which is the image of a partially clad Kutcher as the consummate Hollywood grifter.
An update of sorts on the Hal Ashby classic Shampoo with a touch of Joe Buck and American Gigolothrown in, Spread is even more brutal in its portrait of the cynical trading of sex which is part of the fabric of the lives of the rich and famous in sun-soaked LA. It's a well-written account of a side to the ruthless city of dreams we rarely see - what lengths good-looking young kids will do to get a piece of the good life.

Although it never refers to the film industry, Spread could only be set in LA, and Mackenzie makes full use of the relentlessly blue skies, dreamlike swimming pools and distant cityscapes to capture the city's sterile coldness.
As with Warren Beatty in Shampoo and Jon Voight in Midnight Cowboy, the film depends on Kutcher to carry it. Although not a method actor by any means, he has a natural ease on screen and works perfectly as the soulless young buck Nikki who uses his looks to get what he wants.
The film starts as Nikki breezes past the bouncers into a high-end nightclub where he quickly seduces middle-aged attorney Samantha (Heche) and talks his way back to her stunning Hollywood Hills home. Nicky, as he tells us on a voiceover, is homeless and car-less and spends his time hustling from one rich woman to another.

He explains his tricks - how he rolls over in the morning and gives a sleepy smile to win over his prey, the points system he uses whereby he knows when he has a woman in his grasp, the food he will cook to impress her. A strict tee- totaller, Nikki gradually inveigles his way into Samantha's life, throwing parties and cheating on her rampantly when she is out of town.
But Samantha is no fool, and has no romantic notions about what the relationship can become. Even when she catches him in mid-fellatio with one of his girlfriends, she still keeps him around for the sex and the company.
Things start to unravel for Nikki when he meets a beautiful waitress called Heather (Levieva) and falls for her, only to discover that she is a hustler just like him, picking up rich guys, driving their Porsches around town and happily taking their money.
Mackenzie fills the film with aggressive but soulless sex scenes which suit the mood of self-gratification at the heart of the drama.
Production companies
Katalyst Films
Barbarian Films
Oceana Media Finance
US distribution
c/o Endeavor & CAA Film Sales
International sales
Voltage Pictures
+ 1 323 464 8351
Producers
Jason Goldberg
Ashton Kutcher
Peter Morgan
Screenplay
Jason Hall
Paul Kolsby
Cinematography
Steven Poster
Production designer
Cabot McMullen
Main cast
Ashton Kutcher
Anne Heche
Margarita Levieva
Sebastian Stan
Rachel Blanchard
Maria Conchita Alonso