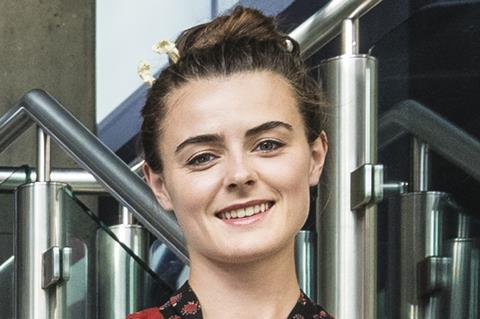 Brighton-based actress and musician Sophie Reid is full of effervescent joy when talking about her first major feature role, in Julia Halperin and Jason Cortlund's thriller Barracuda (previously La Barracuda).
Click here for the complete list of 2017 Screen Stars of Tomorrow.
It wowed at SXSW in April, and is set to open theatrically and on VoD in the US via Orion Pictures and Samuel Goldwyn Films on October 6.
Set in Austin, Texas, Barracuda is the story of two half-sisters who meet for the first time following the death of their country musician father. Reid plays the seemingly fearless Sinaloa in a knockout performance that gradually peels back to reveal the vulnerability and pain that lie beneath. "When I got the script, I read the description of 'vagabond musician' and I thought, 'That's mine,'" says Reid. "I love people who have the audacity to be unapologetically themselves."
While at school, Reid attended the National Youth Music Theatre before completing a three-year degree course at the Royal Conservatoire of Scotland in Glasgow. As is practically compulsory for any young actor working in the UK, a brief stint followed on HBO's Game Of Thrones.
In the downtime after that job, Reid challenged herself to perform at an open mic night every day for a month, singing her own songs while playing the ukulele. "That changed everything. It taught me to be myself and to be strong in a room," she says. More roles started coming her way, including the musical Once, in London's West End, and Beauty And The Beast.
The multi-faceted Reid is now writing her own feature script, working on an all-female web series, and has plans to write and orchestrate her own musical. "It's all about the long game," she says. "I want to have a creative life in as many different forms as possible."
Contact: Gavin Denton-Jones, and Suzy Brierley, Denton Brierley