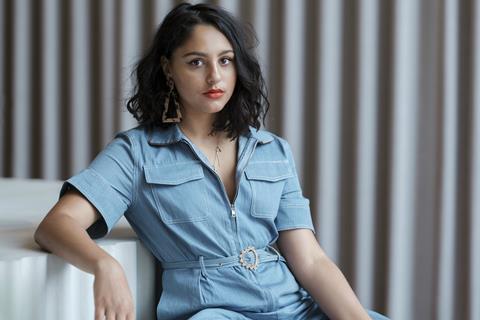 "It's so important these stories get told, and it's incredible I've now got this opportunity," says Rhianne Barreto of her latest project, the lead in an as-yet untitled feature written and directed by Pippa Bianco, a project picked up by A24. "It's the most incredible thing I've ever done," says Barreto, who co-stars with 2015 Star of Tomorrow Nicholas Galitzine and Charlie Plummer. "It was such a passion project, and all of us involved had such a massive investment."
Born in west London to a family of nine, Barreto started out when she filled in for one of the boys' roles in her sister's school play. Graduating from London's National Youth Theatre, she was then accepted at the Brit School in Croydon.
It was the following year her big break came after she was selected as one of 14 students to perform as part of a showcase at Trafalgar Studios, and she subsequently starred in a short film for Film4 titled Tickle Monster. That led to a recurring role in the CBBC web series Dixi.
This summer, Barreto has been filming in Budapest for the upcoming Hanna, an eight-part TV action series created by David Farr and based on the 2011 film directed by Joe Wright, in which she plays the supporting role of Sophie to fellow Star of Tomorrow Esme Creed-Miles' Hanna. She will also appear in the UK graffiti drama Burners, the debut feature from Oliver Vilas.
Barreto's love for acting has been a driving force from an early age. "It was interesting while growing up, not seeing anyone like me on screen," she says. "Being able to be seen for roles that I wouldn't usually be seen for is really important — and it shouldn't just be a phase or a trend."
Contact: David Marsden, Sainou