With films ranging from Belle to Absolutely Fabulous: The Movie under his belt, producer Damian Jones — now working on an AA Milne project with Simon Curtis directing and Margot Robbie and Domhnall Gleeson in the leads — talks to Star of Tomorrow Fodhla Cronin O'Reilly.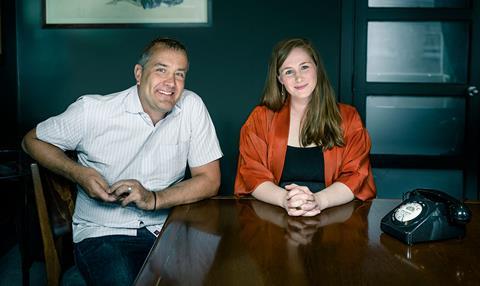 Click here for more Stars of Tomorrow
Fodhla Cronin O'Reilly: I'm at that stage where I've just made my first feature [Lady Macbeth] and I'm trying to figure out how I take advantage of the fact it's doing really well. What are your tips for making a second feature and when to start?
Damian Jones: I would say if you know who you want to approach for your second feature, start that any time. Their agents should know, if they have their fingers on the pulse, that Lady Macbeth is something to be excited about. I think it's terrific that, to date, it's been a good experience with your core team of writer, director and producer on Lady Macbeth, and that you're going to do something else together. Always a director gets the acclaim when a film breaks and people forget about the producer, which is just the way it goes, so if you guys have established that you want to work together again, that's a great place to be in.
FCO: Who were the producers and people you looked up to when you first got into the industry?
DJ: Mentor-wise, Tim Bevan at Working Title was always very good to me, kept me employed and when I had a stint out in the US, it was Paul Webster who was running Working Title over there at the time. They allowed me to learn and kept me in the mix. With the volume of material the company was getting in those days, you could not help but improve your taste and radar on what films were getting made.
FCO: What was your experience like producing your first feature, Gridlock'd?
DJ: Miserable and then amazing. Paul invited me to produce it because he'd taken the job as head of production for Miramax Films, so it came upon me to run with it. We had an exciting script, Tim Roth was already attached and then Tupac Shakur came on board, but no-one would finance it. I went to every financier I could think of and everyone at some point turned us down. I remember sitting at my little desk at home and not knowing what to do next. I had one phone call left to make to a producer, David Madden, who had taken a shine to the only short film I'd made. I knew it wasn't to his taste and it would be a pass, but I made the call and it was a pivotal moment. He said it wasn't for him yet suggested I call Ted Field at Interscope. I did and I was in pre-production shortly after.
FCO Your catalogue of work has been quite eclectic. I've been told that, as a producer, I'm not specific enough in terms of the sort of films I want to make. However, you're not in a certain box and I wanted to know if it was beneficial to not be producing the same type of films?
DJ I think it'd be really boring to be specific. I never quite know the answer — it's just when I see a project, I know it. I'll pursue it when a subject excites me and I think it will excite other people. I would like to say the thing in common with my slate was the quality of writing and working with storytellers, such as with Noel Clarke on Kidulthood and Adulthood. He was tapping into a whole audience that people had overlooked. If there is a pattern, it's that of working with storytellers like Alan Bennett and Abi Morgan, but in terms of subject and genre, I don't just go and see one film, so why would I make just one type of film?
FCO I feel it would not be beneficial to pin myself into one thing, especially as I have such an eclectic taste. It's all about finding those talented new writers and directors.
DJ You establish yourself through your work, like you've done with Lady Macbeth. The more you make, and if it's real quality, the more people will stand up and take notice. It's all about being proactive rather than reactive. When the material isn't coming or you're not finding it, you need to start originating it yourself.
FCO You spent 10 years in the US. People have asked me why I'm not considering moving to America. Should I be thinking about moving over there to further my career?
DJ It's no easier over there, although they do make more. It's horses for courses, it depends on what you like. If you want to make big studio movies, you should move to Hollywood or get a studio deal here. You want to make your film, but you want to make it with the best partners and, a lot of the time, it's been my experience that it does end up being a studio. I know that if I deliver on my side, they'll deliver on their side marketing-wise; Fox with Absolutely Fabulous, Universal with Dad's Army, Sony with The Lady In The Van — they were all terrific campaigns.
FCO Talking of studios, you recently signed a two-year, first-look deal with Fox Searchlight. How did that come about?
DJ I've known them on-and-off since The History Boys. They acquired Belle and that did extremely well in America, and then with Absolutely Fabulous, there was a bidding war and we went with Fox, which has been a great experience for all concerned. I've had a history with them and they're getting more active over here and approached me.
FCO According to a recent study by consultant Stephen Follows, only 13% of producers of low-budget films get to produce a second film. Why might that figure be so low?
DJ There's a similar statistic for directors. It's a tough business and we're all competing against each other at the end of the day for a limited pot of money. I've been fortunate enough to keep going, so I don't know what the answer to that is. This is pure conjecture, but maybe there's an argument that quite often a first feature is someone's passion project, and part of longevity is understanding what the marketplace and audiences want, as opposed to what you yourself enjoy. Certainly for myself, I've refined my tastes over the years. I'm less self-indulgent than I was about material I want to make. It is a business at the end of the day, so people are not wanting to see their money go down the toilet on a subjective whim.
FCO What was the best piece of advice you've been given about producing during your career?
DJ It was in an interview I read with Brian Grazer. He said something along the lines 
of however bad it is and however miserable you are, every day make sure you do at least one thing to try and move your project forward. Be it that one phone call or that 
new cast list, just one thing. I always remembered that however bleak it looks, you've got to pick yourself up and do that next thing.