Actor-writer-director-producer Noel Clarke meets Star of Tomorrow and actor-writer-director Nathaniel Martello-White to talk about creating their own content and the fragile optimism they feel as black filmmakers.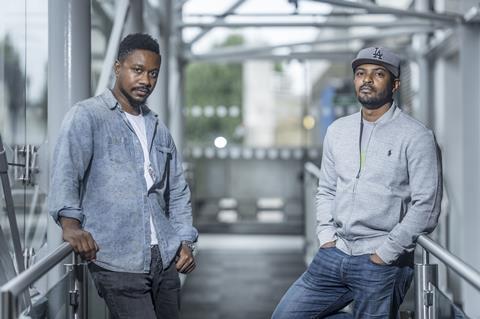 Nathaniel Martello-White: When you were acting, was there a specific moment when you realised you wanted to create your own content?
Noel Clarke: Very, very early on. I said to my agent, "How come every time you send me something, it's always the role of a thief or gang member or this or that?"
Click here for the complete list of 2017 Screen Stars of Tomorrow.
NMW: All the clichés.
NC: This was before I even understood there was a cliché! I thought you could get into the business and succeed like everyone. You either could do it or you couldn't. The real catalyst was when I saw Richard Curtis's film Notting Hill and thought, "I live in that area and that's not my experience." That started clicking in my mind about Kidulthood.
NMW: Did you talk to anyone about the first draft of Kidulthood?
NC: [Writer-actor-director] Rikki Beadle-Blair — the person who got me into acting. He said, "This is good. I don't feel like I've heard a voice like this before." I took it to my acting agency but they said they were not a literary agent. I then went into the agency two weeks later and my agent was on the phone to someone. She was saying [about a different actor], "He's great and he's got this script he has written…" I thought, "Okay, you're dismissing mine because I'm young." I wasn't necessarily thinking it was because I was black.
Then I was offered [daytime soap] Family Affairs. It was £1,500 a week. My agent said, "You're a kid from a council estate in west London, this is probably the most money you are ever going to make in your life." She didn't mean it in a bad way. I said I wasn't going to do it — I believed I could achieve more. I left the agency with two jobs on my CV.
I sent Kidulthood to a literary assistant called Josh Varney, who now runs 42. It was sent to director Menhaj Huda. Josh knew a guy called George Isaac who was a producer and together they raised the money [through private equity] and it got made.
NMW: Did they not feel like they could walk into Film4 or the BFI?
NC: They went to everyone, and everyone said no.
NMW: Do you think that's because it wasn't an arthouse take on the urban experience, or because they had nothing to compare it to?
NC: Both. I love all films. Even if a film seems terrible, I'll watch it to the end because there's something you can pull out. A shot, a look, a performance. This country is great at making films about a woman with a fish and a sink. She spends half an hour cleaning the fish, then looks out of the window and everyone is like [claps loudly], "It was sublime." We're good at that, and we love that, but there's no audience. I think Kidulthood was, number one, not worthy, and number two, nobody understood it.
NMW: I am about to embark on my first feature. Do you feel if you don't make a massive impact with your first movie, especially as a man of colour, you only get one chance?
NC: There are really three options. You either do a similar thing to what I did and show them what they expect, a side of life that shows our culture and how we are sometimes forced to grow up. Two, you do something completely leftfield like Moonlight, which is a different side of our culture and a different experience we may have had, but is something quite highbrow. Or you do a Steve McQueen [make Hunger] and you don't focus on blackness at all.
NMW: What's exciting for me coming up is the fact we have lots of different influences in the conversation now. Why can't we have a Noel Clarke and a Steve McQueen?
NC: One-hundred percent. And more. It shouldn't just be, "There's Steve McQueen so there's our quota for that," and "There's Noel, so that's our quota for that."
NMW: You're now going into TV [with Bulletproof, created with Ashley Walters]. Most of my ideas are TV ideas, TV commissions, and I have only the one film. I feel my journey will be moving between TV and film. Do you feel that where there has been a reluctance to embrace your genre or your voice in film, you can get some of those ideas away in TV?
NC: Yes, definitely. Times have changed. If the content is good enough people want it. The market is global.
NMW: I refrain from putting myself in the things I write and direct, partly because you've got to be super objective when you're watching yourself in playback and you don't want to waste time.
NC: I don't watch the playback. You're wasting your day and can lose an hour.
NMW" Do you have someone you trust who is watching your playback and says, "We have it," or are you going on an intuitive feeling?
NC: Both. I usually have someone I trust who will be there, either the DoP or someone who knows me very well. And intuitively, too. As an actor, you can do a performance and you know when you've felt it and you've nailed it. With the writing and directing, where I'm so familiar with the material as well by the time I get on set, I'm absorbed in it and concentrating on the other actors, and I know what I need to do. It's so natural by that point.
NMW: Looking forward, as both a maker of content and an actor, how do you feel about working in America?
NC: I love America and I believe there's no limit to what you can achieve, but you have to put the groundwork in. I have three kids in school and nursery. I've never chased it. I've never been interested in chasing it. Also, I'm conquering this island. I've had the success of Brotherhood, I'm writing, directing and producing films, making films like 4.3.2.1. and Fast Girls and putting women on the map [on screen] or in a place where they are equal, and creating my own TV show for Sky that I'm also exec producing.
NMW: It's interesting that, as a writer, there are many actors who have now popped in America, and you can attach David Oyelowo, Daniel Kaluuya, John Boyega or yourself and it's enough to get them greenlit.
NC: Sometimes. It will still be about the -numbers.
NMW: Yeah, but in terms of the black British experience, it feels possible now. In terms of black cinema — well, I mean cinema, but let's call it black cinema — it feels like an exciting time to be entering the conversation. And it's great to sit down with you, as you're someone who I've always seen as being out there doing it. People talk about it but they don't create content. Making movies, putting them out there — that's what it's about.