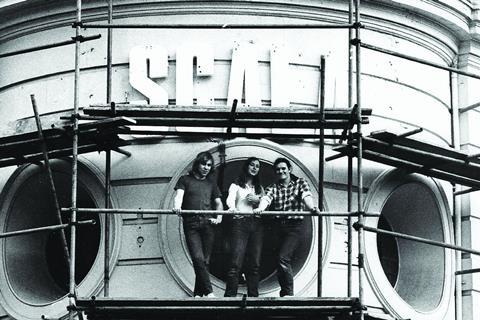 "The thing about the Scala is that it was before its time," UK producer Stephen Woolley says of the event cinema-style movie theatre he founded in the late 1970s in Fitzrovia, London. The Scala decamped to Kings Cross in 1981 and eventually closed in 1993, leaving a wondrously bizarre and colourful history behind it. Now, the story of the UK's most famous rep house has been told in 'Scala Cinema 1978-1993', a majestic, lavishly illustrated door-stopper of a new book by its former chief programmer, Jane Giles.
The book is being launched with at huge party at the old Kings Cross venue on Wednesday September 26th. The evening will open with a display of martial arts in memory of the Jackie Chan Fan Club, followed by support act Das Clamps with their Cramps tribute set onstage at 9pm and Simon Boswell with his band The And onstage at 10pm, playing music from Santa Sangre, Hardware and Dust Devil.
Guests expected include The Pet Shop Boys and actor Bill Nighy, who appeared in Beeban Kidron's 1991 film Antonia And Jane that partly shot at The Scala.
"It was love at first sight for me. I couldn't believe such a place existed," said Giles, who is also talking to producers about a Scala documentary and a fiction project based on the cinema. She remembers her first visit in the summer of 1981, just after its move to Kings Cross. She started working there as a programmer in 1988.
Russ Meyer fans, punks. LGBT audiences, kung fu enthusiasts, lovers of classical Hollywood melodrama, avant gardists, Roy Rogers, John Waters and Dario Argento devotees and Laurel and Hardy admirers flocked to a venue which celebrated cinema in all its forms, without ever being snobbish about it. There wasn't the air of grandeur and self-importance at the Scala that would be found at the National Film Theatre, for example.
The Scala also managed to connect with young and diverse audiences in a way the BFI can only dream of today. "The Scala relied on youth, enthusiasm and risk taking," Giles suggests. It was inexpensive ("two quid with a dole card" as one regular remembers.)
Giles provides a "deep history" of the Scala that delves into the past and looks in detail at its importance as a music venue as well as a cinema. It was on the stage at the old Kings Cross cinema that Mick Rock took the photographs of Lou Reed and Iggy Pop that formed the basis for the album covers of Transformer and Raw Power. However, her book isn't just an exercise in celluloid or rock and roll nostalgia. Giles also shows how profoundly the Scala influenced a generation of filmmakers and producers who've gone on to shape UK film culture over the last three decades.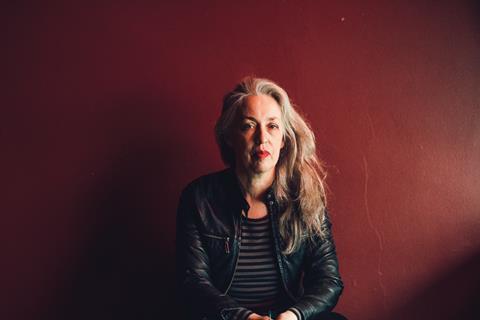 Palace Pictures
Distribution and production company Palace Pictures, which Woolley ran with Nik Powell, sprang out of the Scala.
"The Scala was a huge part of my life but it was a huge part of lots of people's lives," says Woolley. "People saw their first Kenneth Anger film there or saw the all-night Clint Eastwoods or maybe they saw a Cocteau double bill. It was a cinema that had lots of tribes."
Producer and horror aficionado JoAnne Sellar, famous now for her collaboration with Paul Thomas Anderson on films including There Will Be Blood and Phantom Thread, began her career as a programmer at the Scala. She was fondly known as Scala's "Queen of Gore."
James Marsh, Christopher Nolan (who reportedly still keeps his Scala membership card in his wallet), Ben Wheatley, Joe Cornish, Viv Albertine and the McDonagh brothers were regulars in the audience at the start of their careers.
"The Scala was my film school," says director Peter Strickland, whose latest feature In Fabric debuted at Toronto and is screening at the BFI London Film Festival
"Its lack of hierarchy due to its egalitarian balance of exploitation and high art in the programming definitely influenced how I thought about film stylistically. The inventive double and triple-bills cemented the idea of finding unifying themes or strands in films that might initially come across as polar opposites. All four of my features come from the Scala in some form or other."
He remembers the very first film he saw there, David Lynch's Eraserhead, and the precise date he saw it: Saturday, February 10, 1990.
"I'd seen the curious poster for the film in various magazines and started buying Time Out, which listed the film's screening at the Scala," he recalls. "I knew nothing about the cinema or the film, but there was something alluring about that image of Jack Nance and the way his hair was backlit. I was sixteen and it was my first trip to London on my own."
Strickland would travel up from Reading and calculates he made around a dozen visits to the cinema each year. "There were many films I heard about through the Scala, but never saw, such as Thundercrack. That anticipation was just as formative as seeing a film," he says. "Years of imagining what a particular film would be like based on an image/write-up from the programme and most importantly, its grouping in a double or triple-bill with another film I might've already been familiar with was something that activated the imagination."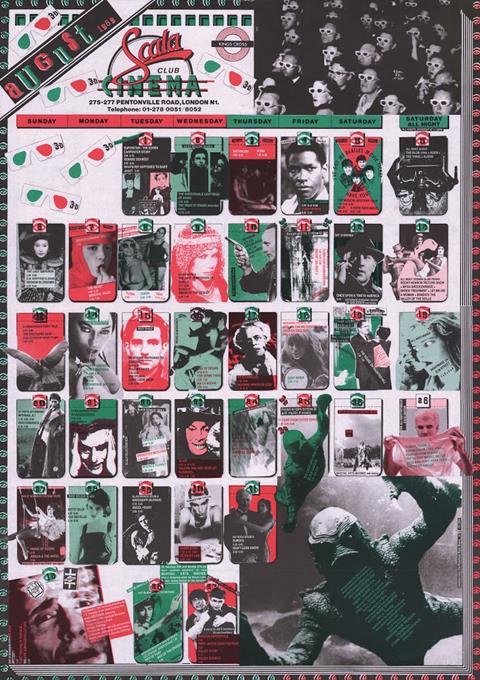 This was an era when Kings Cross was at its most rundown, with crack cocaine dealing and prostitution rife. "The area felt quietly dangerous," Woolley remembers. "That was partially the inspiration for Mona Lisa [Neil Jordan's movie starring Bob Hoskins and Michael Caine] - working at the Scala on those all-nighters and wandering around at four in the morning in the backstreets of Kings Cross and just observing what was happening there. It was pretty scary."
Sometimes, the squalor on the streets could spill into the cinema. The Scala had its share of drunks, voyeurs and misfits. A member of the audience once fell asleep in his seat - and never woke up - during a screening of Looking For Mr Goodbar. "I don't think you can really relate the film to the fatalities," says Woolley, wryly dismissing any notion the movie, starring Diane Keaton and Richard Gere, may have been responsible.
The Scala sold a lot of tickets - but it didn't make a lot of money. Woollley remembers it broke even for most of its existence. Eventually, the venue was no longer viable. By the summer of 1993, its 12-year lease was about to expire and it was faced with another massive hike in rent. It was a struggle to secure long-term investment because the Channel Tunnel rail link between Paris and London was due to go through the Scala site.
"Kings Cross was allowed to become very, very run down as an area to drive out residents and small businesses," Giles suggests.
Around that time, to add to the problems, sister company Palace went bust.
Woolley acknowledges it is almost impossible for a rep cinema like the Scala, with its programme changing every day and its fabled all-night screenings, to exist today, when so many movies are available online so easily. "But the point of the Scala was its audience. It was about witnessing those films with a living, breathing audience in a cinema that was classic and strange and had its own personality.".
"I do miss the Scala and look back at those days with great fondness," agrees Strickland. "The films I can see with ease now, but what I miss is Jane Giles's extraordinary logic and encyclopaedic knowledge with her programming along with the various smells such as the toilet soap, which would bring back such vivid memories."
When the Scala did finally close, Giles took the cinema's cats home with her to live with her and her boyfriend (who was front of house manager.) "It wasn't just a job. It was something that changed me as a person; that shaped my tastes; shaped my ideas about cinema and community," Giles says of her time working there.
"It was a magical place for an incredibly wide range of cinema and it didn't bring a value judgement down upon the programming in the way that other cinemas did."
'Scala Cinema 1978-1993' by Jane Giles is available for pre-order at FabPress.com. For info on events and programming visit Scalarama.com
Tickets for the launch (Wednesday 26th September 2018) are available for £11 from https://link.dice.fm/scala-cinema-book-launch.