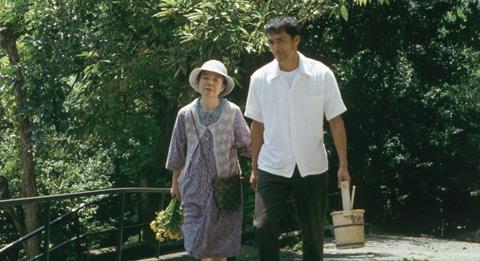 Dir. Hirokazu Kore-Eda. Japan. 2008. 114 mins.
Adapted by Kore-Eda from a novel he wrote, evidently inspired by the death of his parents a few years back, Still Walking is a quiet, almost whispered picture in which nothing much seems to happen and may well be a naturalistic version of Ozu's Tokyo Story for our times. Less stylized, purified and painful than Ozu's masterpiece, Kore-Eda offers a slow, subdued, realistic portrait of the relations between three generations, condensed within the space of a one-day family encounter. There is guilt, in more shapes than one; a certain degree of veiled greed; whimsical sadness and a constant touch of irony that prevents the plot from sinking into a self-accusatory, morbid piece.
Though both Cannes and Venice have looked at it and passed, probably because they found it is too uneventful for their audiences, this is a touching, intelligent and nostalgic picture, an elegy for the opportunities we all had and missed to be closer to our parents when they most needed it. Certainly not the type of film to fill up multiplexes on a weekend, this is by no means a minor picture as it has been suggested in some quarters, and deserves the full attention of festivals and art houses.
The Yokoyama family, grandparents, children and grandchildren, gathers to commemorate the death of their older son, killed in a tragic accident 15 years ago. All the events taking place in the course of the day and night they spend together are the most expectedly banal and invariably predictable. It is only when looking carefully between the lines that myriad details spring up. Each character is calmly observed, but never allowed to display great emotion or to air intimate thoughts. And yet everything filters out, for the benefit of those who have the patience to look behind appearances.
Kore-Eda's cast offers splendid performances all through, with Kiki Kirin's mother (a part inspired by the director's own mother) a delight to behold - humorous, moving, affectionate and suggesting a slight but intensely human streak of cruelty that not many people would avow to. The fluid, unobtrusive camera work handles with equal ease moments of intense intimacy, the look in a child's eyes or the silent expression of a couple about to go to sleep while also making the best of glorious open-air landscapes. Kore-Eda's own cutting, despite a few soft spots here and there, remains faithful to the calm, reflective mood of the whole piece.
Production companies
Engine Film, Inc.
Bandai Visual Co.
TV Man Union, Inc.
Eisei Gekijo Co.
Cine Qua Non
Worldwide distribution
Celluloid Dreams
+33 1 4970 0370
Executive producers
Kawashiro Kazumi
Shigenobu Yutaka
Hisamatsu Takeo
Lee Bong-ou
Producers
Kato Yoshihiro
Taguchi Hijiri
Screenplay
Kore-Eda Hirokazu
Cinematography
Yamazaki Yutaka
Main cast
Abe Hiroshi
Natsukawa Yui
You
Takahashi Kazuya
Tanaka Shohei
Kiki Kirin
Harada Yoshio