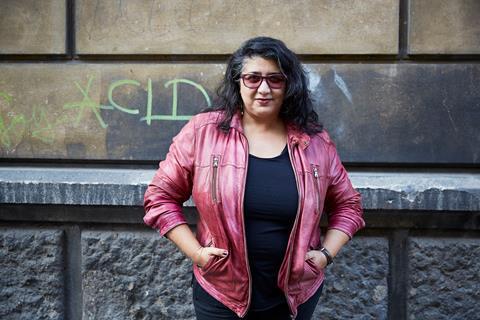 Iranian-Austrian director Sudabeh Mortezai returns to competition in Sarajevo with the world premiere of her third feature film, Europa.
Mortezai's first feature, Macondo, premiered in competition in Berlin in 2014 and also screened in Sarajevo in competition where it won the CICAE prize. Her follow-up Joy, premiered at Venice's Giornate Degli Autori in 2018, winning the Europa Cinemas Label before being named best film at the London Film Festival.
In Europa, Lilith Stangenberg plays Beate, an ambitious executive working at Europa, a mysterious corporation looking to expand into the Balkans region. Seemingly promoting philanthropy and investment in underdeveloped areas, Europa actually needs to buy off lands from locals in a remote valley in Southern Albania using Beate as the main negotiator. But things don't go as planned when she is challenged by Jetnor (non-professional Jetnor Gorezi), a stubborn and spiritual farmer who refuses to leave the land of his ancestors.
Europa is produced by Mehrdad Mortezai of Austria's Fratella Filmproduktion and was co-financed by Film4, alongside the Austrian Film Institute, Vienna Film Fund, and ORF. The executive producers are David Kimbangi for Film4, and Mike Goodridge for Good Chaos. The film will be distributed in Austria by Filmladen. Memento Internatinoal has the international rights.
Why did you decide to tell this story?
The title is, of course, a provocation. Europe is not just a continent, it carries a strong symbolic weight, a promise of certain values and human rights, promises that ring hollow in the face of economic and social inequalities that are the reality of Europe. This hypocritical disconnect between the European ideal and the harsh reality makes this an urgent story for me to tell. There is this predominantly Eurocentric view of the world, which is very arrogant, with a hierarchy between West and East, North and South. The conflicts at the centre of my film are of course global in nature and not limited to Europe. Exploitation is at the core of our way of life in the privileged societies of the West. This has always been the case, not just in the era of colonialism, and it persists to this day.
How did the financing come together, and how did it come to be co-financed with the UK?
Europa is a purely Austrian production, co-financed by Film4. The majority of the funding stems from Austrian sources, specifically the Austrian Filminstitute, Vienna Filmfund and ORF. Mike Goodridge of [the UK's] Good Chaos is our executive producer who has been instrumental in working out the financing details and the collaboration with Film4. Film4 has been a fantastic partner on this project. They knew me back from my film Joy, which won the main award at the London Film Festival in 2018.
How did you cast the actors?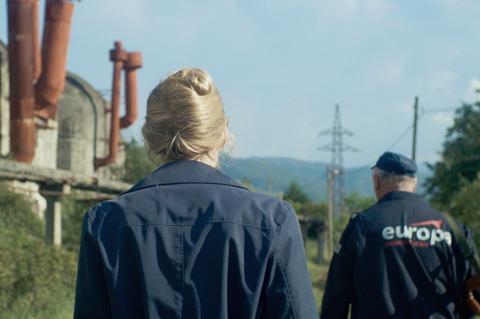 Usually I work mostly with non-professional or first-time actors but for the role of Beate I wanted to work with a professional actor. I was very impressed by Lilith Stangenberg's performance in Wild where she plays a role very contrary to Beate. She is a radical and fearless actor who will go all the way to explore her character no matter into which dark areas it will lead her. I was very excited to work with her.
As for most other parts, they are non-professional actors. We did several street castings in Poliçan and the rural community of Skrapar in Southern Albania where most of the film takes place, literally walking from cafe to cafe and from house to house. We met Jetnor during one of these street castings at a small village cafe. He had a very strong expressive face and piercing eyes. Immediately there was a connection when we started to talk. I knew I had found the man for the part.
How did you work with them?
I have this working method where I don't give the actors the screenplay to read and we film in chronological order. I want them to be spontaneous in every scene and grow into their characters as the story evolves. In Europa I adapted my approach. Lilith was the only actor to read the screenplay beforehand and all other actors would just get directions about the scene on set and improvise. Lilith had to go along in the improvisations as well. So the key was to make these two processes work together. Lilith was the only one fully aware of the whole story. This gave a her a kind of power which fits her character very well, as Beate is the person with the power and the hidden agenda, while the Albanian characters are unaware of her ulterior motives.
When did you shoot the film and how was the experience of filming in Albania?

We filmed for six weeks in spring of 2022 plus a short pre-shoot in August 2021, because we wanted to incorporate the Bektashi pilgrimage into the story and this takes place only once a year on top of Mount Tomorr in southern Albania at 2,500 meters without a road or any infrastructure. This was probably one of the biggest challenges of the shoot. I was interested in filming a fictional scene inside an uncontrollable documentary setting, and we had only one day to make it work. There was no margin for any errors. Generally the experience of filming in Albania was great.
When the first idea for the story came up, I knew next to nothing about Albania, like most people living in Western Europe. After our first research trip to Albania, I was fascinated by the country, its culture and people, especially their incredibly warm and heartfelt hospitality. I visited Albania many times over the course of three years before the actual shoot, getting to know the culture and building relationships. I realized that for most people outside the Balkans region, Albania is a terra incognita, saddled with stereotypes and very specific, exotic images like blood feud and sworn virgins, whereas I was interested in entirely different things. For my story, Albania seemed the perfect place, a country torn between its history and the efforts to be a full part of Europe.