Screen sat down with first-time feature director Babak Anvari and Lucan Toh of production company Wigwam Films to discuss Farsi-language horror Under The Shadow, which has been acquired by Netflix.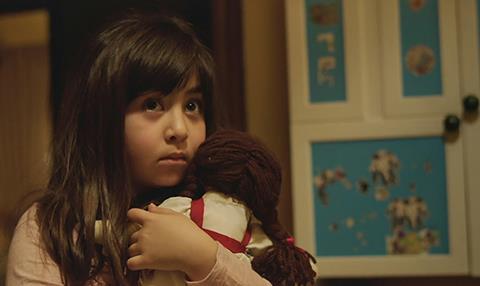 Iranian horror movie Under The Shadow has been generating major buzz since November, when it was one of the first titles to be announced for this year's Sundance Film Festival (Jan 21-31).
That excitement has grown as the Farsi-language film, written and directed by first-time filmmaker Babak Anvari, has been snapped up by Netflix for worldwide streaming rights on the first day of the festival in Park City.
Under The Shadow, which premieres on Friday (Jan 22) as part of the Midnight strand, is set in 1988, at the height of the Iran-Iraq War, and revolves around Shideh (Narges Rashidi) and her daughter Dorsa (Avin Manshadi) who face off against supernatural forces in their apartment.
It has already drawn favourable comparisons to 2014 critical hit The Babadook, though not everyone has taken a positive view of the film, as Anvari explains to Screen.
"'Anti-Iranian film at American film festival'," he translates with a grin on his face. He is reading a headline from a government-backed Iranian news website, written in Farsi.
"I guess I'm already in the public eye, and it hasn't even screened yet," he laughs, noting that the rest of the article is mainly a profile about him as an emerging filmmaker of Iranian descent (he was born in Iran but now lives in the UK).
The sensationalised headline betrays the country's nervous attitude towards films about Iran that are made outside of Iran.
"I don't think I'm offending anyone but you never know, the government are quite sensitive, they might take offense," Anvari says. "But it doesn't concern me, what can you do? The thing that annoys me is that they haven't seen it."
Under The Shadow marks Anvari's feature debut having previously made four shorts, the most recent of which, Two & Two, garnered him a BAFTA nomination in 2012. He also worked for MTV UK and Ireland as one of the directors of MTV Live Sessions and directed live performances for renowned artists such as Lady Gaga, Florence & The Machine, Pixie Lott and Tinie Tempah.
Birth of a genre
To date, there have been very few Middle Eastern horror films. This is the case for several reasons, not least the often sensitive approach governments in the area have taken to culture, as well as the recent history of violence in the countries meaning films have tended to shy away from bloodshed. But in recent years the seeds of change have been sown and horror may now be taking off in the region.
Last year, Screen reported on the birth of the Israeli horror genre, which was taken to a new level with the release of Jeruzalem. Last year also saw the release of A Girl Walks Home Alone At Night, a rare Farsi-language horror film, shot in the US, which was critically lauded and toured the world festival circuit.
Anvari believes that filming Under The Shadow in Farsi was essential "for the sake of authenticity", but when he pitched the project producers were hesitant. "I had a dozen meetings with producers, a lot of them really liked the script, but as soon as it came to the language thing they said "there's no way you'll get this made"."
However, Anvari's first meeting with Wigwam Films – the UK production outfit run by Lucan Toh, Oliver Roskill and Emily Leo – proved to be a turning point.
"Wigwam Films didn't flinch. I said I wanted to do it in Farsi and they said 'Cool'," recalls the director.
"When we first read the script, we felt it would be the perfect piece to take to the film industry," says Wigwam's Lucan Toh, admitting that initially they explored the idea of whether they should make it in English, but they "quickly realised that making it in Farsi heightened the believability and the fear factor".
The company put a lot of effort into the development of the script, working alongside Anvari and genre specialist XYZ Films, who took on sales of the project. Financing came from the Doha Film Institute, which provided a production grant to Anvari, with Wigwam raising the majority of the money through their private production fund.
Before Wigwam got involved, they had already started thinking about investing in foreign language genre fare, says Toh: "We'd seen similar films come to market, we'd seen the world that XYZ were building, how you combined a little bit of foreign language with a genre and you goy something pretty special. We felt Under The Shadow was an elevated piece, regardless of the language, it had the genre beats and genre undertones to pull it through."
Government restrictions
Despite his commitment to film in Farsi, Anvari knew he would not be able to shoot in Iran itself: "There are restrictions [to shooting in Iran]. I felt a lot more comfortable outside of the country, I wanted to tell my story in an unrestricted way.
"In Iran, you cannot film a woman without her hijab in her own private space, which is very unrealistic – even the most religious women, inside their apartment, walk around without their hijab. I wanted to shoot it as honestly as possible. I can't have my main character running around her apartment and going to sleep with her hijab on," he says.
Instead, the production went to Jordan – which has doubled for numerous filming locations including Iraq for The Hurt Locker and Mars for The Martian - casting a selection of actors who are of Iranian descent, though no longer live in the country.
"It was important to recreate Iran as believably as possible," says Anvari, crediting his production designer Nasser Zoubi with the accuracy of the film's look and feel.
As a film set in Iraq, and dealing with a difficult time period in the country's recent history, Anvari knows that some audiences will interpret the film politically, but he sees this as unavoidable: "If you grow up in Iran or live in Iran everything you do becomes political."
"At the end of the day this isn't intended to be a political piece and were not intending the film to be challenging the government, [but] I think an Iranian filmmaker making a film about Iran is always going to be taken politically," adds Toh.
Anvari says that the film "won't screen legally in Iran" but bootleg versions are likely to be available in the country.
The director remains ambivalent about whether people will debate the film's politics, but he is glad that, despite the evident hesitance of Iran's government, he is able to make films that are personal to him and his country of birth. "You can't stop people from telling stories," he concludes.
While Iran has its own blossoming film scene, with directors such as Jafar Panahi flying the country's flag at major international film festivals around the world, there is little doubt that conditions in Iran's film industry are extremely challenging. For someone such as Anvari, whose primary goal is to make entertaining pictures that tell stories he is interested in, the risk of being censored, or worse, is too high.
As a result, there are a new generation of filmmakers, children of those who fled the country following the Cultural Revolution, who are beginning to break down the barriers of Iranian cinema from outside of the country. Whether or not their efforts will have an effect on the industry inside of Iran, Under The Shadow indicates that the modern Iranian horror film has officially arrived.