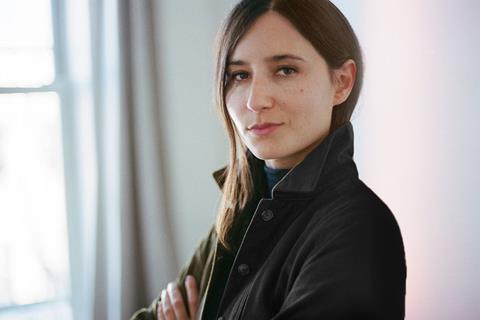 Gender politics rise to the fore in Chloe Domont's feature directorial debut Fair Play. The sexually charged psychological thriller has captivated Sundance audiences since the world premiere in US Dramatic Competition on Friday and sparked a bidding war among studios and streamers – with Netflix securing the title in a reported $20m deal announced on Jan 23.
Phoebe Dynevor, star of Bridgerton, and Alden Ehrenreich, known for Solo: A Star Wars Story, star as newly engaged couple Emily and Luke, who work at a New York hedge fund and whose relationship unravels when Emily gets an unexpected promotion. The cast includes Eddie Marsan and Rich Sommer.
Fair Play is produced by the partnership between MRC and Rian Johnson and Ram Bergman's T-Street to support emerging storytellers, and Star Thrower. MRC and T-Street are selling Fair Play and it screens again on Tuesday. "It's been fun," says Domont, who graduated from Tisch School of the Arts of NYU and has directed shorts and TV.
You've directed TV shows like Billions, Ballers and Clarice. What attracts you to ultra-intense storytelling environments?
I'm definitely attracted to high-stakes environments, it's right for drama. What I love about the world of high finance for this story, and for the relationship, is that these kinds of people fluctuate between high highs and low lows: on any given day they're losing millions or billions of dollars or they're making millions or billions of dollars. I was interested in what that does to a person. In the film and TV industry it's a similar kind of high and low and I felt I could organically tap into that.
I've heard you say this film is personal and political. What did you mean by that?
On the personal side I wanted to reckon with some unresolved feelings from my past, specifically dating men who were threatened by me and who I was. The only way I felt I could protect those relationships was by undermining myself, minimising myself, making myself small. I spent several years repeating the same dynamics with different partners and different shades of the same kind of thing. Some were more explicit than others, some were very subtle, but I always felt like it was present. At certain points I became something that I accepted, that became normalised and everyday, and it was never anything that we could talk about. I wanted to write a movie that that finally reckoned with that silence.
In terms of the political aspect, I wanted to show the unsettling link between female empowerment and male fragility. I wanted to show how much hold these ingrained dynamics still have over us, especially today in a world where roles are changing faster than humans can realistically adapt.
How did you write Emily and what were some of the pitfalls you were keen to avoid?
I didn't want to portray her as supporting this box of victimisation women are often put in. What was important was leaning into the greys, leaning into human behaviour as it unfolds, which sometimes can be ugly and volatile and impulsive and wrong. For the most part Emily's reacting to what's going on and she does the best she can. I wanted to stay true to the humanity of her and fighting against how I feel women have been portrayed in film before, especially when it gets to certain levels of ugliness like this. Audiences are used to seeing women portrayed as victims and that's not who she is as a person and that's not who she is as a character.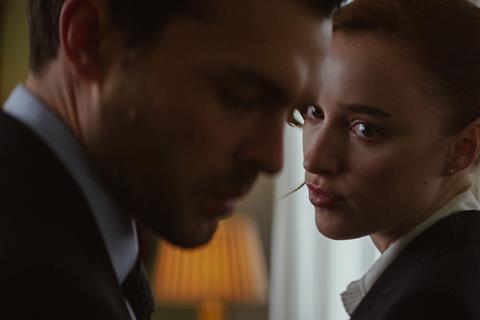 And Luke? He's not two-dimensional either.
I wanted to lean into the duality of what he's experiencing and what he's struggling with. He's struggling with a lot: he wants to support her, he genuinely wants to champion her for most of their relationship. He loves her and adores her because of her intelligence and her ambition and her talent. But he also can't help but feel threatened by the same things that he adores in her because of the way he was raised and what was instilled in him as a kid. My intention was to show that there's a certain generation of men that are caught in the middle of where we're at as a society and how they were raised on traditional ideas of masculinity.
Where and when did you shoot?
We built the interior sets in Serbia and shot all the exteriors in New York. We were shooting a year ago from today.
The cast look and sound authentic in the world of high finance. How did you prepare them?
I put my two leads in touch with consultants that I was working with on the film that were great for the authenticity of the lingo. I was obviously there to answer any questions they had. In pre-production they'd have long chats with the consultants and just try to get into the headspace of what the day-to-day is like. The finance jargon is kind of irrelevant; it's white noise in the movie. I didn't want the audience to get caught up and confused by it. We know that we don't have to know everything that's specifically happening. We understand this is good, this is bad, she wants this, he wants that, and we understand the stakes of what they're talking about.
How did you get together with the partnership MRC and T-Street set up to support emerging voices?
My agent sent them the script and Ben LeClair, who runs the emerging filmmaker label, and Brye Adler [co-president of film, MRC Studios] both read it within a day. I took a meeting with them that night. They aggressively championed and pursued this movie and have just been the greatest support in getting it off the ground.
How would you like audiences to see the film?
Mostly I'm just very grateful for the reactions people are having and I'm just looking forward to seeing how it's all going to shake out.
What's next for you?
I'm working on another movie. We'll see where that goes. I'm very excited to move on to another story and another chapter.