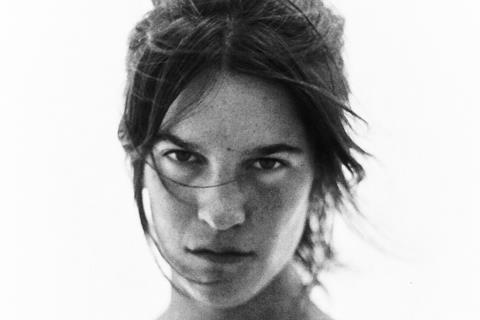 Suzanne Lindon, at just 20 years old, was the youngest filmmaker to make it into Cannes's special 2020 Official Selection this year with her debut feature Spring Blossom.
She both directed and stars in the gentle coming-of-age tale about a Parisian teenager who enters into a platonic love affair with an actor in his 30s.
In the absence of a physical Cannes, the film premiered in Toronto's Discovery section in early September, before heading to San Sebastian's New Directors line-up. It is now touring festivals worldwide, stopping off this week at Germany's Filmfest Hamburg.
Lindon is no stranger to the festival circuit as the daughter of Cannes Palme d'Or winning actor Vincent Lindon and actress Sandrine Kiberlain, although she made only sporadic red carpet appearances alongside her parents, who strove to give her a childhood out of the spotlight.
The budding filmmaker, who is currently a student at the l'Ecole Nationale Supérieure des Arts Décoratifs of Paris, recounts that she decided to make a film to prove herself in her own right as an actress.
"I've watched a film a day since I was a child. It's as much part of my daily routine as eating dinner. I've always wanted to play in a film like my parents but I wanted to be sure that it was on my own merit rather than because of my name. A key motivation for writing the screenplay was so I could play in the film and be sure it was a legitimate choice," she explained.
Lindon wrote the screenplay when she was just 15-years-old, the summer before she entered Lycée (the equivalent to the last three years of high school), and then shot the feature immediately after her baccalaureate exams at the age of 18.
"It's the tale of a 16-year-old who's a bit bored by people of her own age. Every morning, she passes by a theatre on the way to school where she spies a young actor who appears to be bored with his life and entourage too," said Lindon.
"I wanted to write about what I knew about. The only thing I was capable of talking about was about people of my own age. There are lots of films about teenagers but they're normally by adults who have grown-up and have some distance from this period of their lives."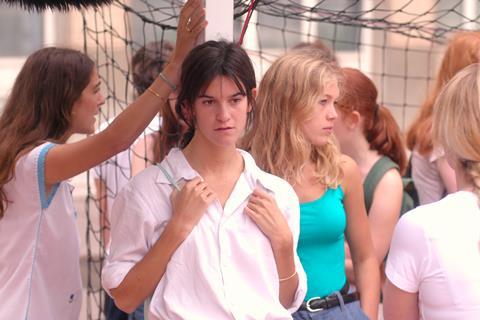 The relationship between the teenager and the older actor is not drawn from Lindon's own experiences. The idea for the storyline grew rather out of a theatre play her mother sent her to see.
"The actor on stage looked bored and I started asking myself what would my world have been if I had met this man and we had fallen love," explained Lindon.
Arnaud Valois co-stars as the actor. Lindon approached him about the role after seeing his performance in AIDS activism drama BPM, which debuted in Cannes in 2017.
"I didn't write the screenplay with him in mind but when I saw the film, I immediately thought, 'It's him'. I got hold of his number and called him to ask whether I could send him my script," recounts Lindon. "Arnaud, who is really kind, said 'Of course'. He rang back an hour later and said, 'I love it, let's meet'."
In the backdrop, Lindon had also met producer Caroline Bonmarchand at Avenue B Productions, whose credits include Sophie Letourneur's comedy Enormous and Sebastian Marnier's School's Out, while on holiday.
"I hadn't really talked to anyone about my idea for a film. I'd kept it a secret. I didn't really believe in it. She asked me if I was interested in cinema and I told her about the screenplay. At first, she suggested we do it as a short but I felt I couldn't tell the story in that format," explains Lindon.
Between them, they managed to raise a small budget for the production which shot over just two weeks. Paris-based Luxbox is handling international sales on the title which has secured distribution in a number of territories including the UK (Curzon) and Germany (MFA+ Filmdistribution). Paname Distribution will release the film in France.
Other members of the cast include Dominique Besnehard, the former talent agent-turned-producer, who is best known internationally for hit series Call My Agent. Alongside handling the careers of many of France's top actors, Besnehard also has some 100 film and TV acting credits to his name. In Spring Blossom, he plays an eccentric theatre director.
Lindon reveals she has long been a fan of Besnehard for his performance in Maurice Pialat's 1983 romantic drama A Nos Amours, starring Sandrine Bonnaire as a teenager whose busy love life unsettles her family.
"Dominique played the brother. It was one of the films that most marked me growing up. I love all those films from the early 1980s and he represents those years and the filmmakers who were active at the time," she explains, also citing directors like Claude Miller and Eric Rohmer.
The other star of the film is Lindon's home city of Paris, which she captures with much love and detail.
"I was born and grew up in Paris. It's part of my life," she comments. "There are lots of films I love in which Paris plays a role such as François Truffaut's Pocket Money, Stolen Kisses and The 400 Blows or Leos Carax's Les Amants Du Pont-Neuf. I like to find myself in the places I know in these films, as if I'm walking in the steps of their characters myself."