Tahar Rahim wasn't interested in playing an Islamic terror suspect until The Mauritanian arrived to change his mind. Screen talks to the actor about the challenge of playing 'an extraordinary soul'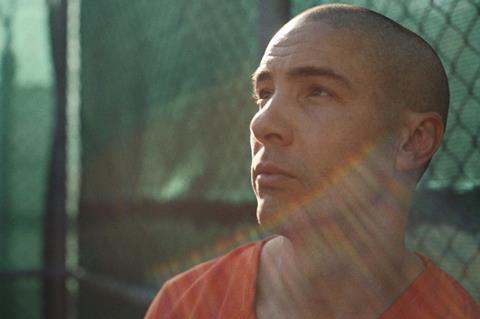 For Tahar Rahim, 2009 proved the most consequential year in his life. His debut film A Prophet premiered at Cannes, winning the jury grand prix and introducing the French actor, if not to a wide global public, then certainly to the casting professionals and tastemakers of the international film industry. By October that year, Rahim had joined the Scotland set of Kevin Macdonald's Romans-in-Britain action adventure The Eagle, starring Channing Tatum and Jamie Bell — playing a Gaelic warrior with full body paint and a fierce mohawk hairstyle.
But Rahim found his debut international role a less than wholly satisfying experience. "At that time, it was a bit frustrating for me, because I could barely speak a word of English," he recalls. "I wanted to share something deeper than just, you know, taking direction from a director."
Cut to 2018, and Macdonald was back in touch with the actor — offering the lead role for a film that eventually became known as The Mauritanian. But Rahim's heart sank when he read the name of the film.
"When I got the script, the title at that time was Guantanamo Diary," says the actor, speaking via Zoom in American-accented English from his Paris workspace. "I've been offered a lot of parts that are not really interesting dealing with this topic — you know what I'm talking about, stereotypical parts — and I got a little disappointed."
Macdonald's film tells the story of Mohamedou Ould Slahi, who was detained in his home country Mauritania and rendered to US military-run prison camp Guantanamo Bay. Interrogated and tortured under suspicion of being involved in terror attacks, he remained there from 2002 until his release in 2016. In 2015, his memoir Guantanamo Diary was published — the first work by a still-detained inmate at the Cuban camp.
Before reaching the end of the screenplay (which is credited to Michael Bronner, Rory Haines and Sohrab Noshirvani, and was titled Prisoner 760 at the time of filming, before settling on The Mauritanian), Rahim had changed his opinion about the project. He cried twice, he says: "I mean, telling that story through the eyes of a detainee who was innocent, who got through hell. I called Kevin and I said, 'Listen, I'm in, full on.'"
He was rewarded with an opportunity, he says, that — unlike The Eagle — offered "time to share something deep and important" with Macdonald, and "live in a beautiful moment".
Rahim's initial hesitancy over the Guantanamo project relates to his own heritage: his parents are Algerian, prior to their emigration to France, making the actor a casting target for Middle East terrorist roles.
In the case of The Mauritanian — which benefits from highly marketable names including Jodie Foster (as Slahi's lead defence lawyer Nancy Hollander) and Benedict Cumberbatch (as the US military prosecutor) — the casting team was looking for something very specific for the lead actor, which put Rahim right at the top of their list.
"Mohamedou is this incredible man who survived his ordeal with a bright soul and forgiveness and positivity," says the film's casting director Nina Gold, who reveals that the production opted to delay in order for a busy Rahim to become avail­able, rather than pursue alternatives. "Tahar, with his authenticity and his transparent access to his soulful humanity, it just seemed like it must be him."
Rahim met Slahi virtually, while in Thailand shooting TV series The Serpent, "and I got struck by the light that would come out of his face," he says. "If there's a reason why I wanted to make the movie, apart from Kevin and the story and everything, it's Mohamedou. He's an extraordinary soul."
Keeping it real
Most of The Mauritanian, including the Cuba scenes, was filmed in South Africa — where the production team constructed the detention camp. "The set was so real," recalls Rahim, who "did a drastic diet" to lose "about 10 to 12 kilos" to play Slahi.
The actor requested real shackles, rather than the fake ones initially provided by the props department, and also asked the team to make his cell as cold as possible, to match the conditions when the Guantanamo Bay authorities switched Slahi from regular incarceration to the camp's torture-punishment protocols.
The Mauritanian — which is released by STX Entertainment in the US and UK — is just the latest international project for Rahim, who is increasingly gravitating to English-language roles.
In BBC/Netflix series The Serpent, he plays real-life convicted fraudster and serial killer Charles Sobhraj. In 2018, he appeared as an FBI agent in Hulu miniseries The Looming Tower, and as Judas in Garth Davis's feature film Mary Magdalene.
In the past, Rahim has worked with an eclectic mix of international directors, including Iran's Asghar Farhadi (The Past), Germany's Fatih Akin (The Cut), Denmark's Lone Scherfig (The Kindness Of Strangers) and China's Lou Ye (Love And Bruises). However, Jacques Audiard's French prison drama A Prophet remains his most-lauded work, netting him the best actor and most promising actor Césars in 2010.
Asked to reveal some directors on his wish list, the first three names out of his mouth are all Korean: Park Chan-wook, Kim Jee-woon and Bong Joon Ho. He follows up with US filmmakers including Adam McKay and "the great Scorsese", before surprising with his final pick: the UK's Ken Loach. "I know it's never going to happen, because he's got his own DNA in terms of telling stories and finding actors. But wow, what a great director."
Rahim is not turning his back on his home country altogether, however: he is attached to a Netflix TV series from France's Cédric Jimenez. "It's about the two brothers who invented the French Connection [drug-smuggling network] in the '30s, '40s," says the actor, "but it's not for now." Instead, the next project will likely be a film. "There's something cooking but they don't want me to talk about it until it's ready."